Pipeline Stocks Sink as FERC Kills Key Income-Tax Allowance
This article by Stephen Cunningham, Tim Loh and Jim Polson for Bloomberg may be of interest to subscribers. Here is a section:
Wells Fargo & Co. analyst Michael Blum said the broad selling was an overreaction, because the effects would be felt only on partnerships with a large amount of interstate pipelines.

"It's definitely a negative, but it's not Armageddon for MLPs," Jay Hatfield, a New York-based portfolio manager at the InfraCap MLP exchange-traded fund, said by telephone. "And it's not as if it affects every asset in every single MLP."

Even among interstate pipelines, it's unclear how much the ruling will impact different assets, Selman Akyol, an analyst at Stifel Nicolaus & Co. wrote in a note Thursday. That's because these pipelines can charge rates based on a different agreements -- there are "cost of service" rates, which will be affected, as well as market-based rates or negotiated ones, which won't be impacted. What's more, "cost of service" rates are partly built on aspects that have nothing to do with taxes -- including maintenance and depreciation costs for the pipeline.

"This adds a layer of uncertainty to the group, and we do not expect it to be cleared soon," Akyol said in the note. "We anticipate companies will provide disclosures around cost of service exposure and potential impact to cash flow."

The decision could further the trend of MLPs converting into corporations -- or simply selling interstate pipelines affected by this change in policy to existing corporations such as Kinder Morgan Inc., Hatfield said.
Master Limited Partnerships are generally highly leveraged because taking out debt to fund the construction of pipelines is feasible considering the reliability of the cashflows that arise from it once it moves into service. However as with any leveraged balance sheet how it is treated for tax is a thorny issue which has resulted in a sharp sell-off today as the investors concluded it was better to sell first and ask questions later.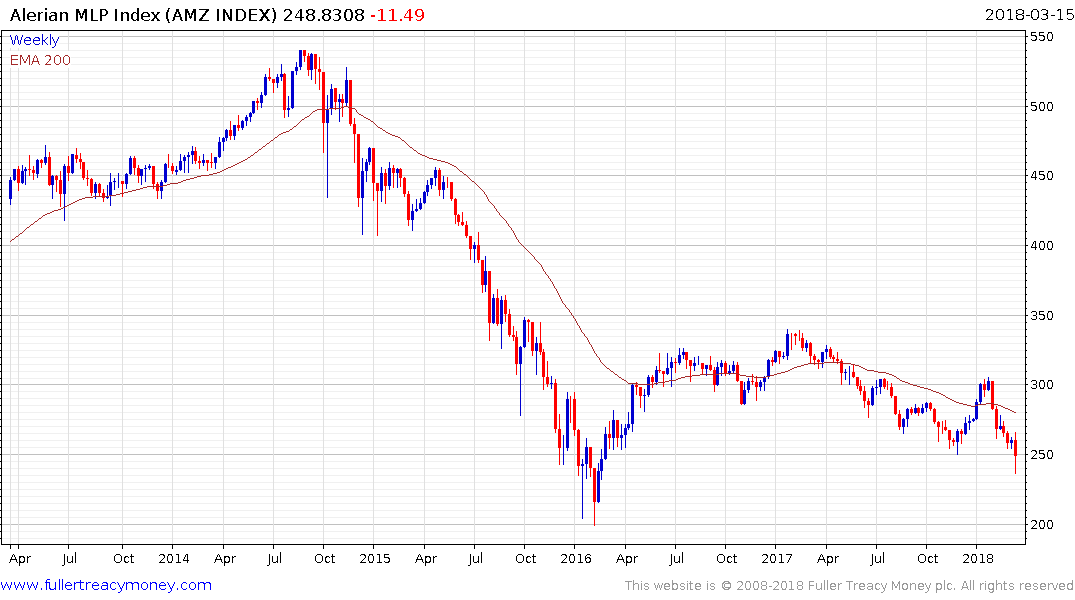 The Alerian MLP Index rallied from the December low to break a yearlong progression of lower rally highs but failed to hold the move above the trend mean and moved to a new reaction lows today. A short-term oversold condition is now evident so there is scope for some steadying but a sustained move above $11 will be required to confirm a return to demand dominance beyond short-term steadying.
The sector collapsed with oil price in 2014 but has been slow to recover at least in part because higher interest rates are weighing on utility-like cashflows across the board.
Back to top