Panasonic Is the Latest Company Betting on Electric Vehicles, Powering Past Its Tesla Partnership to Explore a Venture in Norway
This article by Jack Denton for Barrons may be of interest to subscribers. Here is a section:
Europe is one of the fastest-moving spaces in the race to dominate an expected boom in electric vehicles, with at least 12 countries planning a ban on internal combustion engine vehicles in coming years. U.K. Prime Minister Boris Johnson announced on Wednesday a ban on the sale of new gasoline and diesel cars, to come into effect by 2030.

Tesla is building a gigafactory in Germany and is reportedly planning one in the U.K., while one of its key rivals, Northvolt, is building a gigafactory in Sweden. Established European car makers like Daimler, Volkswagen, and BMW are racing to build electric vehicles on their own or through partnerships, and Panasonic has previously supplied batteries to Volkswagen and Peugeot.
At its recent battery day Tesla announced they plan on ditching outside help in producing batteries over the coming few years. That's one of the primary ways they aim to achieve lower production costs. It obviously represents a business risk for Panasonic and this agreement appears to be a first step toward diversifying.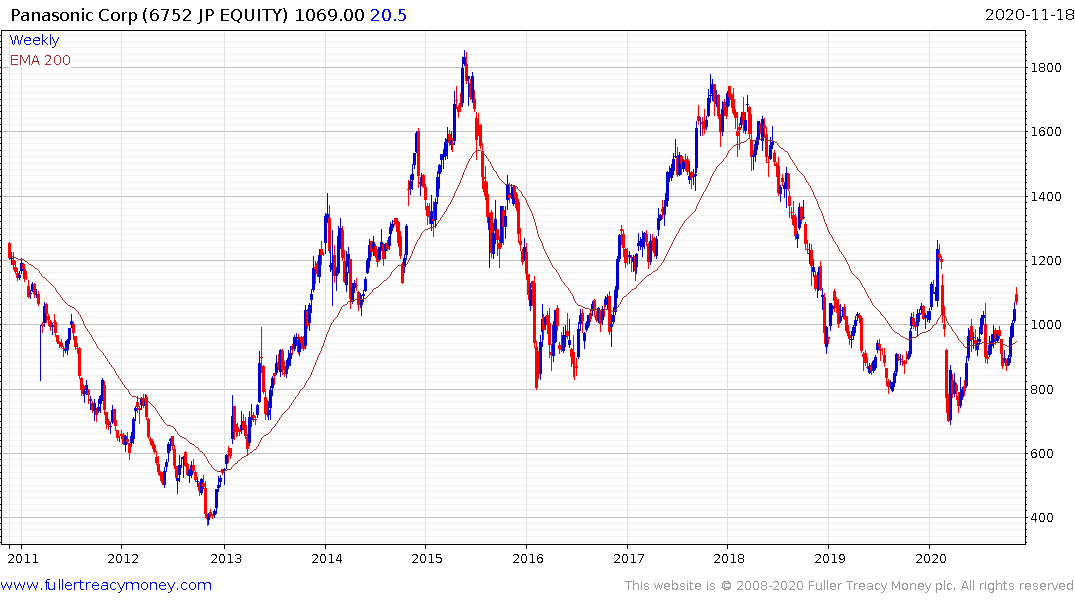 There was a significant investment boom in lithium mining for a few years up to 2016/17. A great deal of new supply came to market but demand did not keep pace with initial lofty expectations. Lithium carbonate prices peak in late 2017 and have gave up all of the bull market advance by July of this year; returning to the 2014 lows. It firmed this week to hit a new recovery high and closed above the trend mean for the first time since the peak.
If the break out is sustained it would suggest demand has finally caught up with and is exceeding supply. That should be particularly beneficial for lithium miners, most of whom have experienced severe declines over the last few years.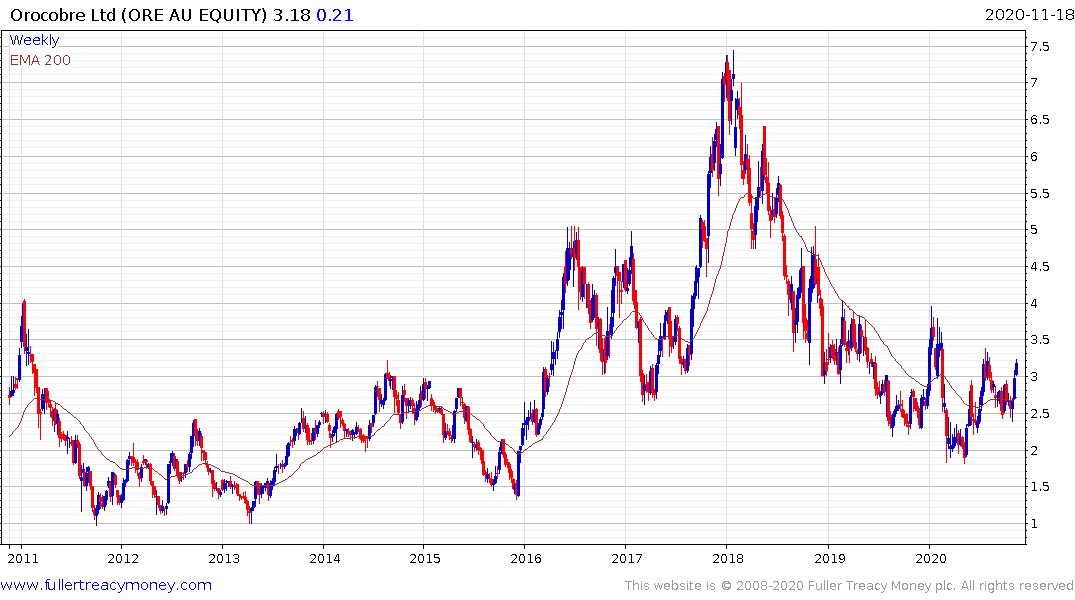 Orocobre is a lithium pureplay and exhibits a rounding characteristic consistent with accumulation.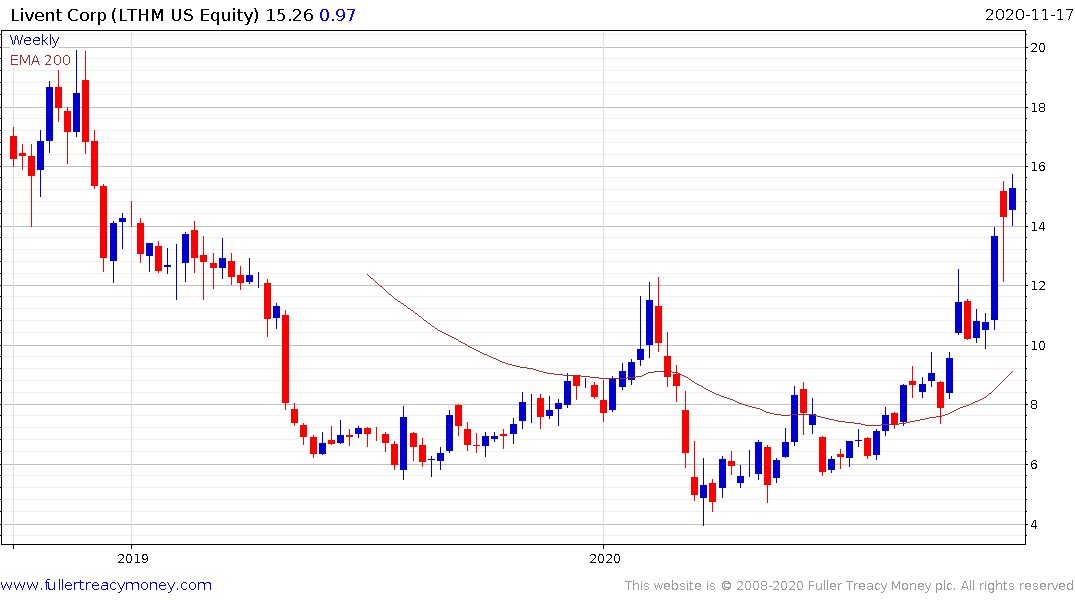 Livent was spun out from FMC in 2018 and broke out to new recovery highs last week. It pulled back rather sharply today so some consolidation may be underway.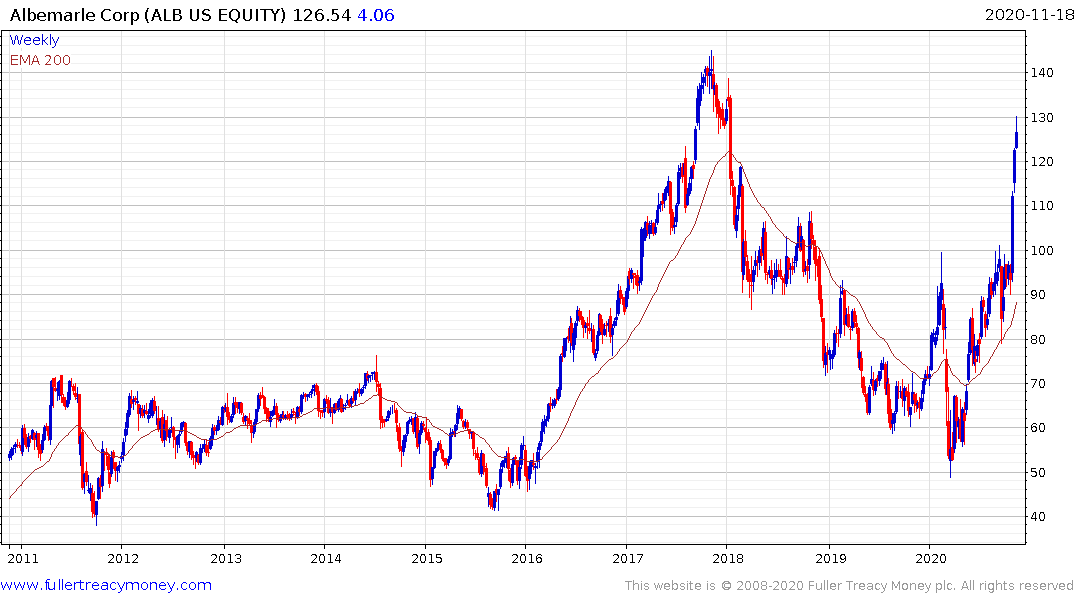 Albemarle generates 37% of revenue from lithium but has tended to be among the most favoured ways of playing lithium. The share has jumped higher over the last three weeks.
Back to top