Oilfield Services Ends 2019 With a Bang, Whimper
This article by Liam Denning for Bloomberg may be of interest to subscribers. Here is a section:
"When does it end?" is a perfectly reasonable question for New Year's Eve. And in the case of anyone still holding onto oilfield services stocks, it is more than rhetorical.

Core Laboratories NV, which offers services to enhance output from oilfields, dropped the ball early on Monday evening, or New Year's Eve Eve if you will. It cut guidance for the quarter just about to end, issued underwhelming guidance for the quarter about to begin and, to cap it off, slashed its dividend by more than half. The latter was declared "sacrosanct" by management only two months ago — which, in hindsight, is one of those overwrought words that should set alarm bells ringing.

Throw in Tuesday's pre-drinking trading volumes, and the stock looks set to see out 2019 with a bang (not the good kind). The ostensible reason for the sudden about-face is sluggish activity in international markets, which were hoped to offset the drag from the slowdown in U.S. fracking. The underlying reason is one that blends the oil business with New Year's Eve seamlessly: the triumph of hope over experience.
The demise of the drilling sector is reflective of the high cost of production from offshore reserves relative to onshore unconventional sources. That has contributed to acute rationalisation of the sector and contraction in prices for services provided. Seadrill for example declared bankruptcy and only exited that condition in 2018. Meanwhile McDermott International remains in what could be a terminal downtrend. The question for investors is whether the contraction of the wider sector has run its course?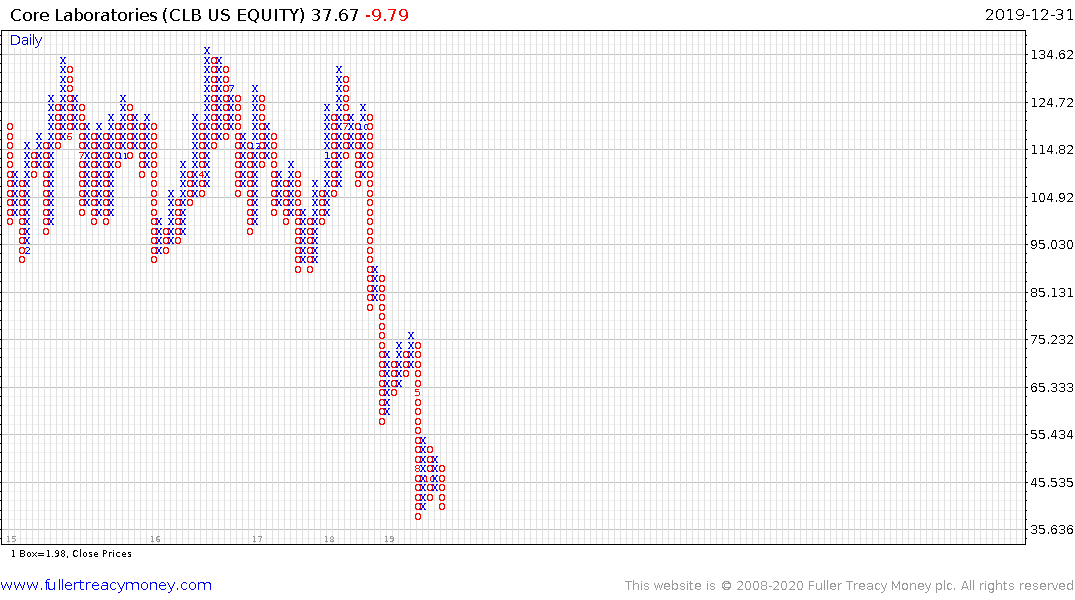 For Core Laboratories the cutting of the dividend and clear downward dynamic suggest the answer is no.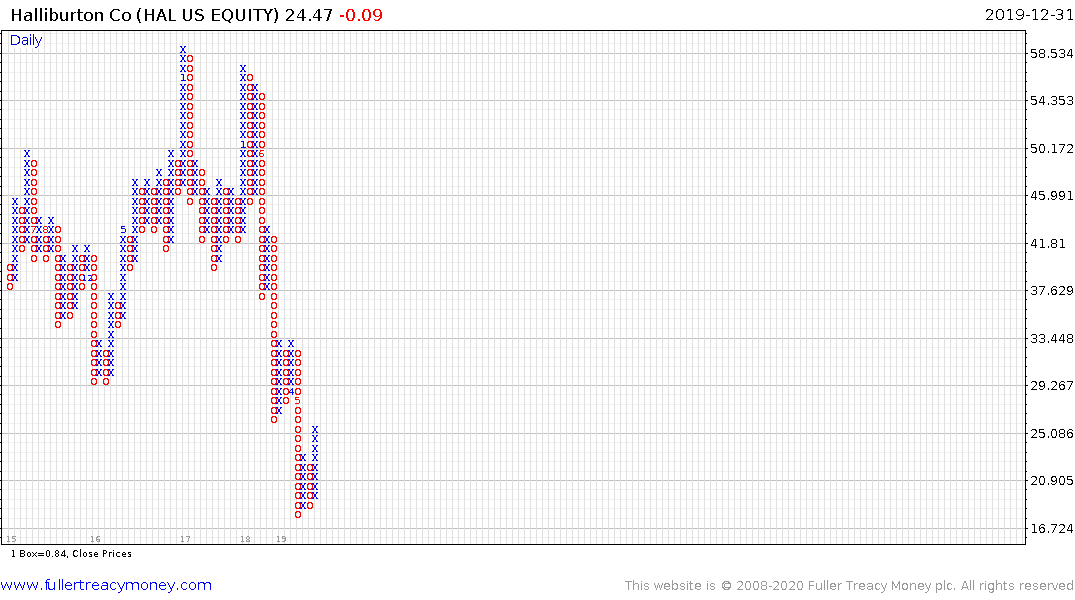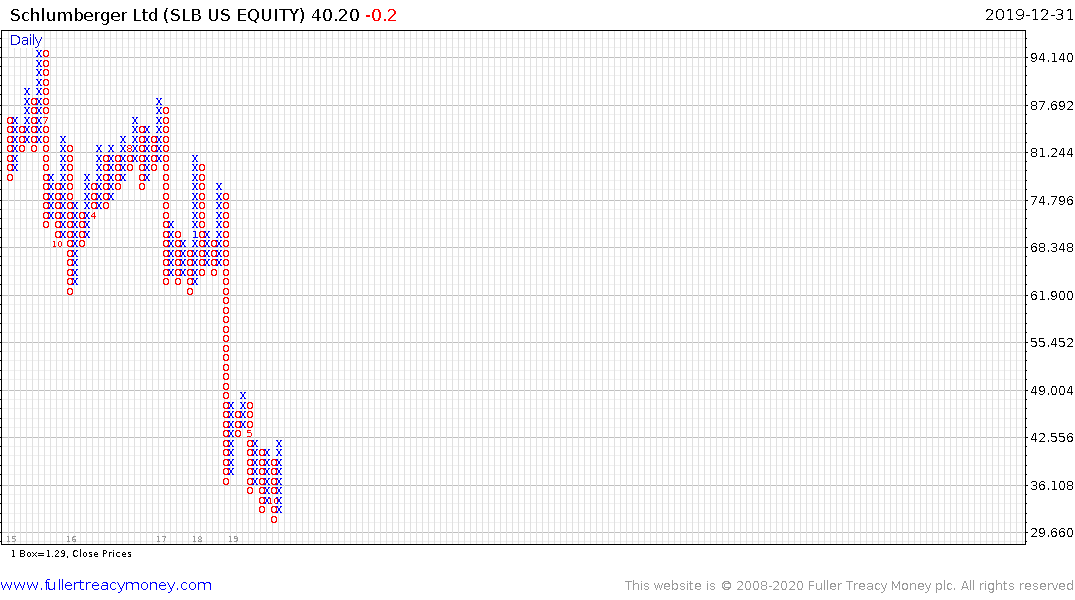 However, both Halliburton and Schlumberger are trading back above their respective trend means following steep declines.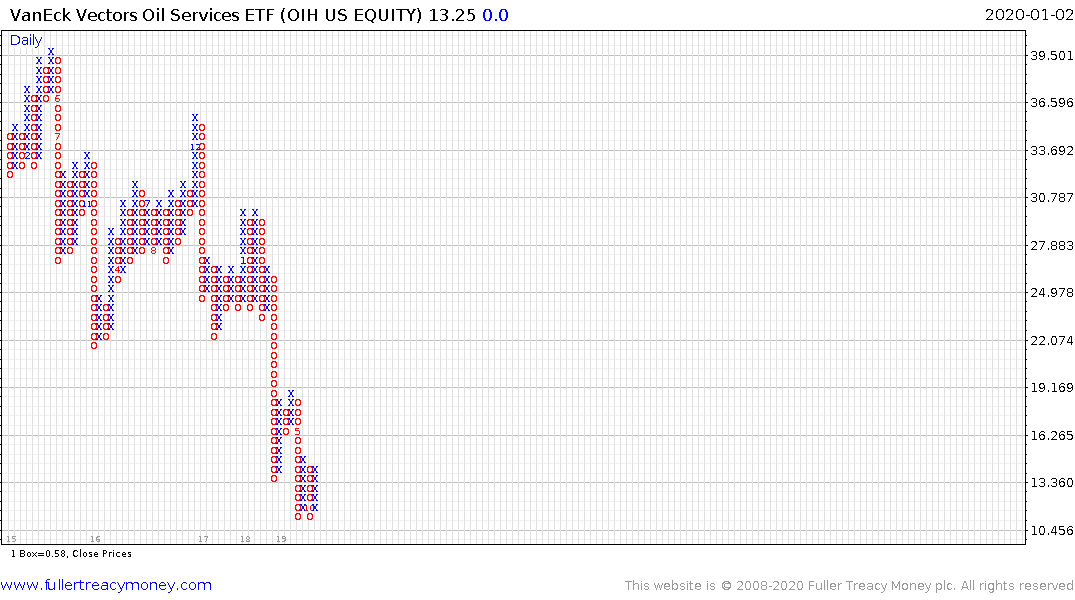 The VanEck Ventures Oil Services ETF is pausing below its trend mean and will need to sustain a move above it to confirm a return to demand dominance beyond short-term steadying.
These chart patterns suggest room for further consolidation within the sector with the largest companies likely to be the clearest beneficiaries.
Back to top