Oil Shipping Costs Soar to Highest Levels in 11 Years
This article by Costas Paris for the Wall Street Journal may be of interest to subscribers. Here is a section:
"There is a lot of confusion and uncertainty out there," said Paolo d'Amico, head of Intertanko, a trade body representing tanker owners. "Everyone is afraid of being hit by the U.S., sanctions, rendering about 50 VLCCs untouchable."

U.S. oil exports to Europe, which usually move in smaller tankers, hit a record 1.8 million barrels a day for the week ending Oct. 7, according to Kpler, an energy market intelligence company. The figure is double the 924,000 barrels in the previous week. But shipments to Asia, which are typically done on VLCCs, were reduced almost in half to 508,000 barrels.

A Singapore broker said rates for some VLCC cargoes on sailings from the U.S. Gulf Coast to the Far East were more than $120,000 on Thursday. Average earnings for supertankers picking up cargoes from around the world hit $94,124 a day, up from $18,284 on Sept. 25, when Washington blacklisted the Cosco fleet.

"VLCCs to Asia are a rare commodity, the market is red hot and will stay that way while the U.S. sanctions on Cosco ships are in place," said the broker, who asked not to be named because he isn't authorized to talk to the media.
The Baltic Dirty Tanker Index broke out on the upside last week, to trade above 1500 for the first time since 2008. That follows the breakout in the Baltic Dry Index in August. The latter's move has not been as pronounced but does highlight the additional pressure on the shipping sector from the impending implementation of the IMO2020 rules on ship emissions.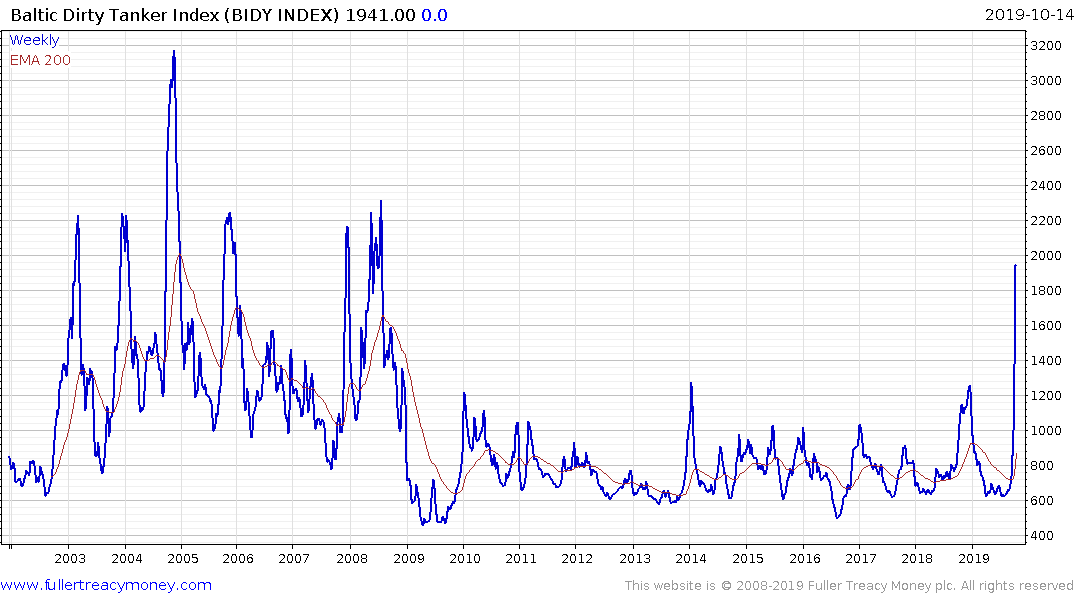 The disruption of supply chains, particularly for crude oil, represents a major headache for oil consumers. Refiners are certain to pass on the additional cost of shipping to their customers which represents a tax on consumption.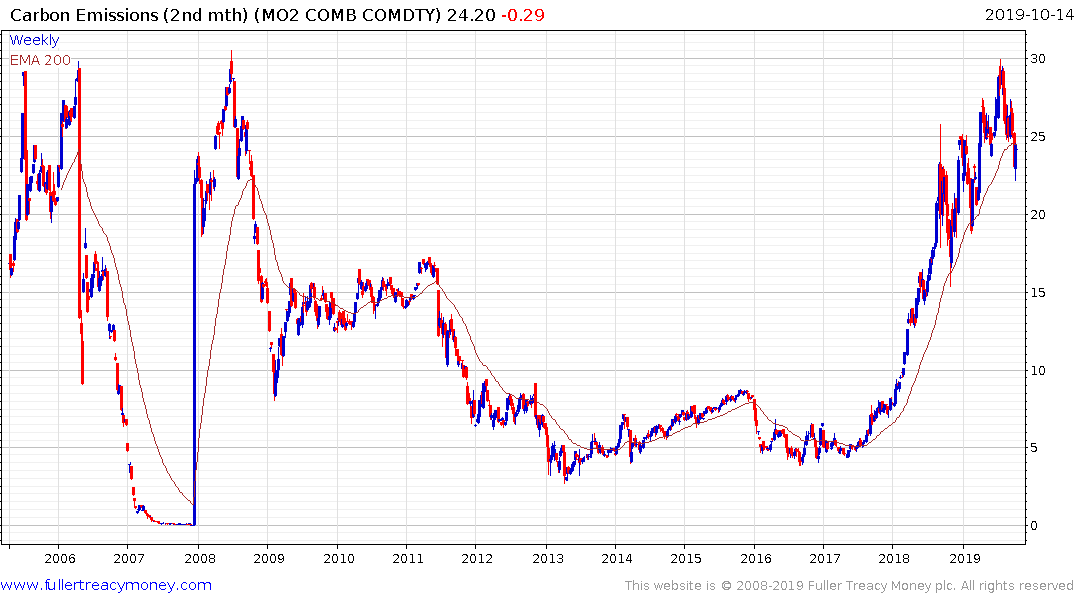 Carbon credits are also trading close to the highs last seen in 2008. These also represent a tax on consumption for European companies.

This is more of a bad news story for consumers like Europe, China and India than it is for the USA. It's a good news story for tanker companies other than Cosco.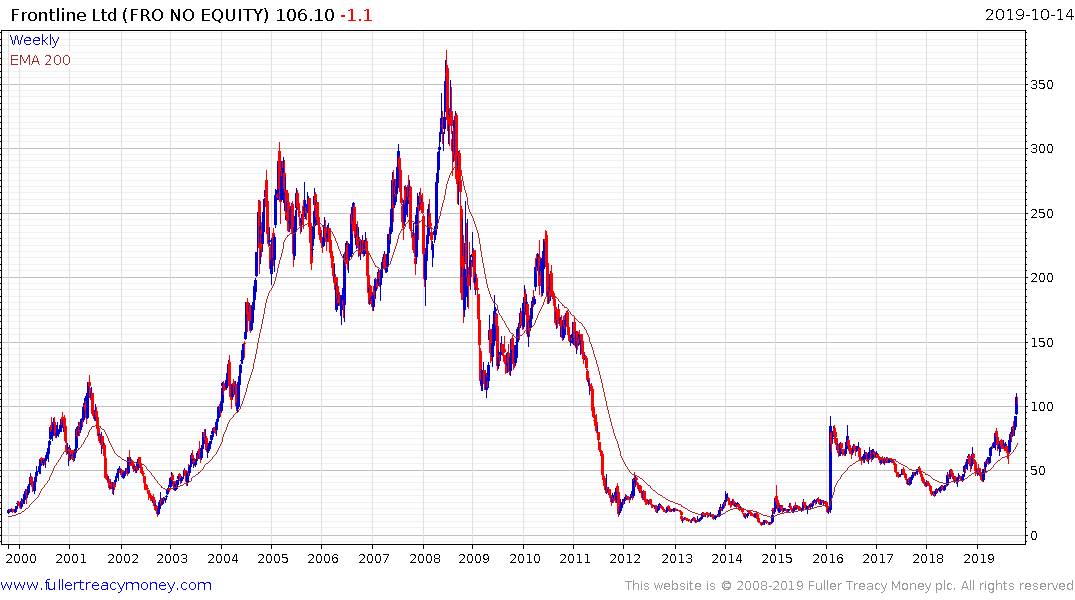 Frontline continues to extend its rebound.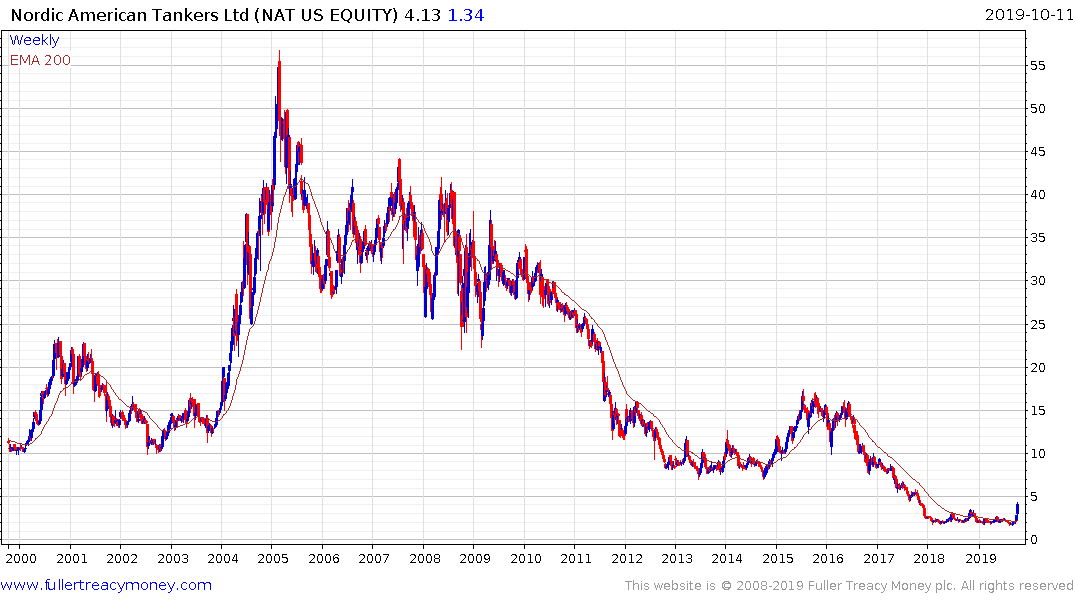 Nordic American Tankers broke successfully out of this base formaiton earlier this month and is now quite overextended.but a clear downward dynamic would be required to check momentum.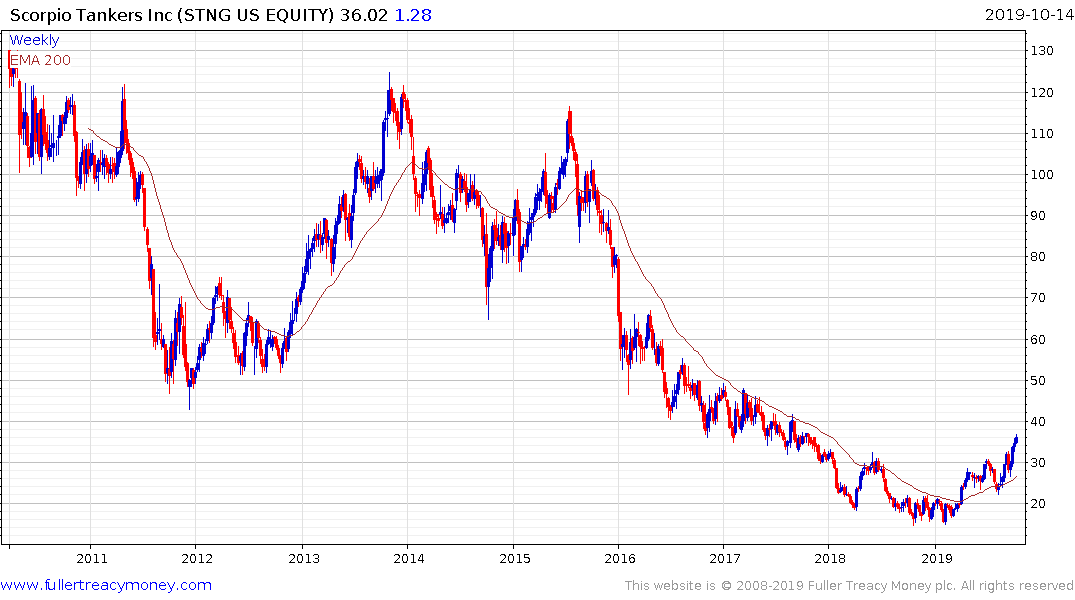 Scorpio Tankers has broken a four-year downtrend and remains on a recovery trajectory.
Back to top