Oil Legend Andy Hall Weighs Crude's Chance of Recovery on OPEC
This article by Aaron Clark for Bloomberg may be of interest to subscribers. Here is a section:


"The balance of risk at this point favors some sort of recovery," the trader once known as 'God' in the industry due to his lucrative trades, said in a phone interview Friday. "It's quite likely OPEC will come through with some sort of cut in the next month or two."

Demand has taken a downturn probably because of a stronger dollar against emerging market currencies, or on concern the trade war between the U.S. and China is beginning to curb economic growth, according to Hall. West Texas Intermediate crude is in a bear market after plunging from a four-year high in October and is trading near $57 a barrel following the biggest gain in U.S. stockpiles in 21 months.

"When you know you've got prices in 2020 and beyond for WTI down below $60 a barrel, almost down to the mid-$50s further along the curve, I think that is essentially at the bottom," said Hall.
Brent crude oil prices have been unable to sustain a rally of more than $3 since early October. Seven consecutive weeks on the downside have unwound the commodity's entire advance for the year and in the process a deep short-term oversold condition has evolved. That suggests potential to a bounce and reversionary rally back towards the mean is improving.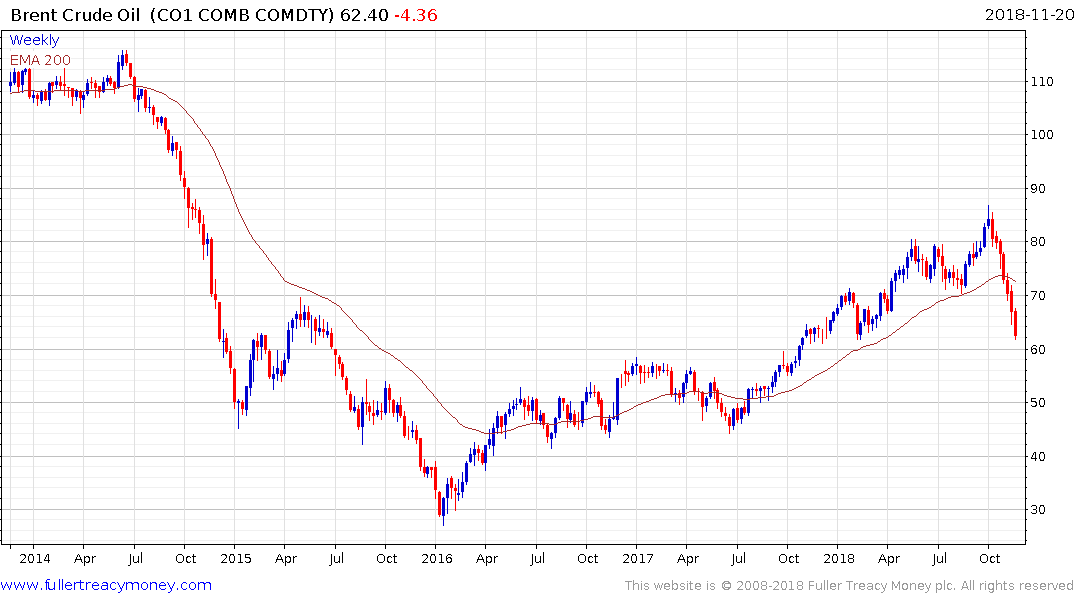 The bigger point, however, is that the medium-term uptrend has now been broken, confirming resistance in the region of the $85. A great deal of additional unconventional supply becomes economic above $70. This sharp pullback emphasises $85 is the point at which marginal sources of new supply come to market. It could therefore represent the upper side of a long-term trading range, with the lower boundary between $35 and $40.
Back to top