Oil Breaches $50 as Worldwide Energy Demand Outlook Brightens
This article by Jessica Summers for Bloomberg may be of interest to subscribers. Here is a section:
Oil topped $50 a barrel for the first time in more than a month amid heightened optimism that a demand resurgence is in the offing.

Futures rose as much as 2.4 percent in New York, extending the longest upswing since July. Two of the most influential organizations in world oil markets -- the International Energy Agency and OPEC -- nudged their demand forecasts higher, signaling continued erosion of a global glut that has weighed on prices.

Oil demand for 2017 will expand by the most in two years, the Paris-based IEA said on Wednesday. That followed OPEC's increase of its estimate for how much crude buyers will seek from the cartel next year, driven by rising consumption in Europe and China. In the U.S., hurricane-driven refinery outages spurred fuel distributors to pull a record amount of gasoline from storage tanks to cope with shortages last week, government data showed.

"The market is continuing to digest that information and realizing that the rebalancing process is working," Mark Watkins, a Park City, Utah-based regional investment manager at U.S. Bank Wealth Management, which oversees $142 billion in assets, said by telephone.
Saudi Arabia's decision to sell a part of Aramco with the aim of setting a valuation so they could borrow against the balance led investors to conclude it believes oil prices are in terminal decline. Anecdotal evidence it is planning to delay the IPO has had the opposite effect on sentiment and is contributing to recent strength.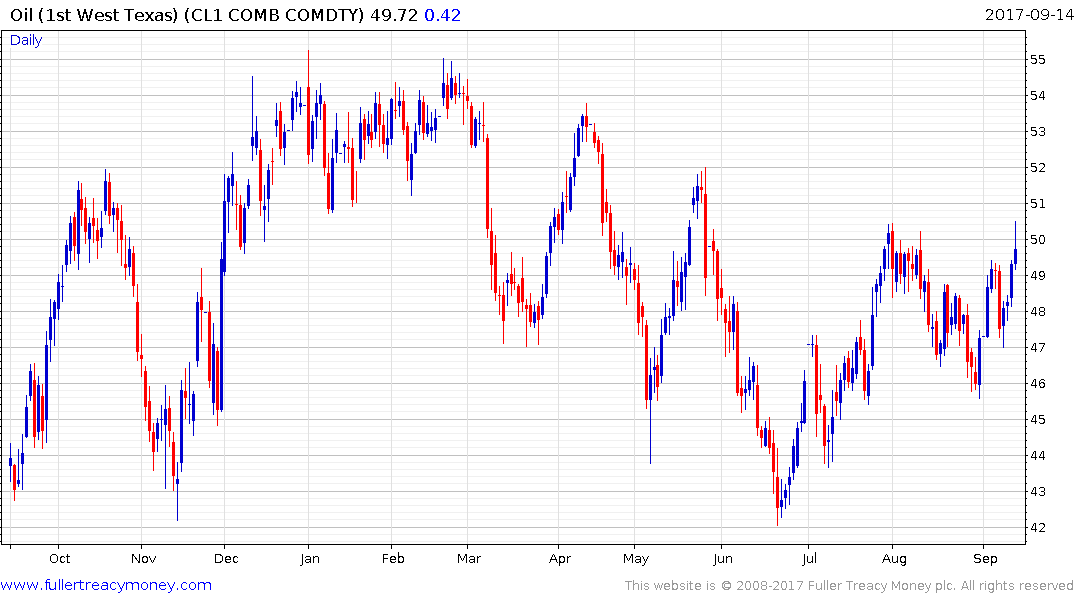 Meanwhile we are still in a period of synchronised global economic expansion which is generally positive for the price of industrial commodities of which oil is the most significant. On the other side of the equation, a great deal of unconventional supply becomes economic above $60 and there will be a short lead time required to bring that source online. That suggests there is scope for a further rally in oil prices to retest the highs posted at the very end of last year, assuming of course it can first sustain a move above $50.
Back to top