Nevada Regulators Eliminate Retail Rate Net Metering for New and Existing Solar Customers
This article by Julia Pyper for GreenTechMedia may be of interest to subscribers. Here is a section:
The Nevada Public Utility Commission voted unanimously in favor of a new solar tariff structure on Tuesday that industry groups say will destroy the Nevada solar market, one of the fastest-growing markets in the country.

The decision increases the fixed service charge for net-metered solar customers, and gradually lowers compensation for net excess solar generation from the retail rate to the wholesale rate for electricity, over the next four years. The changes will take effect on January 1 and will apply retroactively to all net-metered solar customers.

The broad application of the policy sets a precedent for future net-metering and rate-design debates. To date, no other state considering net-metering reforms has proposed to implement changes on pre-existing customers that would take effect right away. Changes are typically grandfathered in over a decade or more.
Renewable energy and distributed generation are two of the greatest threats to established utilities in the sun-belt. If people can generate their own electricity at home, sell excess onto the grid at a favourable rate and only take from the base load provider when necessary, they are put in a highly advantageous position relative to the utility. On the other hand utilities are accustomed to a highly regulated market but not to competition.

With such rich rewards at stake neither party is likely to admit defeat easily. Utilities, led by Berkshire Hathaway, scored a victory in Nevada before Christmas when their point of view was heavily favoured. Earlier in December solar firms scored when Federal subsidies were reinstated for an additional five years.

The question then is whether other states will follow Nevada in favouring the interests of utilities over distributed supply. The cost of ensuring base load for the masses might just eke out a victory for utilities in other states. However the other side of the argument is that solar companies now have an even greater incentive to deliver home battery solutions as part of lease back agreements so consumers have less call to use utilities.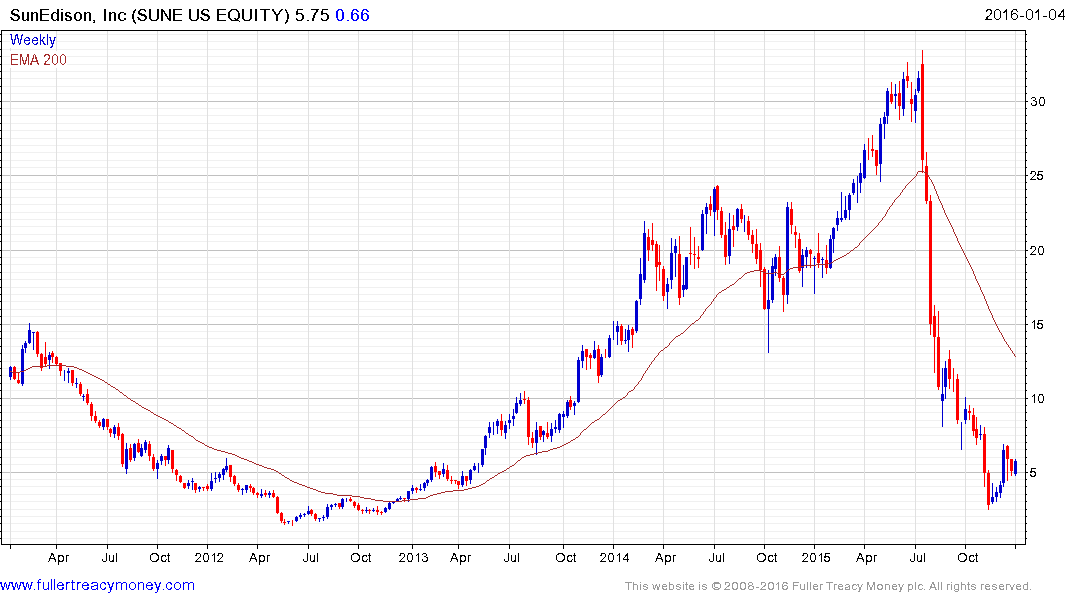 The majority of solar power companies had pulled back in the last week of the 2015, following the news from Nevada, but rallied today to countermand much of last week's decline. SunEdison is a good example today.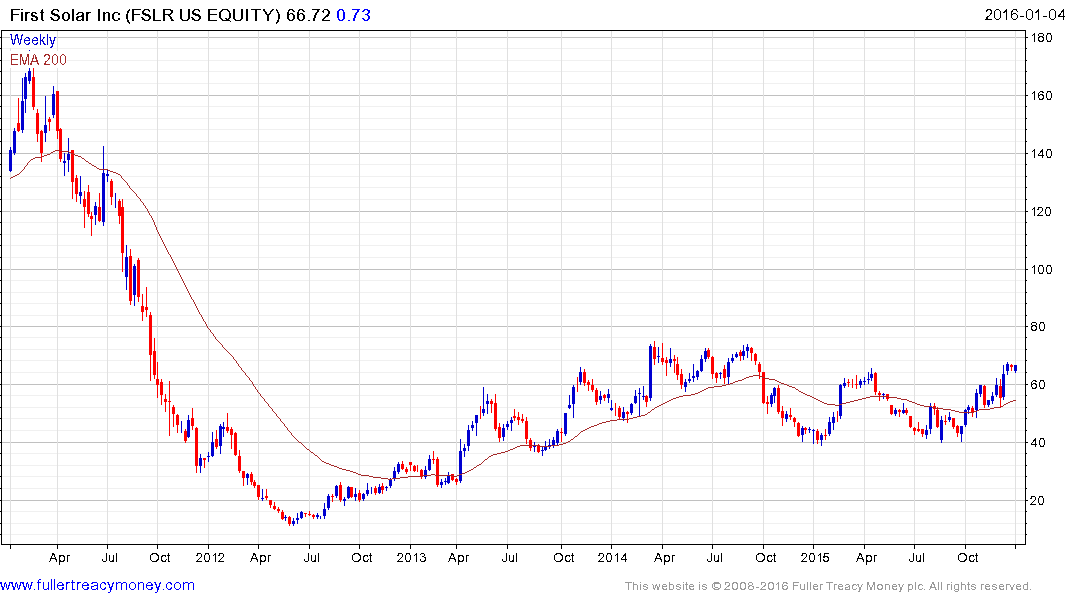 First Solar is ranging in the region of the April peak and while still somewhat overbought relative to the trend mean, a sustained move below $55 would be required to question medium-term recovery potential.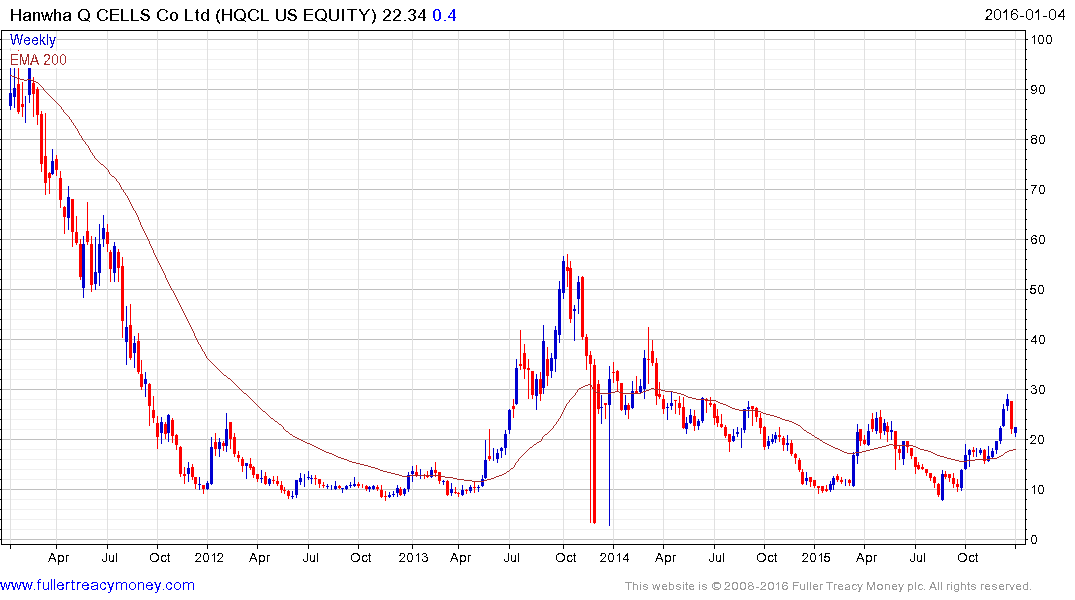 Hanwha Q Cells bounced today having unwound its overbought condition relative to the trend mean.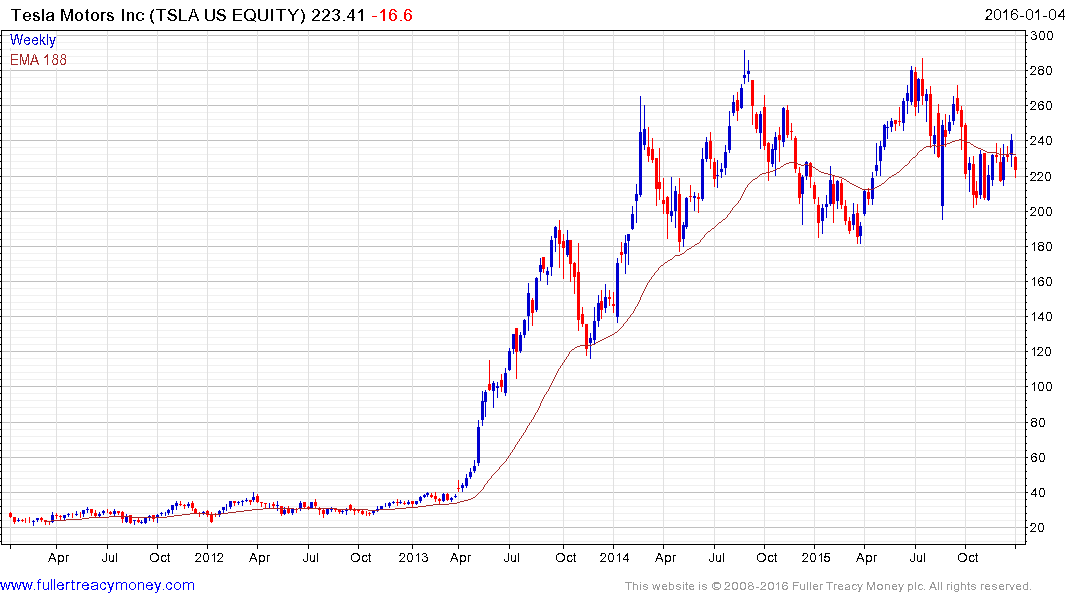 Tesla continues to range above $200 and pared today's decline before the close.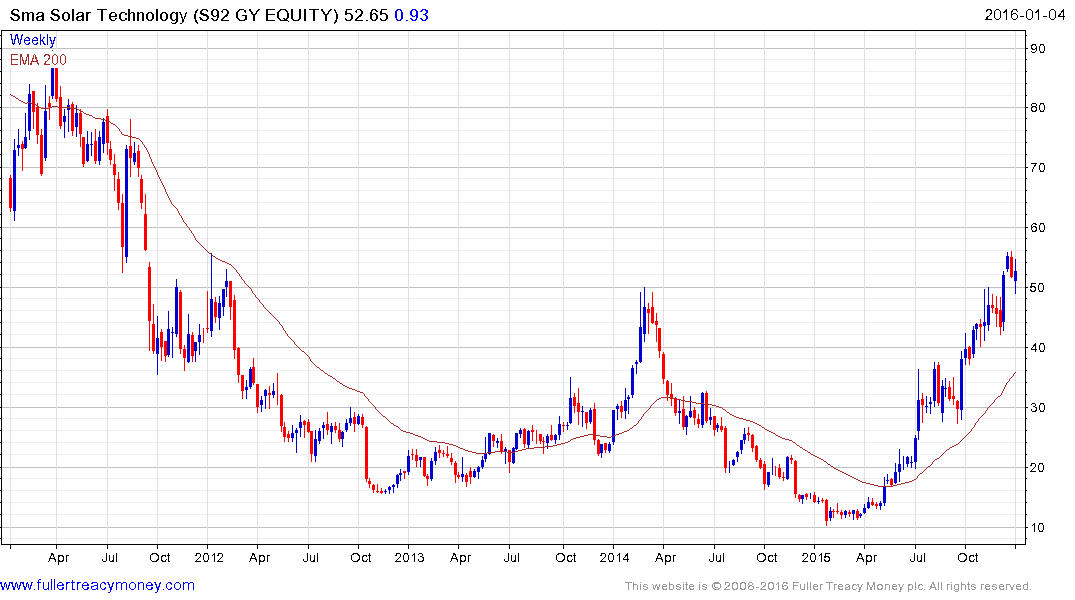 SMA Solar Technologies has so far experienced an equal sized reaction, to others posted in the course of the almost yearlong uptrend. A sustained move below €50 would be required to begin to question current scope for additional upside.
Back to top