Musk's Solar Lifestyle Idea Has One Big Flaw
This article by Leonid Bershidsky for Bloomberg may be of interest to subscribers. Here is a section:
The commercial success of Musk's vertical integration idea hinges -- in terms of turning a profit rather than generating a high market capitalization -- on battery technology that would have mass rather than niche appeal. The assumption upon which Musks' concept -- and Tesla's $32.3 billion market capitalization -- is built is that Tesla is betting on the right battery technology and no one will come up with a much better one. That is the big hole in the donut: The assumption is far from safe.

Cheap and reliable energy storage is central to the idea of an off-the-grid, solar-powered household. Such a home needs energy at night, when the sun isn't shining: It has fridges, air conditioners and other appliances running, and a Tesla charging in the garage. So it needs a good battery, and Tesla's Powerwall doesn't necessarily fit the bill -- if only because the cost of the energy it supplies, including amortization, is higher than grid prices. Because of this, and given the high price of Tesla cars, the lifestyle on offer is an expensive statement. In terms of cost and convenience, it's not competitive with the traditional grid-and-fossil fuel model.
Let's call Tesla Motor's acquisition of SolarCity what it is; a bailout. The tide of highly attractive subsidies for solar has turned. NV Energy, Warren Buffett's Nevada utility, successfully argued that it should not have to bear the full cost of the electrical grid when solar producers get to use it for free and get preferential rates on the electricity they supply. That represented a major upset for SolarCity in particular but also highlighted a deeper challenge for the solar leasing business model which has contributed to increased scepticism among investors about the prospects for related companies. The big question is whether other states, particularly in the sun-belt will announce similar charging structures.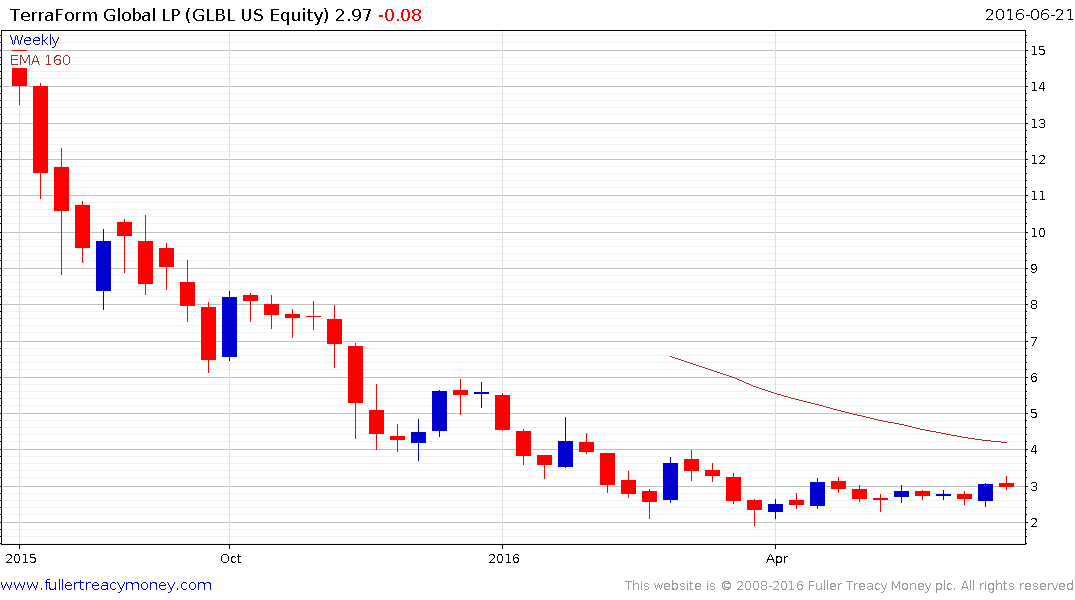 Together with the bankruptcy of SunEdison and continuing questions relating to the sustainability of its limited partnerships, Terraform Global and Terraform Power, the solar sector has been under a cloud so to speak.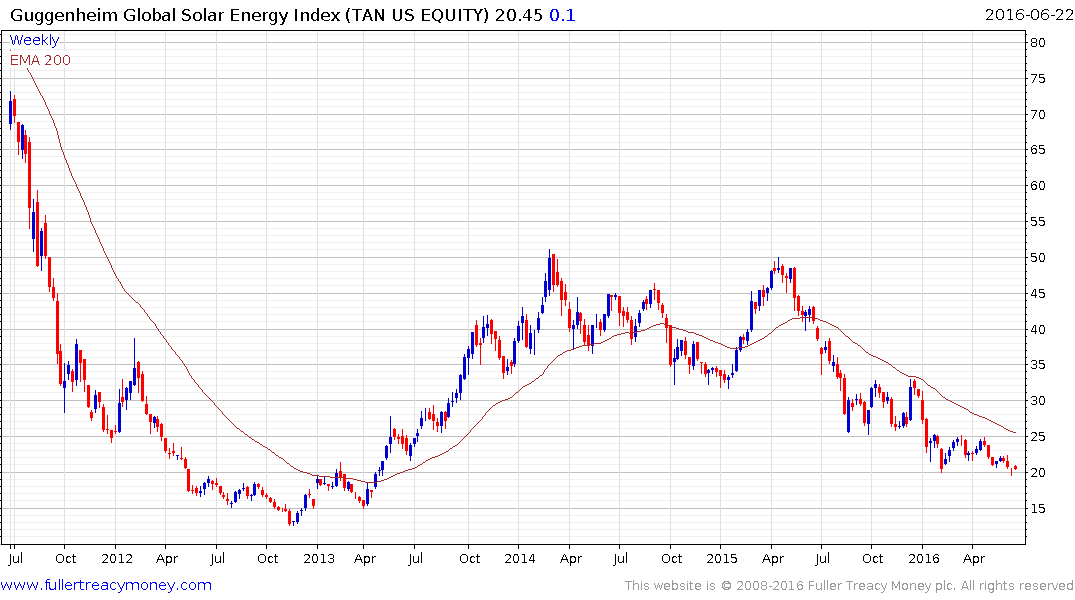 The Guggenheim global Solar Energy ETF (TAN US) has stabilised near $20 but continues to hold a progression of lower rally highs and will need to sustain a move above the 200-day MA to confirm a return to demand dominance beyond the short term.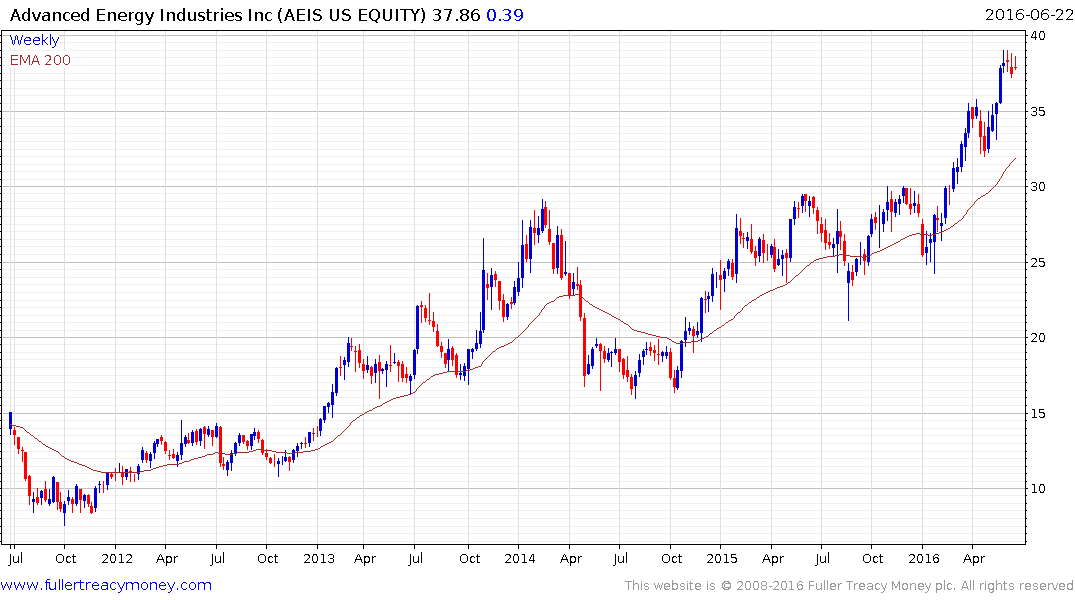 Solar inverter producers represent a notable exception since every solar cell, regardless of who manufactures it. requires an inverter to connect to the grid. Advanced Energy Industries Inc. remains in a consistent medium-term uptrend, and while somewhat overbought in the short-term, a sustained move below the trend mean would be required to question medium-term upside potential.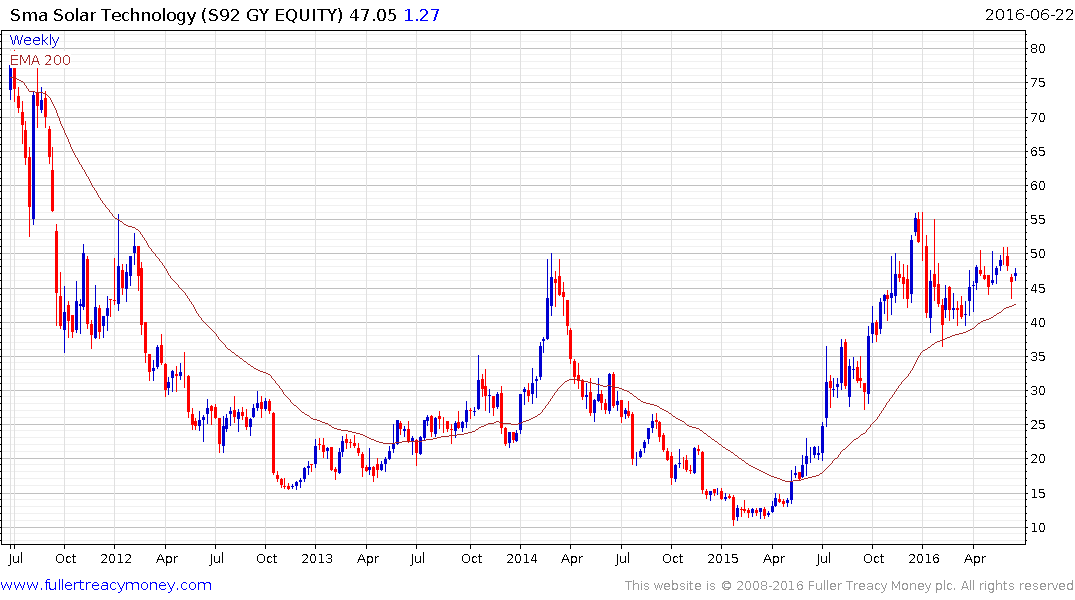 In addition to manufacturing inverters, SMA Solar Technologies also has a home battery product. The share rallied impressively from its early 2015 low and has been engaged in a process of mean reversion since early this year. It continues find support in the region of the 200-day MA and a sustained move below it would be required to question medium-term uptrend consistency.
Back to top