Musings from the Oil Patch September 12th 2017
Thanks to a subscriber for this edition of Allen Brooks' ever interesting report for PPHB. Here is a section:
If a homeowner installs a charging station in his garage, there may not be much impact on the grid. However, if all his neighbors do the same thing, there could be a problem. Transformers are necessary to regulate the power flowing into a home, and they usually service multiple homes, generally four at a time. A problem is that utility companies do not know exactly how much power is being used by a particular home relative to its neighbors until a transformer fails. Upgrading transformers can be expensive and limited by weight limits for units mounted on power poles. One estimate suggests moving from a 50KVA pad-mounted transformer serving four homes to a 75KVA unit costs about $3,000.

For underground power installations, upgrading the transformer units may be easier, but not necessarily less costly. One study by the Institute of Electrical and Electronics Engineers says that the problem is at the local level. If multiple Level 2 chargers that fully recharge a car in 2-3 hours, are plugged in at the same time at night, they may prevent transformers from cooling as they are designed. Sustained excess current will eventually 'cook' a transformer's copper windings, causing a short and blacking out of the homes attached to the device. This problem was observed from a study of the habits of EV owners in an Austin, Texas suburb. Over a two-month period, the residents tended to recharge their EVs at the same time – when returning from work – that coincided with air conditioning loads increasing along with the use of other appliances.

A similar study was conducted in the UK, which conducted an 18month study of resident habits when 100% were using EVs. The study's result show that at least a third of the UK's power grid will need to be upgraded to support an EV sales rate of 40% of new car sales by 2023. That doesn't address the load issue if 40% of the entire UK vehicle fleet were plug-in EVs.
Here is a link to the full report.

The rollout of electric vehicles, which is anticipated to ramp up as manufacturing capacity for both batteries and cars comes on line in the next few years, is going to put strain on the electrical grid both from a generating and traffic perspective. While it can be argued how much additional supply with be required, the introduction of charging stations to the residential environment will certainly increase the consumption of electricity at individual homes.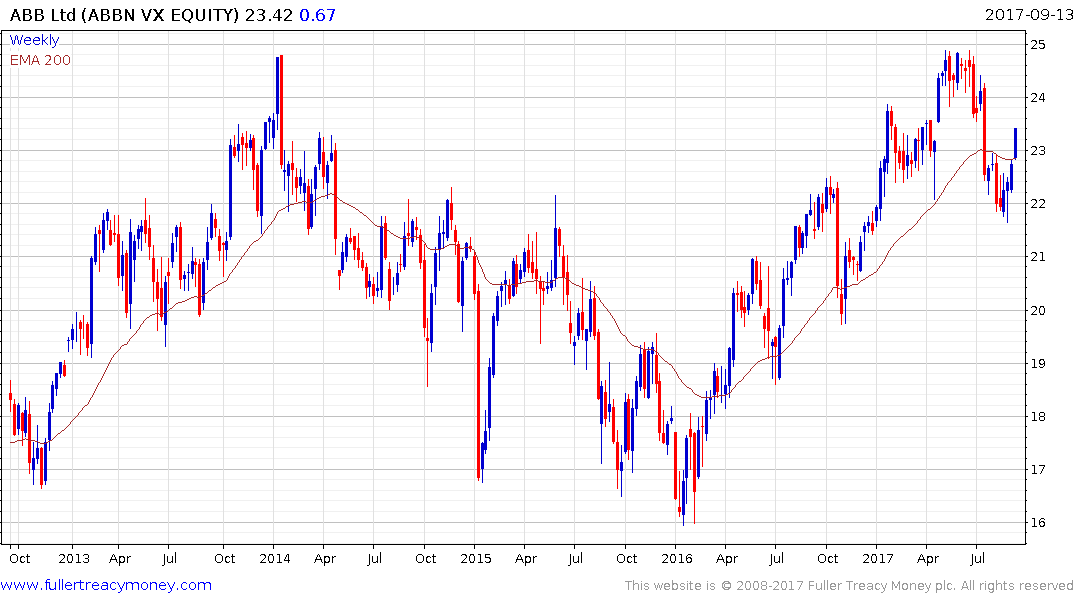 According to ABB, it is the world's largest producer of transformers. The company derives about 31% of revenue from its Power Grids segment and 26% from Electrification Products. Meanwhile Discrete Automation & Motion and Process Automation round out the balance of the company's business lines.

The share has held a progression of higher reaction lows since early 2016 and is currently bouncing from the most recent test of the trend mean. A sustained move below CHF21 would be required to question medium-term scope for additional upside.
Back to top