Musings from the Oil Patch October 20th 2015
Thanks to a subscriber for this edition of Allen Brooks' every interesting report. Here is a section on the developing El Nino:
Considering the weather patterns that will dominate the 2015-2016 winter, Ms. Garriss writes," Strong El Niños normally bring warm, dry winters to the northern tier of states and Southern Canada. Meanwhile the Southern US has cool, wet winters. Large Icelandic eruptions typically bring warm winters to the Midwest, Northeast and Canada from the Great Lakes to the Atlantic Provinces. If history repeats itself, expect lower heating demands." That is not good news for the domestic energy business, but certainly good news for homeowners. It may also be good news for underlying economic growth as the combination of lower heating bills and reduced gasoline pump prices may result in more money being spent on other products and services.

During the past four weeks of the natural gas storage injection season, weekly volumes have averaged 100 billion cubic feet (Bcf). As of the week ending October 9, there was 3,733 Bcf of gas in storage, which puts current storage up at the top of the five-year average weekly storage volume peak. Forecasters have been anticipating that total gas storage will end the injection season somewhere close to, or possibly slightly in excess of 4,000 Bcf. If we do exceed 4,000 Bcf, it would mark the first time in history that the industry began the heating season with that much natural gas in storage. During 2009-2013, with the exception of 2012, the industry ended the injection seasons with slightly over 3,800 Bcf of gas in storage. In 2012, the industry was able to slightly exceed 3,900 Bcf of gas in storage. Last year, the industry began the heating season with only 3,571 Bcf of gas in storage, which was due to the injection season beginning with the second lowest storage volume since 1994 - only 822 Bcf.
Here is a link to the full report.

The record hurricane currently moving towards Mexico's Pacific coast near Puerto Vallarta and the speed with which it formed may have been influenced by the strength of El Nino in warming the normally cool Pacific. It is going to dump a lot of rain on Mexico and is expected to move into the Caribbean and potentially strengthen again to become a tropical storm that hits parts of Texas.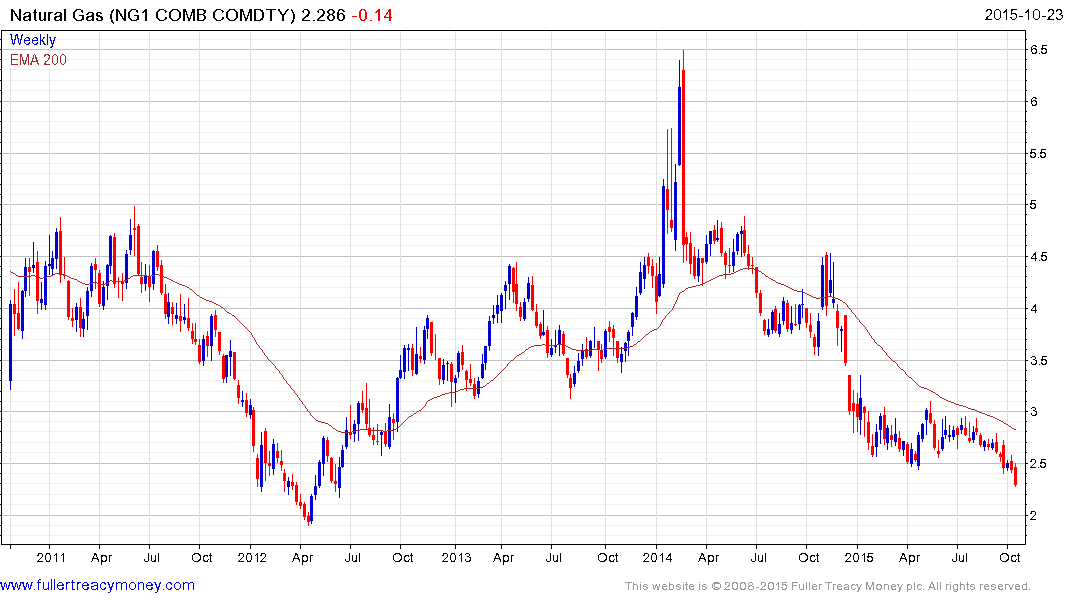 That could be positive for natural gas in the short-term as it extends its downtrend and becomes progressively more overextended relative to the trend mean. Prices found support in the region of $2 in 2012 but a clear upward dynamic will be required to signal short covering.
Back to top