Musings from the Oil Patch May 27th 2014
This report by Allen Brooks for PPHB may be of interest to subscribers. Here is a section on German electricity prices:
Revising the EEG is not the only power industry debate ongoing in Germany. The electric power companies are dealing with the government's decision to shut down its nuclear power industry. Estimates are that small plants may cost €500 million ($684 million) to €1 billion ($1.368 billion) for larger plants. While cost is one aspect of dismantling nuclear power plants, there are many unanswered questions about what to do with the nuclear fuel and components from the plant that are radioactive. Moreover, these dismantling projects may take 10-20 years to complete, subjecting them to potential cost over-runs. Because of these technical and cost challenges, the heads of the three utilities responsible for eliminating Germany's nuclear power plants have developed a plan to get the government to establish a "bad bank" structure for the plants. The utilities would contribute the roughly €30 billion ($41 billion) in reserves they were forced by the government to accrue for clean-up costs to the bank with the government (taxpayers) assuming all the technological and cost over-run exposures.

?The decision by Ms. Merkel's government's decision to shut down its nuclear power plants cost the Germany utilities substantially. They were forced to absorb the balance sheet hit from the write-down of the plants' value, plus the additional costs of mothballing the plants while dealing with the costs of the dysfunctional power market due to the implementation of the EEG and Energiewende. They were forced to cut their dividends while suffering significant earnings hits, both of which hurt share prices. It is fascinating to watch the Germany energy industry deal with its mandate to completely shut down its nuclear power industry by 2022 while trying to meet the country's 2025 and 2035 goals of 45% and 60%, respectively, of renewable power generation. The cost of these policy changes has levied a financial toll on both Germany's manufacturing sector, which is heavily dependent on export competitiveness, and its citizens. Do the recent Ifo institute index results reflect ongoing fallout from these policies and if so, what might the proposed energy sector reforms mean for Germany's economic future?
Here is a link to the full report.

Germany is engaged in an expensive experiment in energy politics which has so far resulted in the country's carbon emissions hitting new highs. This is despite the fact that renewable energy is contributing progressively more to the country's energy mix. Since Germany continues to subsidise renewables, is closing nuclear plants and has to import oil and gas, they are relying on coal to ensure base load requirements are met. Reuters today reported that Vattenfall has had its brown coal (lignite) mining licence renewed beyond 2026. The irony of this politically driven energy policy is that it has failed in both containing costs and moderating carbon emissions.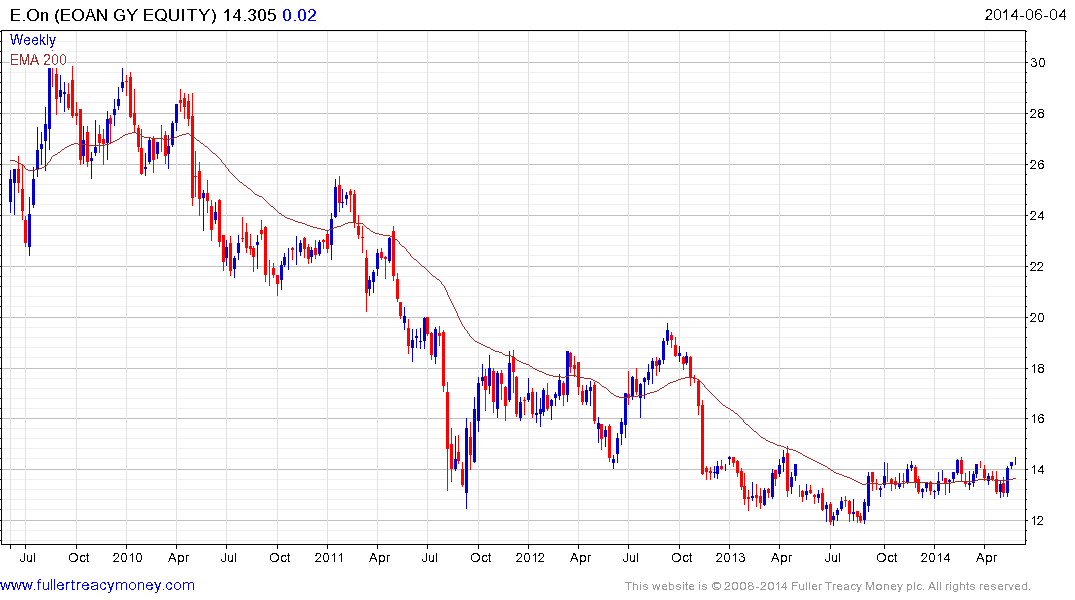 Germany's utilities bore the brunt of this transition. However, the share prices of RWE (Est P/E 13.13, DY 3.39%) and E.ON (Est P/E 15.28, DY 4.19%) have stabilised near their 2011 lows and they both recently found support in the region of their 200-day MAs. Sustained moves below their respective trend means would be required to question medium-term potential for additional upside.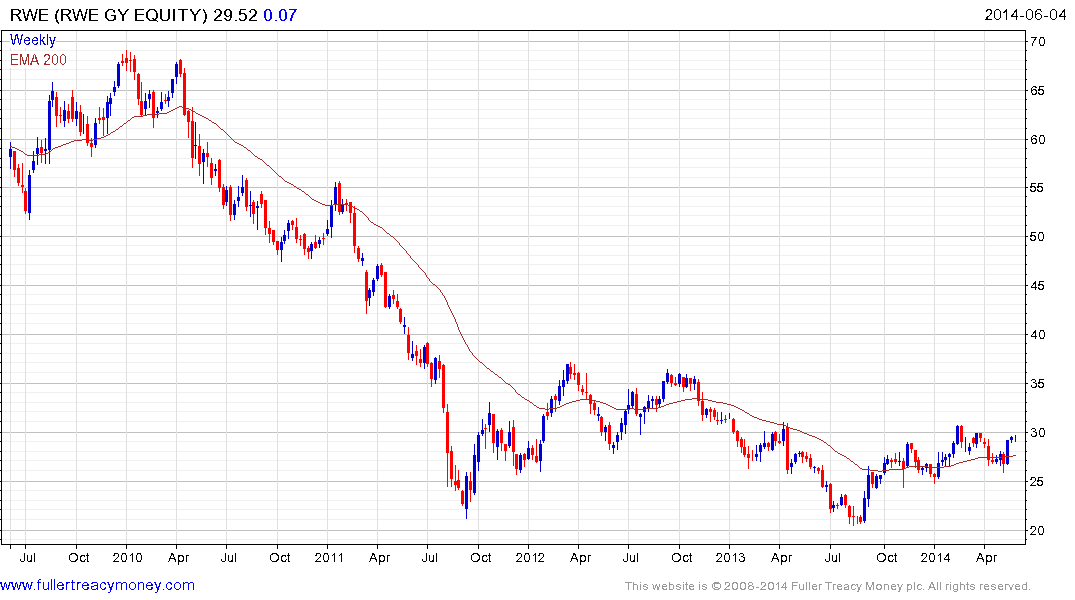 Back to top