Musings from the Oil Patch June 2nd 2015
Thanks to a subscriber for this edition of Allen Brooks' ever interesting report for PPHB. Here is a section on Canadian energy exports:
More importantly, when we look at total natural gas import volumes and the percentage originating from Canada, we can see (Exhibit 13) how important imports and Canada's share were until total imports peaked in the winter of 2007-2008 and began to slide. As gas import volumes peaked, the Canadian share declined and other supply sources expanded, in particular LNG volumes from the Caribbean. In recent months, LNG and other gas supply sources declined, leaving Canadian pipeline gas as our sole import volumes.

The dilemma for Canada is that without either more rapid growth in U.S. natural gas consumption or a decline in U.S. gas output, Canada's ability to ship more of its gas production to the U.S. will be capped, or possibly worse shrink. This is a reason why Canadian politicians need to work harder to open other export opportunities for its natural gas and oil output. Without them, Canada's petroleum industry will face an extended period of depressed activity as it is highly likely that Canadian natural gas prices will remain depressed and volumes shipped out will show no growth, not a good outlook for either Canada's economy or its petroleum industry.
Here is a link to the full report.

The USA's unconventional oil and gas revolution has done Canada no favours. A failure to develop additional export markets has left the country at the mercy of an explosion in supply from shale oil and gas wells in the USA and it will still be a number of years before even the most optimistic plans for additional export options are realised. This should be a national priority for such a resource dependent country but handwringing about the environmental consequences and continued dependence on a fickle US judiciary has delayed export projects.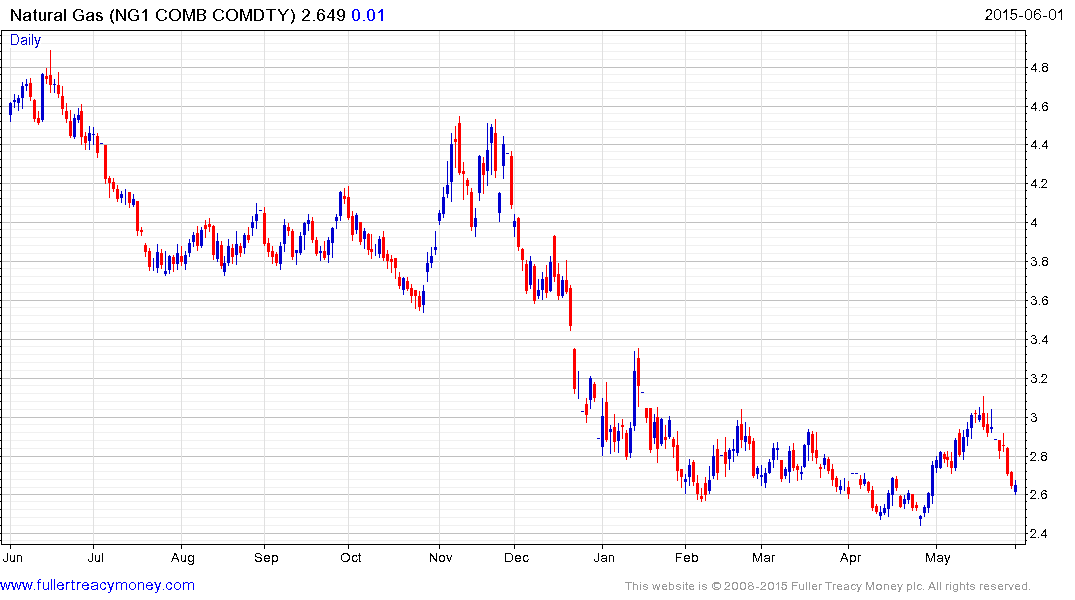 Natural gas prices have firmed from the $2.50 area on a number of occasions since 2009 and steadied above that area again today. A sustained move above the still declining 200-day MA would be required to confirm a return to demand dominance beyond the short term.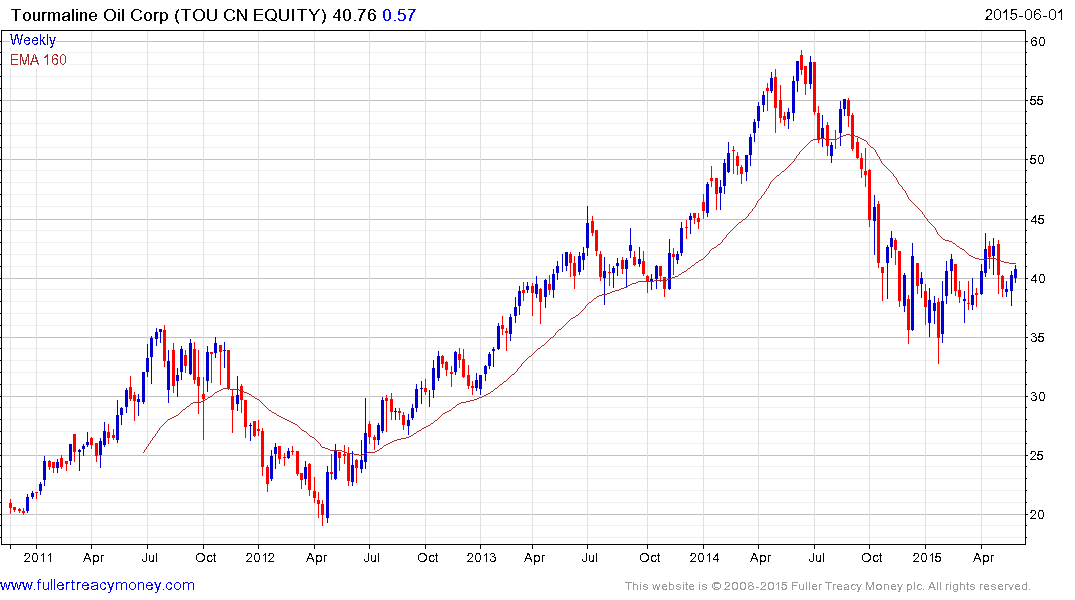 Among Western Canadian energy producers Tourmaline Oil Corp found support in the region of $35 from March and continues to hold a progression of high reaction lows.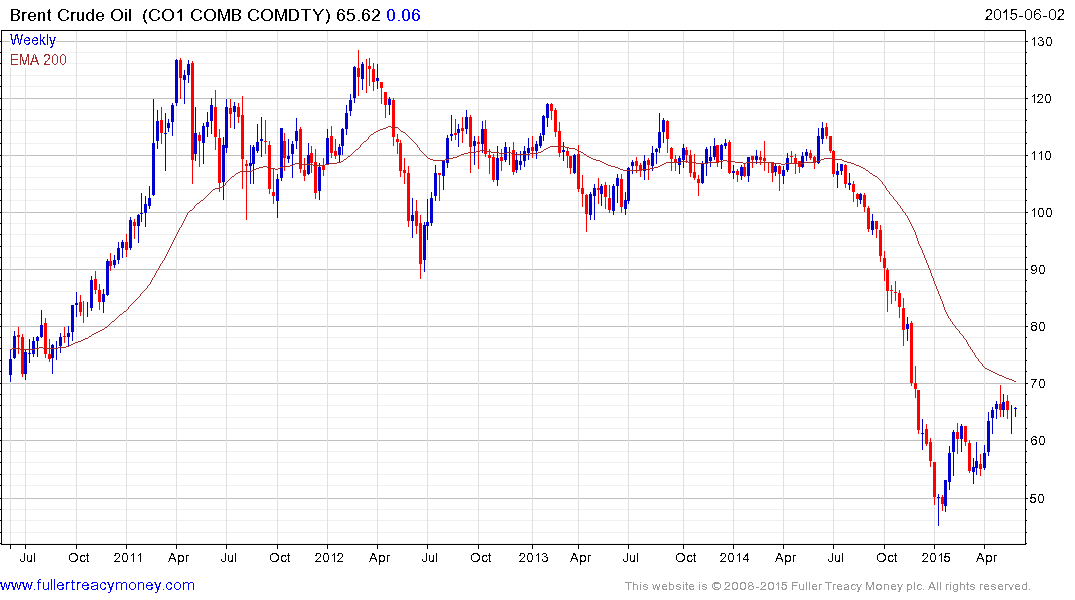 Meanwhile oil prices continue to revert towards the mean and continue to hold the progression of higher reaction lows evident since January. A sustained move below $65 would now be required to question Brent Crude's short-term advance.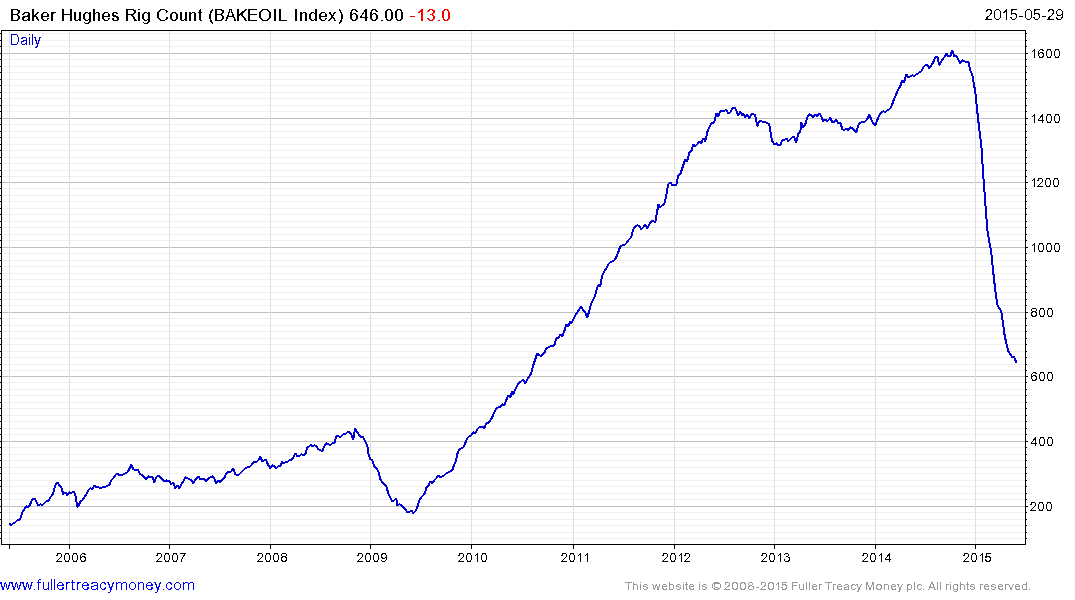 A number of traders continue to watch for the Baker Hughes Rig Count to turn positive as a sign of US production increasing in response to more favourable pricing.
Back to top