Musings from the Oil Patch July 10th 2018
Thanks to a subscriber for this edition of Allen Brooks' ever interesting report for PPHB. This week it contains some interesting commentary on estimates of sea level rises but here is a section on electric vehicle demand:
There are many reasons why EVs are popular in California. Continuing to lead national social trends, the large population of wealthy entertainment and technology people love to show off their social awareness credentials, while taking advantage of lucrative financial and other driving benefits by purchasing EVs. Those benefits are being reduced as EV car manufacturers reach the limits at which federal tax subsidies for EVs are eliminated. The state has recently decided to double down and boost spending to subsidize EV sales. What is interesting, however, has been the elimination of the right to drive EVs in High Occupancy Vehicle (HOV) lanes in Southern California with one person, as too many vehicles have slowed lane speed and increased accident risk when EVs are entering and exiting HOV lanes. When the Toyota Prius lost use of HOV lanes, sales fell the following year. Prepare for similar shocks.
Here is a link to the full report.

Tesla will soon or potentially already has achieved 200,000 vehicles in sales which will mean that the $7500 subsidy buyers receive when taking delivery of cars will disappear. That's a headache for the hundreds of thousands of people waiting to get their model 3s.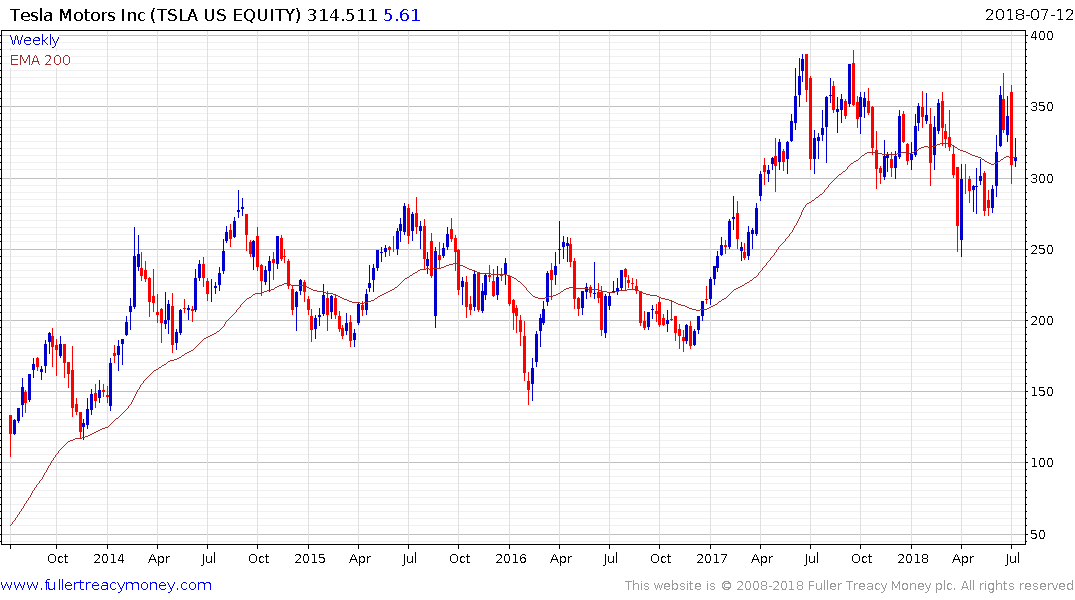 Quite apart from that challenge the company announced it is planning on building another large battery factory, this time in China. No mention was made for how this will be funded but we do know that the share ranged in a very volatile manner between when construction of the first factory was announced in 2014 to when it was completed in 2016. With investors are already of the opinion that Tesla will need to come back to the market for additional capital, it is more important than ever that the share hold the $300 level.
Back to top