Musings from the Oil Patch January 23rd 2019
Thanks to a subscriber for this edition of Allen Brooks' ever interesting report for PPHB. Here is a section:
Here is a link to the full report and a section from it:

Despite both oil prices and energy share prices rising in the early days of 2019, there is no guarantee this pattern will continue for all of 2019. However, most oil market forecasters are looking for the oversupply of global crude oil that emerged during the second half of 2018 to dissipate during the first part of 2019, given the production cut by the OPEC+ group of oil exporters, Canada's mandatory output reduction, and the continuing decline in Venezuela's output. Added to the supply reductions, a weaker U.S. dollar value should further help boost demand and lift crude oil prices. That is important since this optimistic oil price outlook for 2019 assumes that global oil demand growth remains healthy at 1.2-1.4 million barrels per day.
Should growth be only about one million barrels a day, or less, there will be increased market pressure for the current OPEC+ production cut to be sustained for all of 2019, rather than its planned first six months of the year, and for Canada's output reduction to continue at the high first quarter rate rather than decline as currently programmed. Oil market forecasters are also counting on the swift price decline experienced during 2018's fourth quarter to negatively impact U.S. oil production growth this year. That growth is already being limited by Permian Basin oil shipment constraints, which are not expected to improve until new oil export pipelines start up later in 2019.

OPEC's supply cuts and US shale's continued growth are already in the market. The question of how fast global growth will be, and therefore the demand outlook, is a movable feast but the trajectory of interest rates and the trade war are obviously important factors.
The big wild card for the energy sector is Venezuela. With both Brazil's new president and President Trump advocating for the opposition leader in the last 24 hours, there is more international attention beginning to focus on the world's biggest migrant crisis that is going largely unreported. If Maduro is deposed the first order of business for any new administration will be to get oil production up and running as quickly as possible.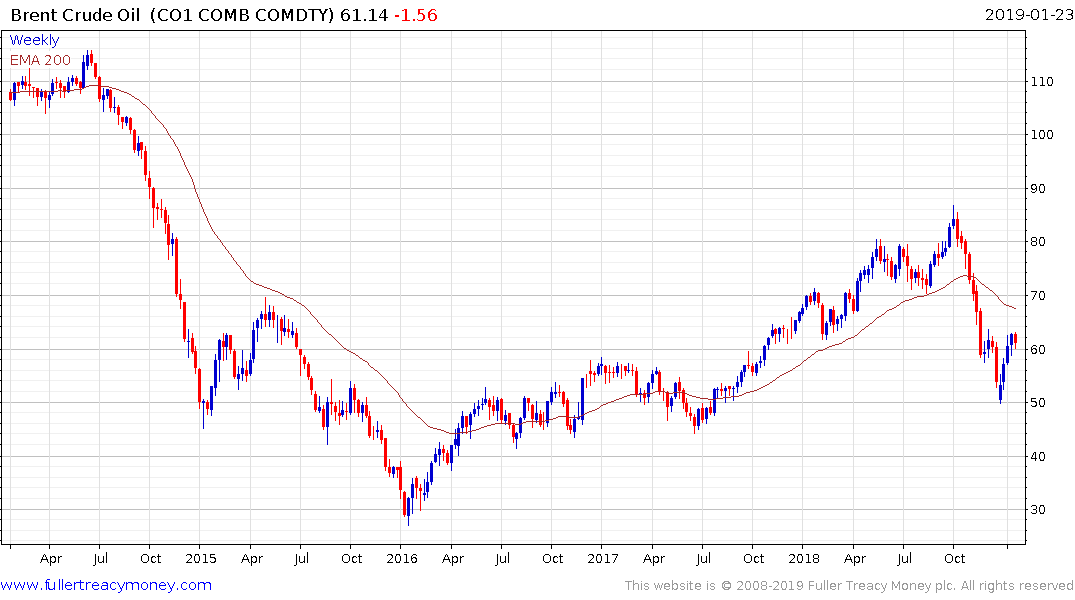 Brent Crude has been steadying above $60 over the last couple of weeks but will need to hold the low near $50 if support building is to continue to be given the benefit of the doubt.
Back to top