Musings from the Oil Patch August 18th 2014
Thanks to a subscriber for this edition of Allen Brooks' ever interesting report for PPHB which may be of interest to subscribers. Here is a section:
As the EIA analysis pointed out, for the year ending March 31, 2014, 127 major oil and natural gas companies generated $568 billion of cash from operations, but their major uses of cash totaled $677 billion, leaving nearly a $110 billion shortfall. That shortfall was met by $106 billion increase in debt and $73 billion from sales of assets, leading to an overall increase in cash balances.

The oil and gas industry is facing a challenging future. Regardless of whether peace or war breaks out, the industry is likely looking at meaningful changes in its underlying fundamentals – commodity prices and energy demand. Depending on which way prices go, companies might have more or less cash from operations. On the other hand, whichever way commodity prices go, demand will also change, either positively or negatively. Due to these scenarios, the energy industry will either need to ramp up its spending to find and develop new supplies or it must cut back spending due to adequate supplies. Thrown into the mix is a more difficult and expensive environment for finding and developing new large oil and gas supplies.

For many in the energy industry who are unconcerned about the above challenges, we worry that they may be looking over the horizon with a risk of falling into the near-term valley. When confronted with what are perceived as merely short-term interruptions to long-term industry trends, it is often easier to maintain one's focus on these long-term trends to the exclusion of short-term conditions. If one studies the history of the energy industry during the first half of the 1980s, the result of continued long-term focus over concern for short-term ills proved devastating. We certainly hope current conditions are not a precursor to a repeat of the early 1980s, but hopefully by raising this issue we are providing a service to the industry.
Here is a link to the full report.

Unconventional shale and deep water oil might be abundant but they are not cheap sources of supply. Together with increasingly strident nationalisation trends across a number of jurisdictions, the cost of delivering additional supplies remains a challenge for oil companies. Over the last twenty years the response of companies such as Exxon and Shell has been to focus on natural gas but again new sources of supply are not cheap when compared with conventional supplies.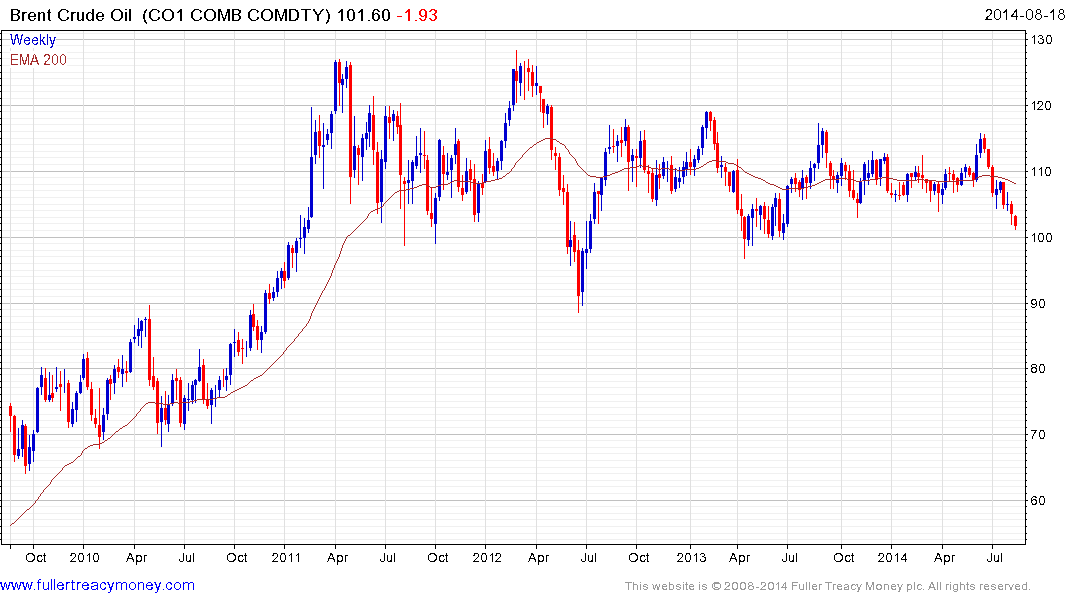 Brent crude has fallen back to test the psychological $100 level which has offered support since 2011, not least because Saudi Arabia has said it will limit supplies if prices fall below that level. Nevertheless a clear upward dynamic will be required to confirm support in this area following what has been steep decline since late June. Our base case for inflation adjusted oil prices remains for lower to lateral ranging over the extended medium-term. While this view has been gaining ground recently, a sustained move below $100 would necessitate some reassessment for higher cost projects.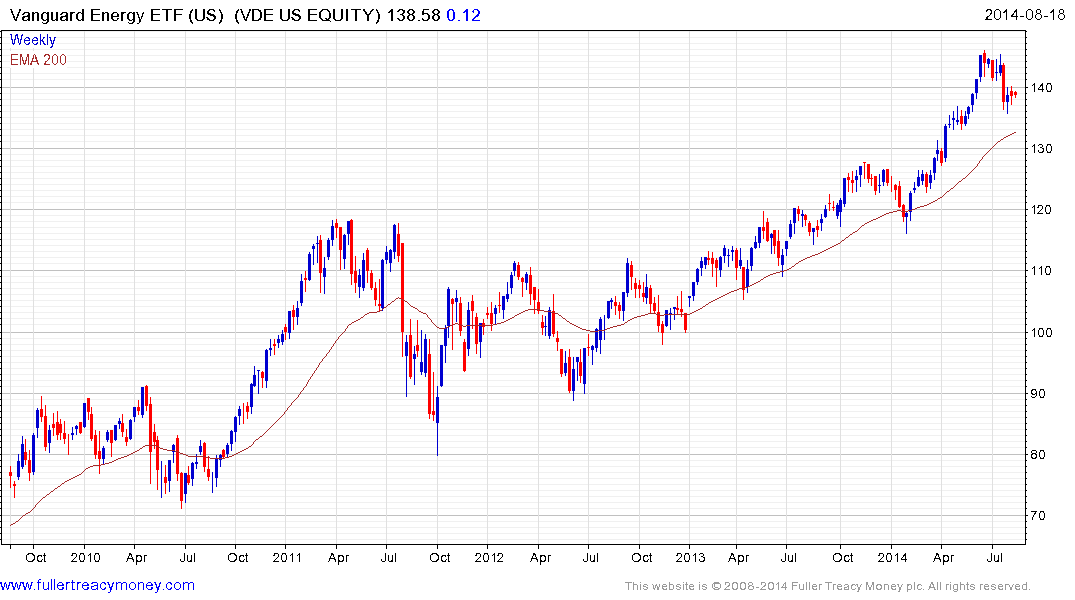 In the meantime the Vanguard Energy ETF has returned to test the region of the 200-day MA and a sustained move below it would be required to question the consistency of the medium-term uptrend.
Back to top