MIT study sees nuclear power as integral to a low-carbon future
This article by David Szondy for NewAtlas.com may be of interest to subscribers. Here is a section:
Much of this is a matter of intense debate, but one big problem is that if the world is to invest in a policy of deep decarbonatization by the year 2050, there is a real chance it can only be done at either massive expense or the price of much less electricity being available at higher costs, lower standards of living in both the developed and developing world, and even a shrinking global economy.

To prevent this from happening, the MIT study says that nuclear power with its zero-carbon emissions must play a much larger role in electricity generation on a global scale. Today, the total share of global nuclear power as a primary energy source is a mere five percent, with very little growth in the West and some countries actually abandoning the technology.
If we wish to cut down on carbon emissions then renewables are certainly a way to do it but they do not get around the questions of sustaining base load when the wind does not blow or the sun does not shine. That means we need to have a lot more industrial sized batteries to store energy for the proverbial "rainy day" or we need additional back up conventional generators. Nuclear is carbon neutral but is also prone to massive cost overruns and accidents, however rare, tend to influence public opinion for decades.
While nuclear is a high-minded solution, coal has been the go-to fuel for countries seeking to ensure base load at an affordable cost. This article from the Wall Street Journal included a useful graphic of global coal demand. Here is a section:
Coal accounted for 38% of the world's electric power generation in 2017, putting it at the same level as in 1998, according to a recent report by BP PLC. A revival of the thermal coal market last year helped to lift mining companies' earnings and share prices. Among them was Glencore PLC, one of the world's largest mining concerns. In March, it spent $1.7 billion for coal assets in Australia as part of a bet that demand for coal in Southeast Asia will remain robust.
Meanwhile, global carbon emissions from coal and other fossil fuels increased by 1.4% in 2017 after three flat years. The rise is attributed to economic growth and increasing energy demand in Asia, according to the IEA. Emissions are linked to rising global temperatures and more extreme weather patterns, experts say, and coal is a leading contributor to human health problems.
The World Bank stopped financing coal in 2010 because of the hydrocarbon's link to global warming, and many international banks are turning away from fossil fuel projects. Last year, Deutsche Bank said it wouldn't grant financing for new coal mining or coal-powered projects. In July, Lloyds Banking Group said it would stop extending loans for new coal ventures.


The graphic demonstrates that while coal has been stable the rise of renewables has made up for the decline in nuclear. The net result is emissions are rising. While institutions are ruling out financing coal projects they do not seem willing to support nuclear either but that does not tackle the question of emissions.
The simple reality is when emerging countries are faced with the question generating power they are always going to go with the cheapest solution and that is coal. Since energy demand growth is going to be centred in Asia and Africa over the coming decades the biggest challenge for environmentalists will be in delivering a cheap effective solution that is practical for emerging economies to deploy. In the absence of a common-sense approach coal use will continue to trend higher.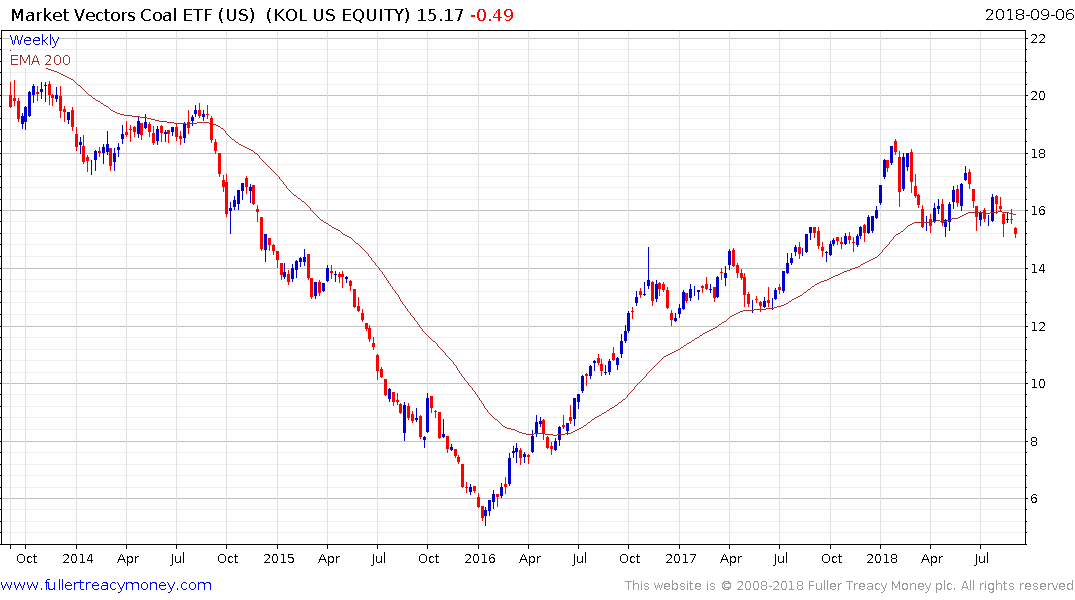 Right now, the VanEck Vectors Coal ETF is breaking down not least because of instability in emerging markets and a sustained move back above the trend mean will be required to check potential for continued downside.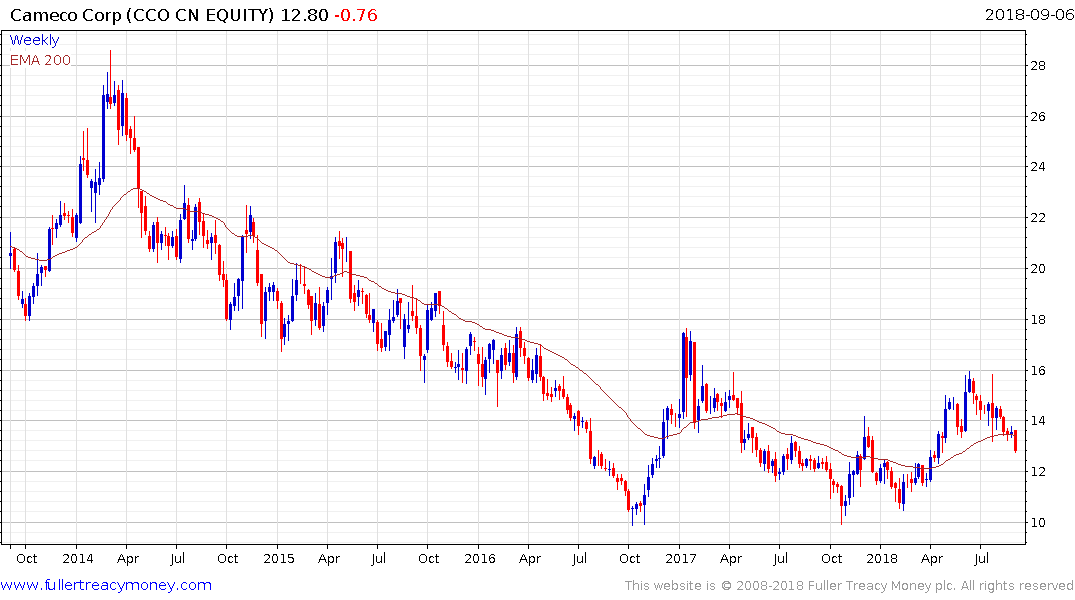 Cameco, which is the odd position of be able to buy uranium cheaper on the spot market than producing the metal itself, dropped below the trend mean this week. A clear upward dynamic will be required to check the near-term downward bias.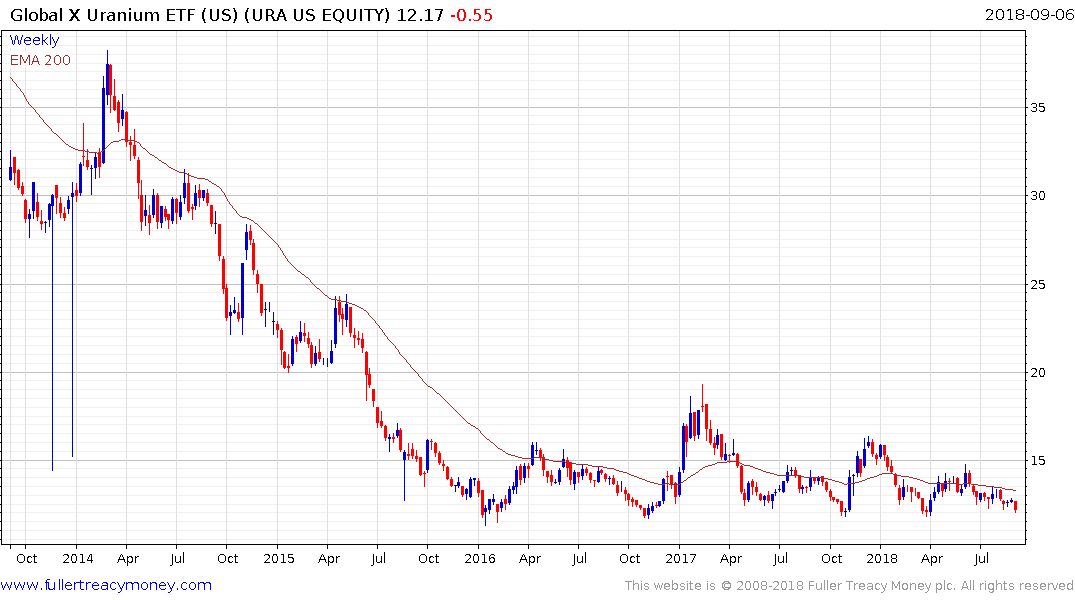 The Global X Uranium ETF is back testing its lows and will need to rally soon if supporting building is to be given the benefit of the doubt.
Back to top