Midcap British Stocks Soar On Move Toward Brexit Talks
This article by Steve Goldstein for MarketWatch may be of interest to subscribers. Here it is in full:
The midcap FTSE 250 rose 3.5%, its best single-day percentage gain in more than three years, as European leaders indicated there was progress toward reaching an agreed deal with the U.K. on leaving the European Union. The European Union says it has agreed with the United Kingdom to "intensify" Brexit negotiations in a belated attempt to reach a divorce deal ahead of Oct. 31. A number of FTSE 250 components sported double-digit gains, including bank CYBG, building materials distributor Grafton Group and home improvement retailer Travis Perkins. The FTSE 100 however saw much smaller gains, of just 0.7%, because many of those components record revenue in dollars.
The Pound has staged one its largest two-day rallies in years and that is pressuring the shares of companies that rely on overseas earnings. The divergence in performance between the FTSE-100 and the FTSE-250 highlights the benefit to domestically oriented companies from a resolution of the Brexit conundrum.


Until today, the FTSE-250 has shared a great deal of commonality with midcap indices globally. However, the potential for the removal of uncertainty surrounding Brexit changes the arithmetic for many investors. The upward dynamic from the region of the trend mean this week confirm a return to demand dominance in the near-term and potentially the medium term.
Among the most notable moves were the domestically focused banks and home builders.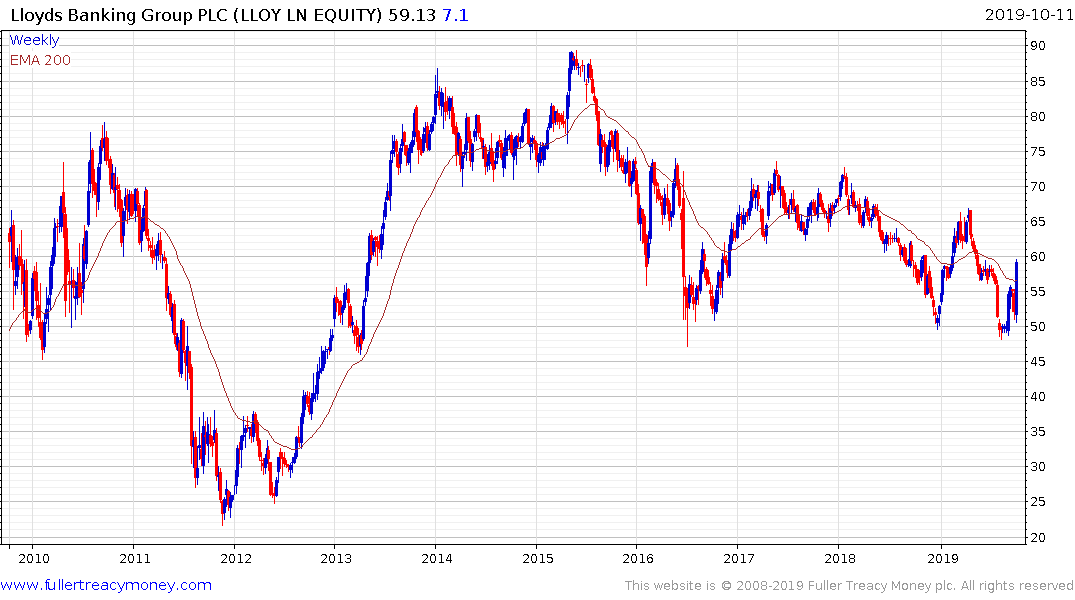 Lloyds has a dividend yield of 5.5%, following today's rally, and is bouncing from the lower side of a three-year range.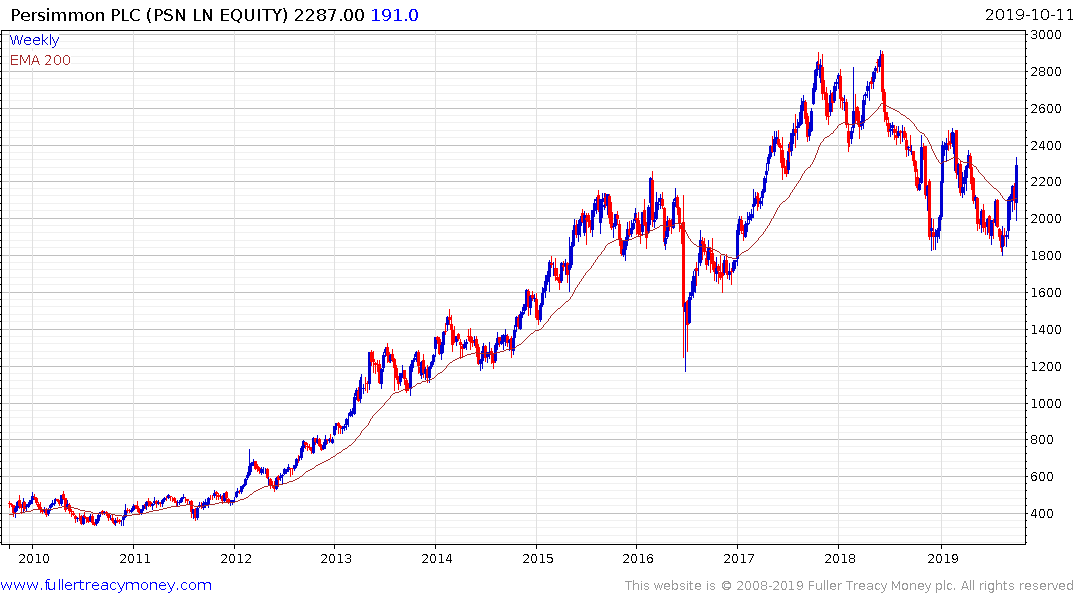 Persimmon yields 10.28% with a forward P/E of 8.4. The share is rebounding from the psychological 2000p level and is now trading back above its trend mean.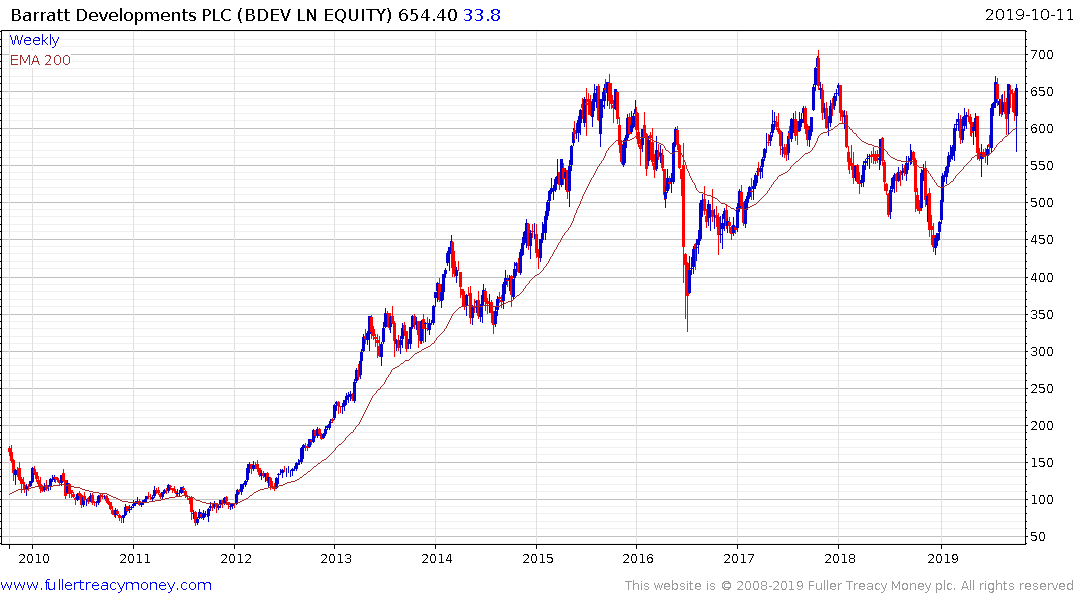 Barratt Developments yields 4.4% and is rebounding from the region of the trend mean to test the upper side of a four-year range.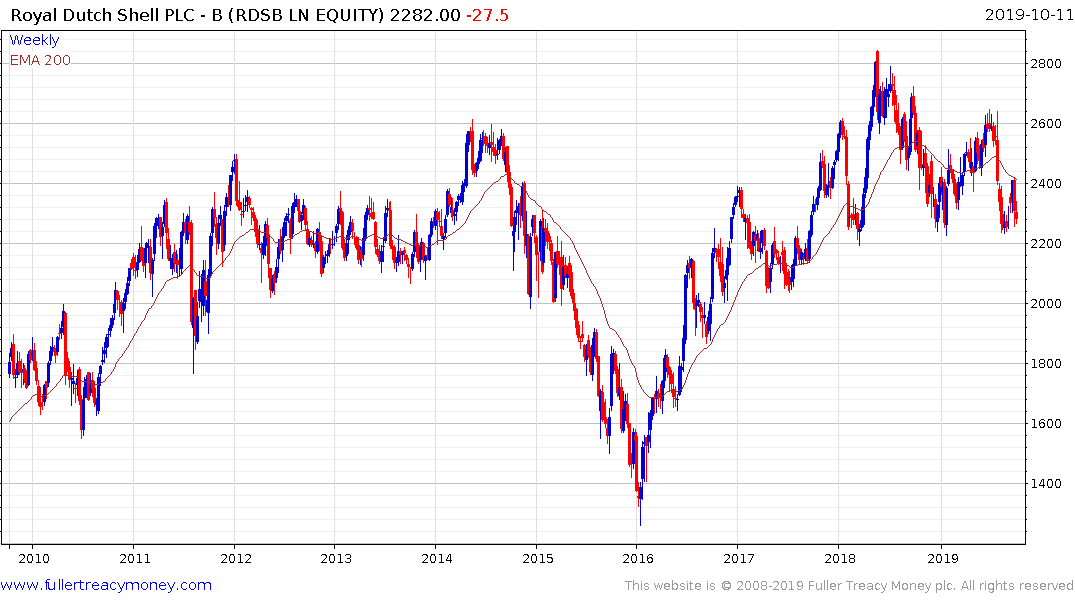 As a major commodity producer Royal Dutch Shell is exposed to the strength of the Pound and the weakness in international gas prices. The share yields 6.47% but is back testing its lows near 2200 and will need to rally soon if demand dominance is to be reasserted.
Back to top