Mexico's Nearshoring Bonanza Is Not Yet Near
This article from Bloomberg may be of interest. Here is a section:
But though the nearshoring story remains plausible, the data so far do not quite justify the exuberant optimism that North America can pull Mexico into the developed world.

Recent government trade data confirm that the US is moving away from China. Last year Chinese exports accounted for only 17% of US imports, down from 22% during President Trump's first year in office. In 2023 they have cratered, accounting for only 13% of what the US bought from abroad in the first four months of the year.

But Mexico is not taking over. Its 15% share of US imports this year is only 1.3 percentage points higher than it was in 2017. Indeed, other Asian exporters are taking a larger chunk.

Moreover, the nearshoring boom is hard to detect in the investment numbers. Foreign direct investment into Mexico has been stronger in the last ten years than in the prior decade, but the data show no recent upsurge. Indeed, new investment — excluding reinvested earnings — seems somewhat lower.
To date the bulk of inward investment to Mexico has been focused on utilities. That's a bet on a growing population and increasing demand water, electricity and gas. That's now, it does not speak to the future. The continued strength of the Peso suggests more than a few institutional investors are more than happy to bet on the nearshoring theme.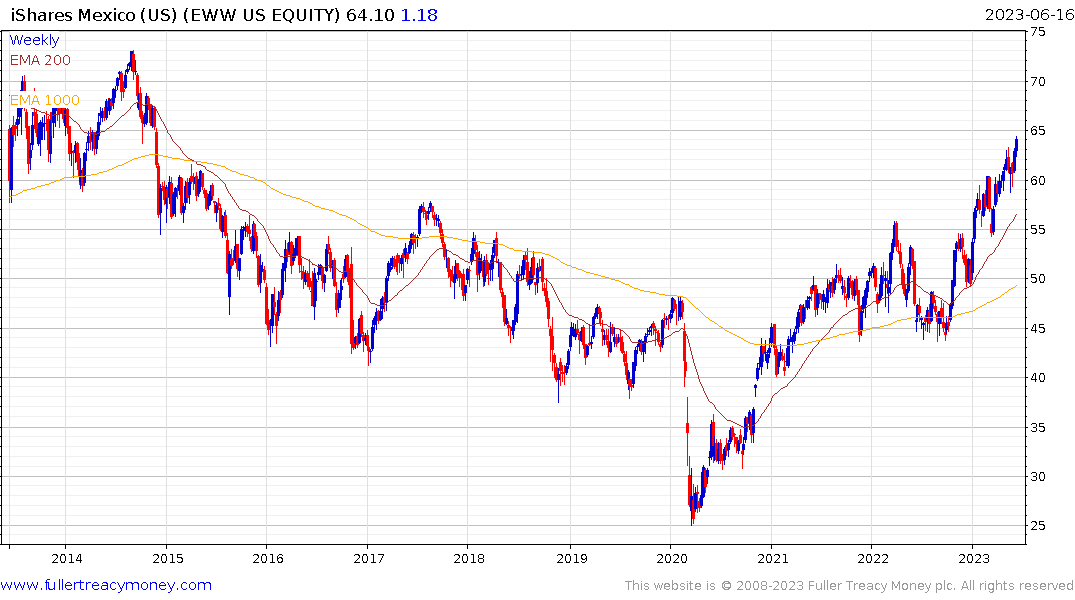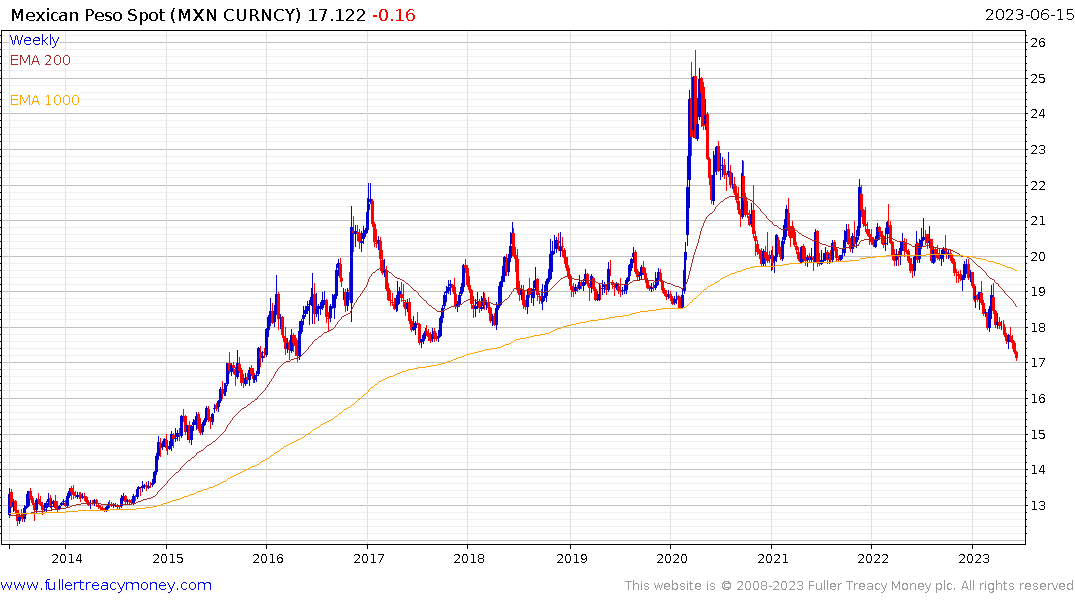 Tesla expects construction of its gigafactory in Monterrey to take between 12 and 15 months because they expect to install their new streamlined manufacturing process. That is aimed at developing a smaller version of the model Y which should have a lower price point.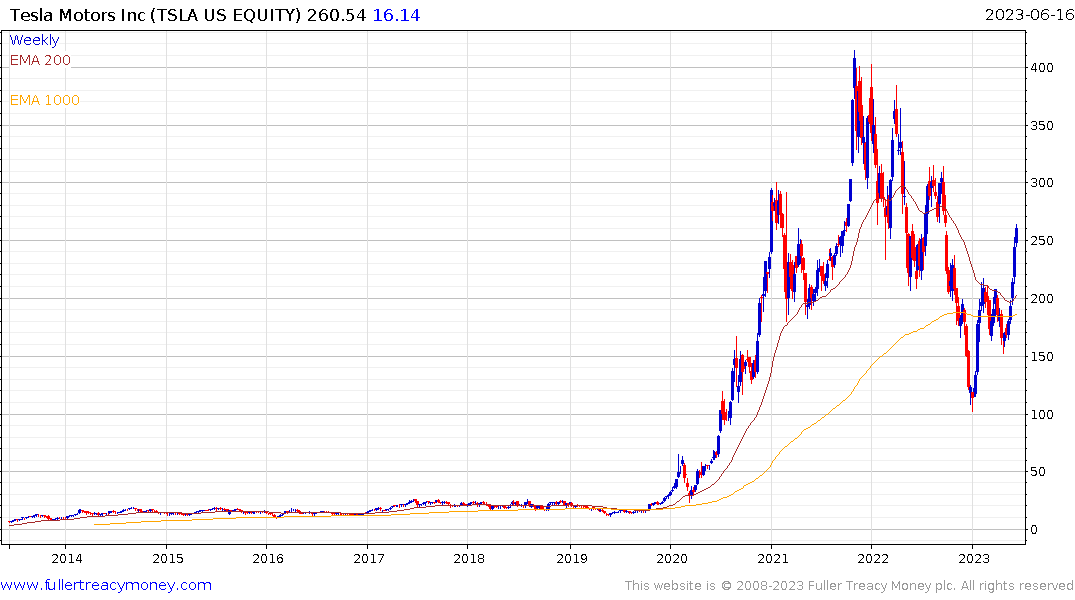 Tesla remains on a recovery trajectory but is somewhat overbought in the short term.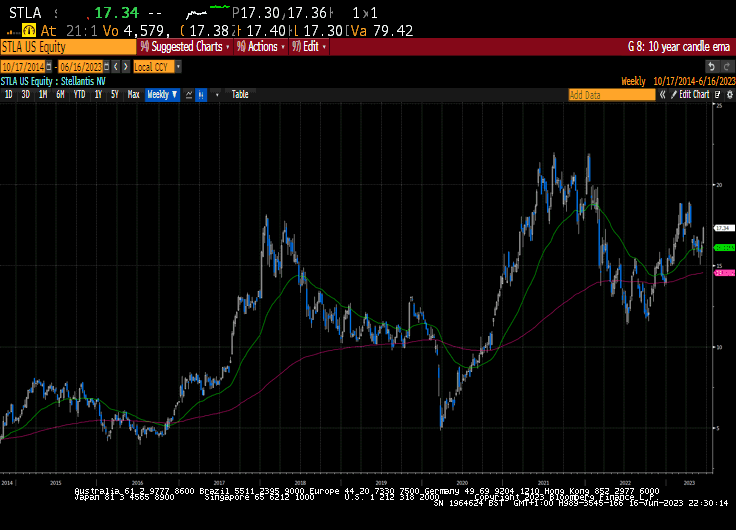 Stellantis announced yesterday they expect to release a mass market $25,000 EV early next year. That's aimed at competing which cheap Chinese imports and is a further iteration of the ongoing price war. The share is rebounding from the region of the 200-day MA.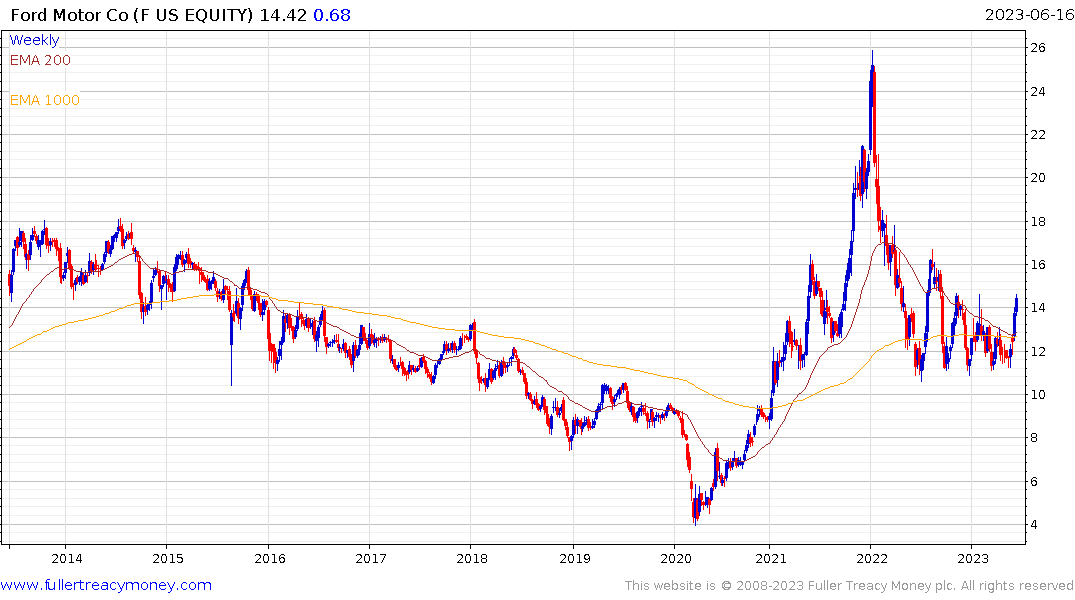 Ford has completed a narrowing triangular pattern with a clear break higher which is type-2 bottoming characteristic.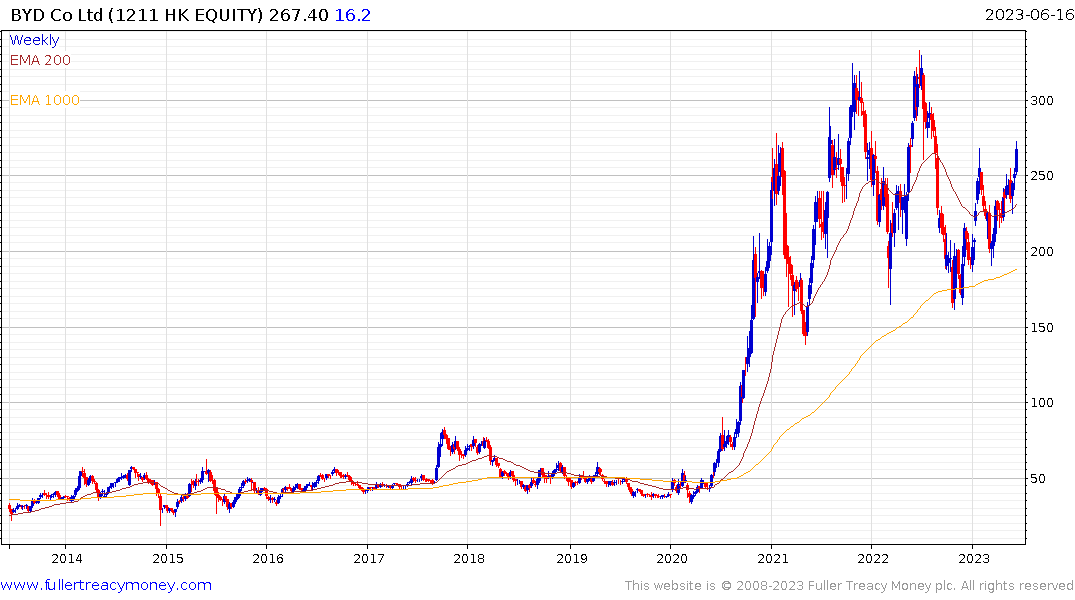 BYD has also rebounded and continues to hold a sequence of higher reaction lows.
The smaller loss-making EV companies are likely to be the biggest victims of the price war.
Back to top