Lucid Air blows past the competition (Tesla) with 520-mile EPA range
This article from NewAtlas may be of interest to subscribers. Here is a section:
When Lucid Motors first announced its Air sedan would return 517 miles (832 km) on a single charge, it sounded too good to be true. But Lucid didn't think so, having hired an independent test firm to run it through the EPA cycle. A year and change later, Lucid's best-in-market electric car range stands. The official EPA numbers are out and show that the first 2022 Air models will all surpass the 405-mile (652 km) EPA benchmark set by the 2021 Tesla Model S Long Range, with the longest-distance variants breaking 500 miles.
The gauntlet has been thrown down. The Lucid vehicle has a longer range and charges faster than Tesla's best in class vehicle. Right now, it costs about double what a Tesla does and deliveries are only just starting but the equivalent of an electric vehicle arms race is beginning.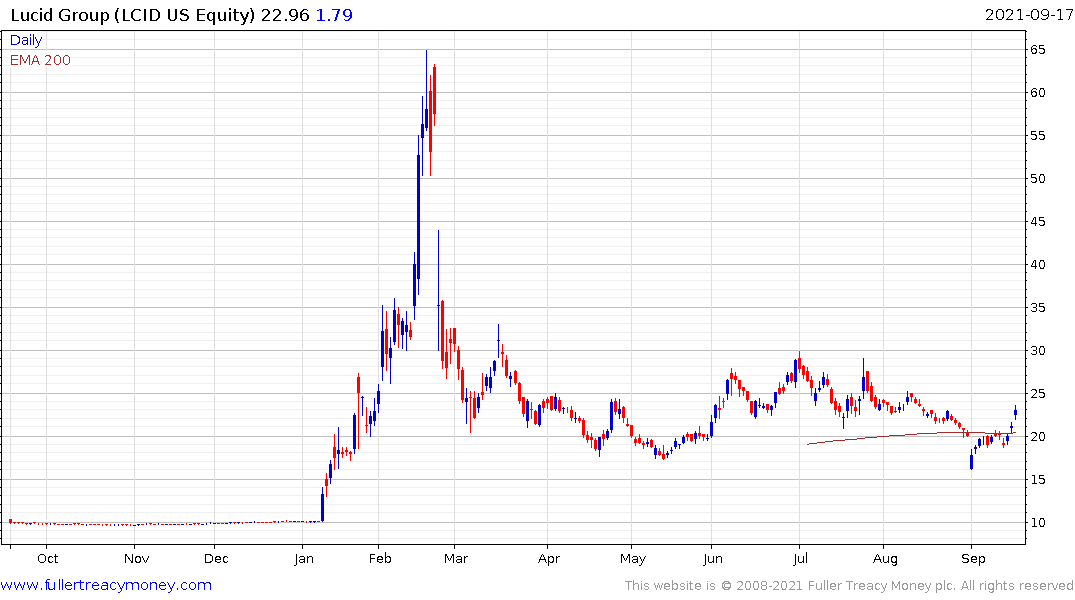 This article from Forbes about a year ago contains a lot of claims from Lucid that have since been proved true. Here is a section focusing on charging:
"Also, the Electrify America rapid system is 1000 volts and up to 350 kilowatts. Even the fast-charge Tesla Model 3 is only 250kW and 400 volts. Two weeks ago, we didn't warn Electrify America before we drove one of our cars to a charging station. We plugged in and drew 340 kilowatts. The engineers at Electrify America wondered what on earth had happened."
This story has been confirmed with Electrify America's Cliff Fietzek, senior director of technology. "With our chargers capable of 350 kilowatts, we got an immediate alert from our engineers when they observed online an all-electric Lucid Air charging well above 300kW at a station in Northern California. We are elated to see new EVs coming to market that can take full advantage of our advanced charging technology." As the late Sean Connery might have said, "One ping. One ping only."
"Porsche Taycan does about 2.5 miles per kilowatt hour—that's how efficient it is. Lucid Air does about 4.6 miles per kilowatt hour. Double the miles of the Porsche, double the efficiency per kilowatt hour," says Rawlinson. "We have the fastest charging battery-electric car in the world. We can charge for 20 miles in one minute. Or 300 miles in 20 minutes."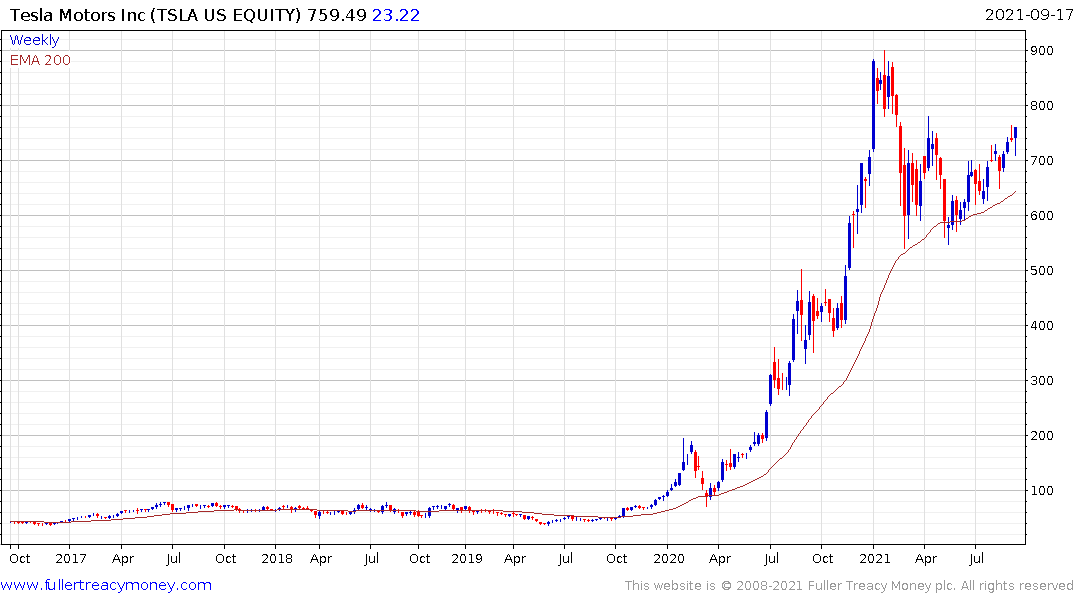 Tesla still has a head start in building and operating factories but Lucid has deep pockets. Saudi Arabia's sovereign wealth fund owns two thirds of the company. That explains why there are continued rumours they will build a factory in the country. The share has been ranging below $30 since the initial post SPAC surge and is currently firming from the lower boundary.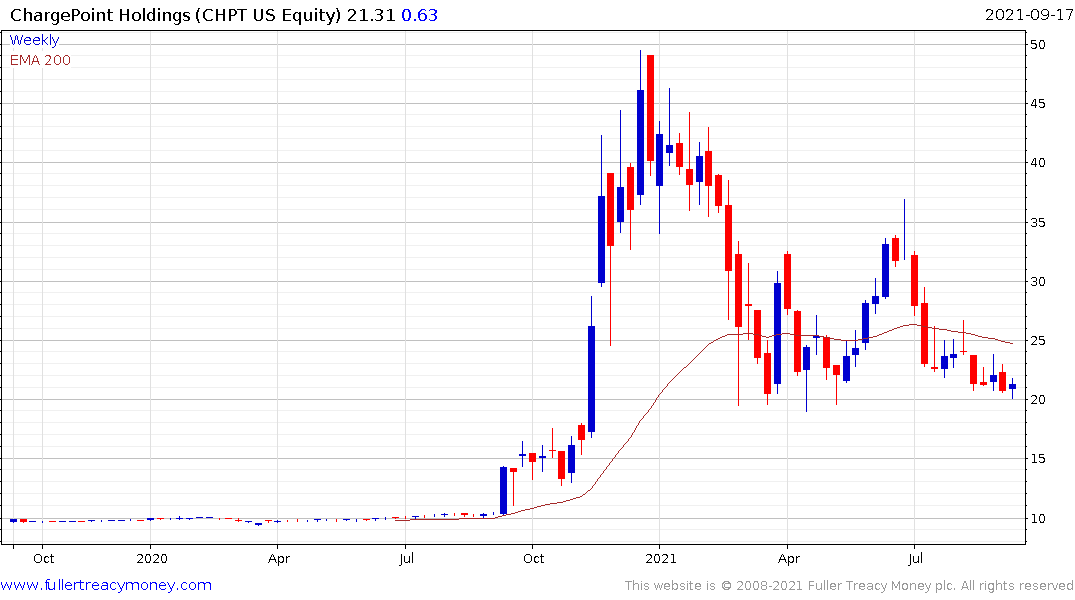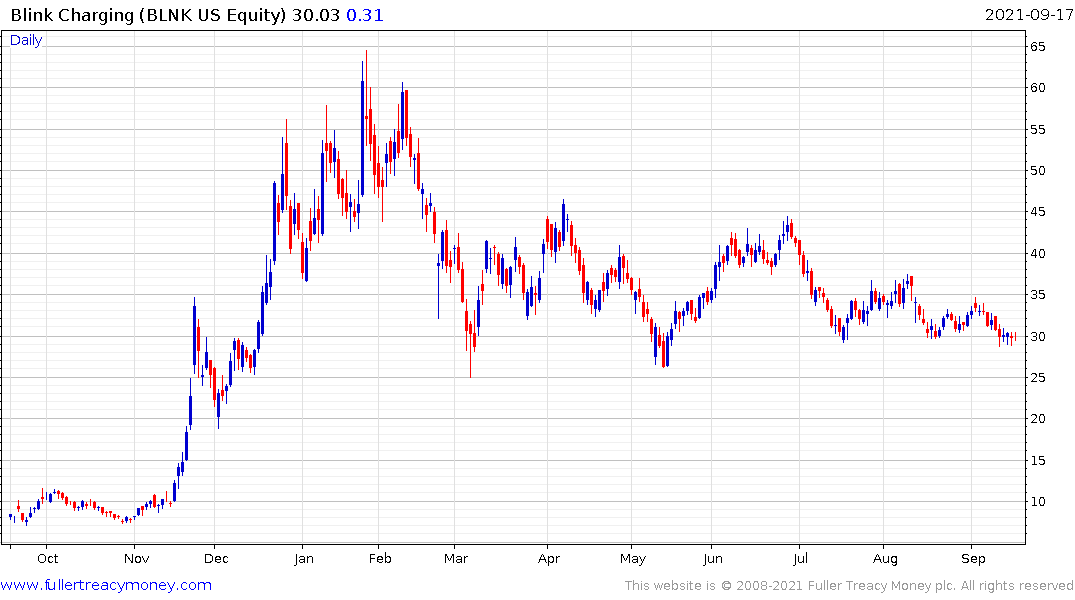 Among charging station companies, Electrify America is still privately held. ChargePoint continues to hold the $20 area as it builds support. Blink Charging shares a similar pattern.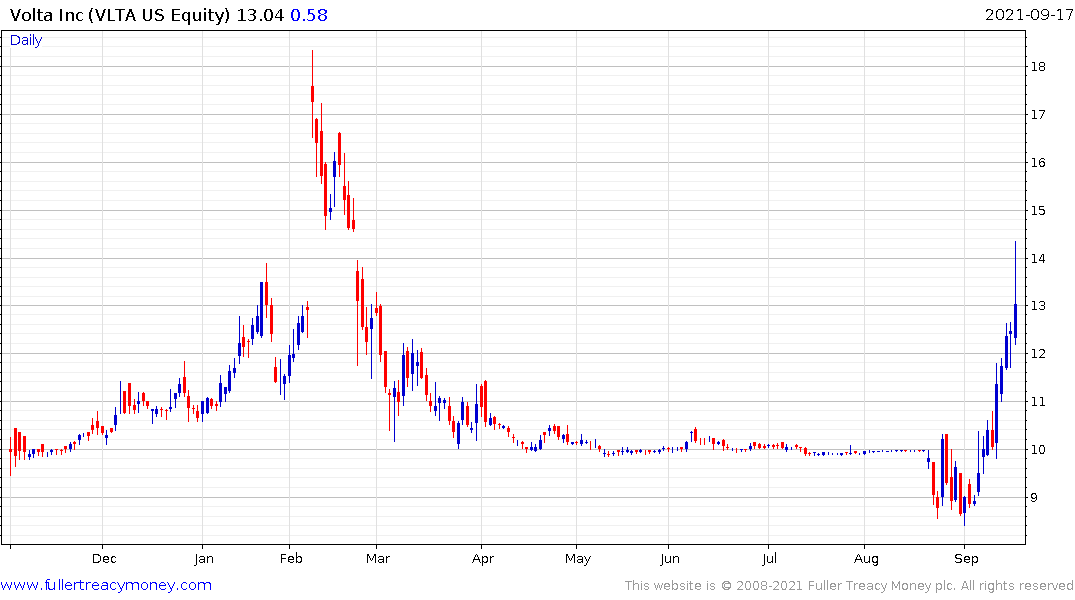 Volta broke out earlier this week to hit a new post SPAC surge high.
The outlook is for significantly more electricity demand. That's both in terms of quantity and urgency when these high kilowatt demand units plug in. Most countries' electrical grids are in no way prepared for this kind of demand draw. Most electricity markets have been reminded in the last month that renewable energy is intermittent and natural gas is a competitive market.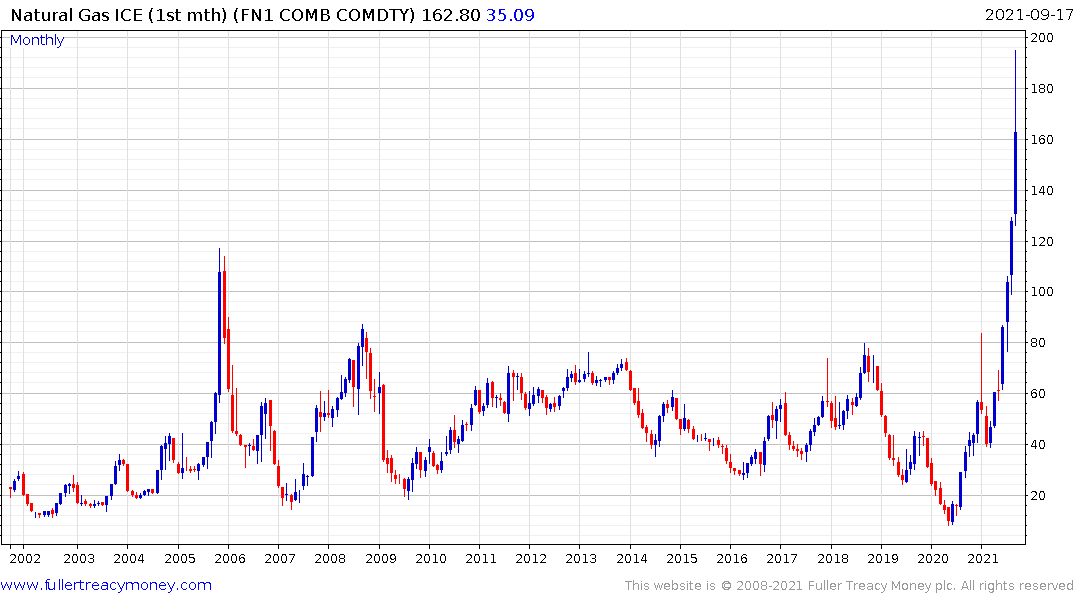 As auto manufacturers release more electric models there is significant scope for continued fragility in the electrical grid. Near-term that points towards greater reliance on natural gas. It's quite likely that the UK and US natural gas markets put in at least near-term, and potentially medium-term peaks this week. However, the increasing demand profile for electricity generation points towards a higher floor level during any pullback.
Longer-term term it is hard to imagine a future where nuclear does not play a significant role in achieving the goals of anything approaching zero emissions. China is on the cusp of starting a high temperature gas-cooled reactor. This is a generation IV design with particular focus on producing hydrogen for applications in the steel production sector.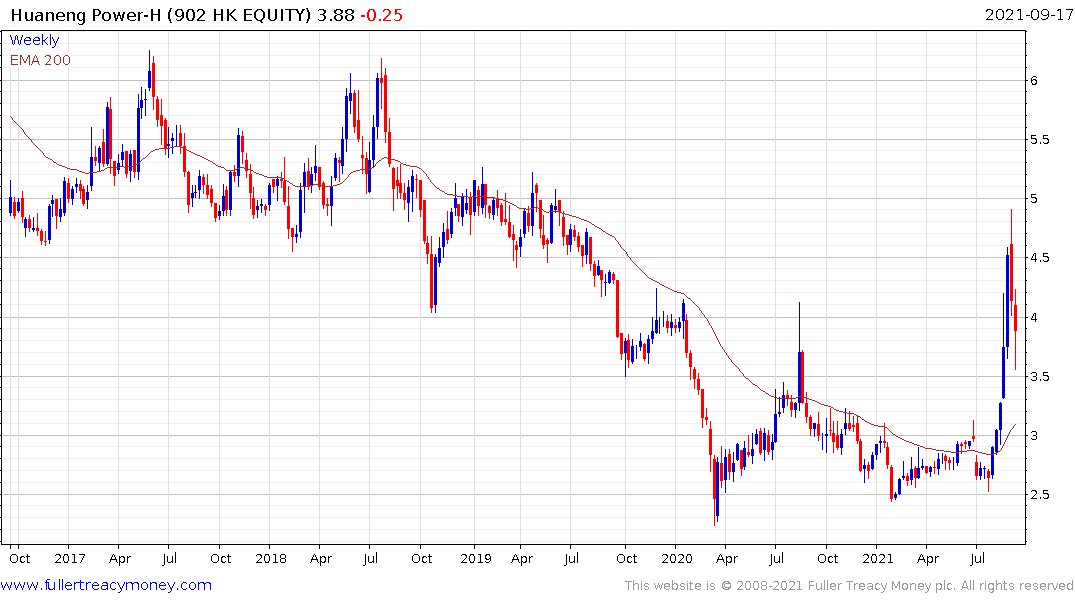 China Hauneng Group, which funded construction of the test plant, completed its base formation in August. The share posted an upside key day reversal today to signal at least near-term support in the region of HK$3.50.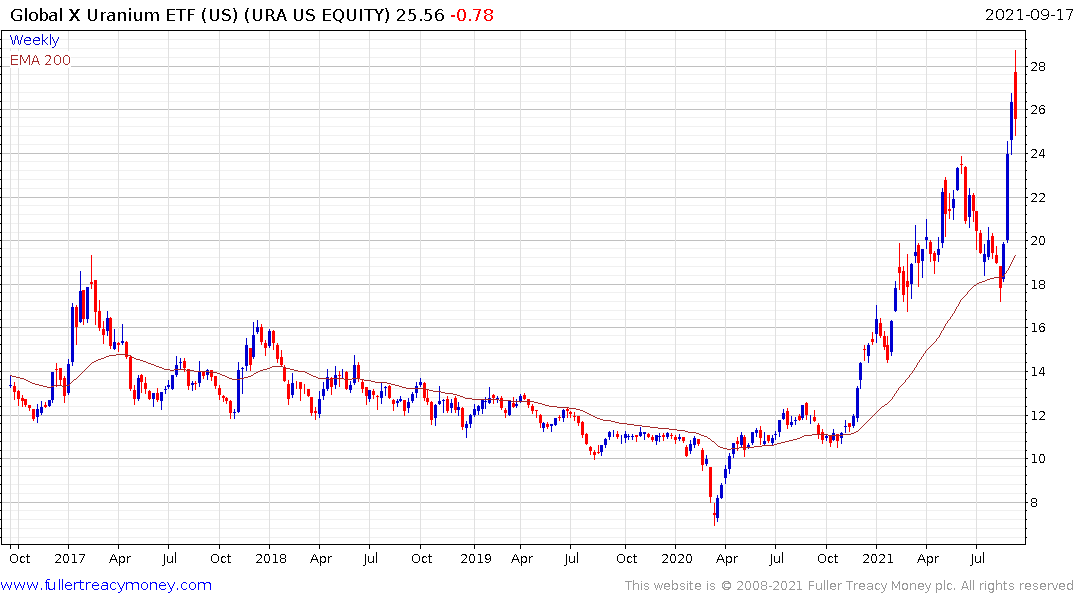 The Global X Uranium ETF remains on a recovery trajectory but is susceptible to mean reversion in the short term.
Back to top