LNG Is Proving a Pricey Alternative to Russian Gas Supplies
This article from Bloomberg may be of interest to subscribers. Here it is in full:
The disruption to oil flows caused by Moscow's missile attack on Ukraine underscored the need for Europe to find alternative sources of energy. But the LNG that the continent is seeking as a long-term replacement for Russian natural gas won't come cheap.

There's already a shortage of vessels to deliver liquefied natural gas due to a surge in demand, and a cold snap would increase global competition for tankers. Traders are paying at least 50% more to secure the ships, meaning higher costs for importing nations. Some of the newest, energy-efficient vessels are reportedly fetching up to $200,000 a day - almost double current rates.

A record 40 LNG tankers are now at sea, waiting for European prices to increase once winter sets in, according to shipowner Flex LNG Ltd. There are already bottlenecks at some ports, mainly in the UK and the Netherlands. That's due to a limited number of facilities to handle the influx and storage tanks that remain near full with mild weather muting demand.

This congestion has caused ships to be tied up in floating storage, removing tankers from the spot market, Flex LNG Chief Executive Officer Oystein Kalleklev said.

Germany is one step closer to providing some relief for the continent. On Tuesday officials said work was complete on the first jetty for a floating terminal near Wilhelmshaven on the North Sea. Firms including energy giant Uniper SE are now doing additional construction, with the idea of having the terminal operational this winter.

Still, supply could be tight during the coming months, just when Europe needs it most. The continent has relied on the US for much of its imports, and the return of Freeport LNG facility in Texas - following an explosion in June - was set to provide some relief. Now, it looks like the facility will remain offline as repairs continue and it awaits regulatory approvals to restart.

An extended outage at an LNG complex in Malaysia could further tighten the market, increasing spot cargo demand from North Asia. Spot LNG prices in the region surged Wednesday on higher freight costs.
Replacing reliable pipelines supplies with ship borne cargoes is far from ideal but it is a necessity for most of Europe. Even if the war in Ukraine ended tomorrow, politicians have learned their lesson, overreliance on a single suppler is ill advised. That ensures LNG will be a well-supported market in Europe regardless of any other events over the next decade.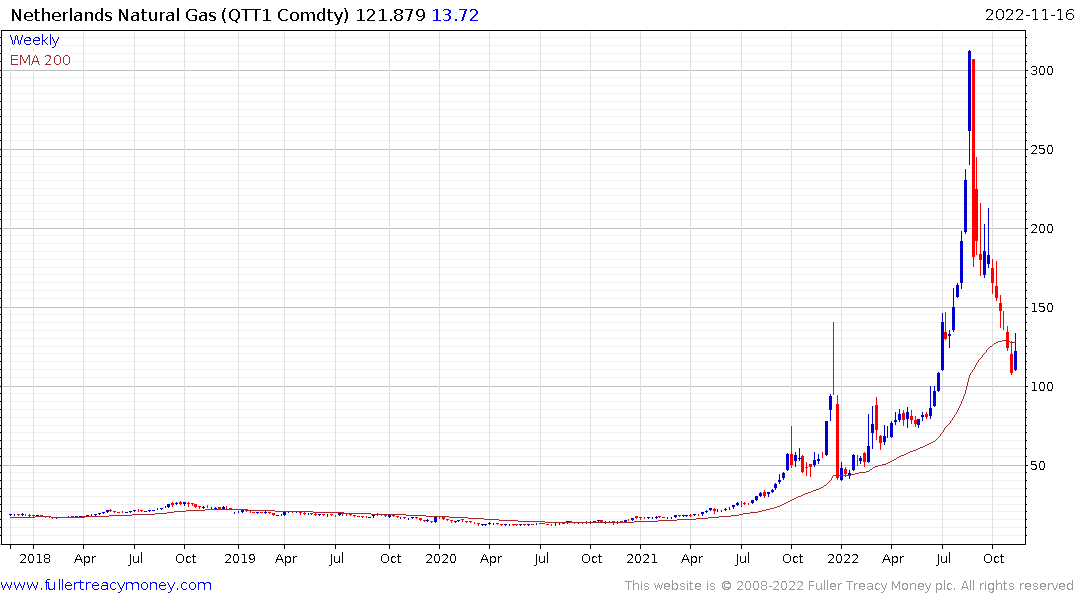 Dutch prices are steadying in the region of the 200-day MA and the psychological €100. The big question is not how much prices could rise in a tight market, but at what level they will stabilize outside of panicky episodes. If the €100 is the floor area, that is still triple what prices were ahead of the initial spike in late 2021.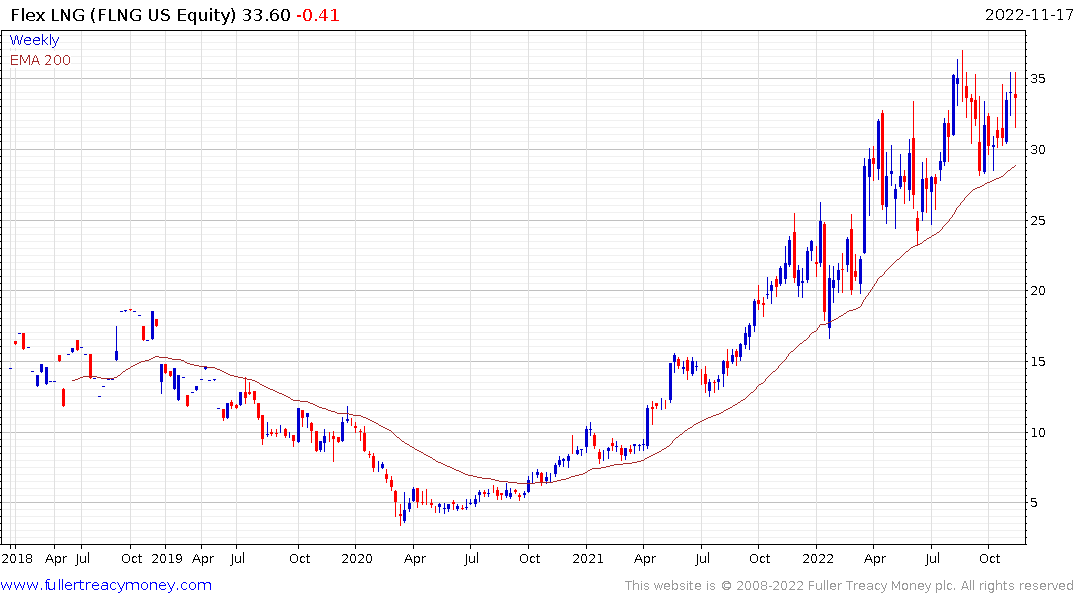 Among floating LNG regasification unit providers, Flex LNG remains in a reasonably consistent medium-term uptrend.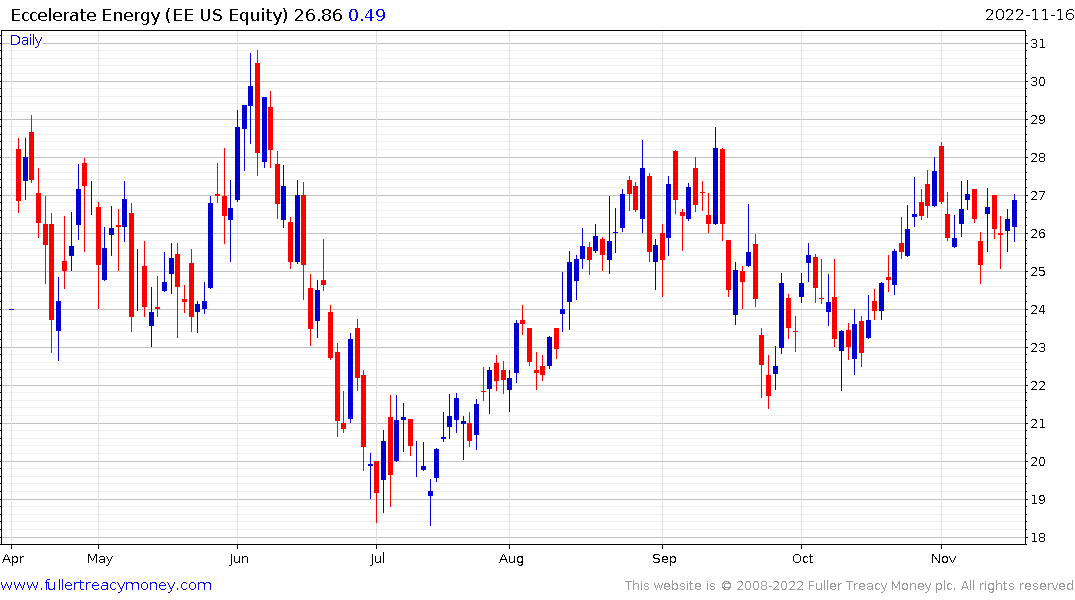 Excelerate Energy continues pause below the September peaks at $28.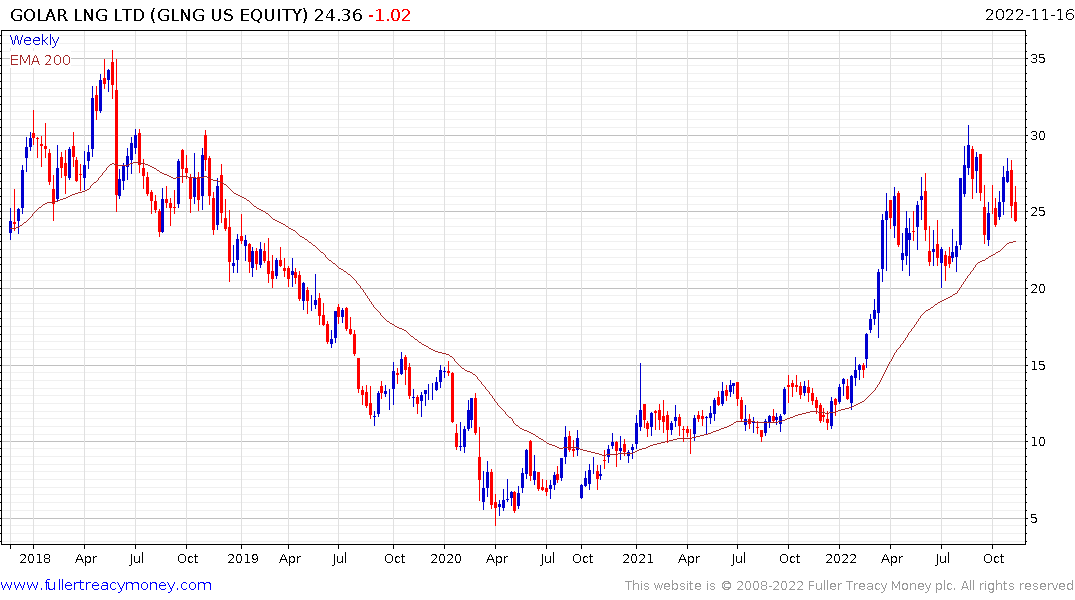 Golar LNG has first step above the base characteristics will need to continue to hold the region of the trend mean, which it is currently testing, if consolidation is to be given the benefit of the doubt.
Back to top