Juanito and his bright manana
Thanks to a subscriber for this interesting assessment of Mexico's recent energy reforms from Deutsche Bank. Here is a section:
Engineering services, equipment and pipes suppliers, and offshore/onshore drillers should be among the first to reap the benefits of the sector's opening. Their dependence on congress enforcing operating rules is limited; thus, they are already starting to provide services to companies exposed to the sector. Deep-water crude oil exploration and extraction and complex downstream projects should be target businesses for global integrated oil companies. Returns for these should be evident in the long term.

Globally listed vehicles with potential long-term positive spillover It is still early to assess the impact on listed companies but we have made a first attempt to identify our preferred names to play Mexico's Energy Reform.

And

Look out for better entry points to play this secular story Hefty expectations behind Mexico's current rich valuation should soon undergo a reality check. In the short-term, consensus' potentially lower estimates on the elimination of the fiscal consolidation regime could push the IPC to a 2014 P/E above 20x, 50% higher than 10-year average multiples and 100% over the MSCI EM index. Such large premium is difficult to prevail as the full impact of the Energy Reform is likely to materialize post 2015.
Here is a link to the report quoted above.

Whatever the motivations for finally choosing to reform the country's energy sector, the long-term benefits for the economy are likely to be considerable provided the trajectory of improvements in governance remains positive. Here is a link to two earlier posts focusing on this development.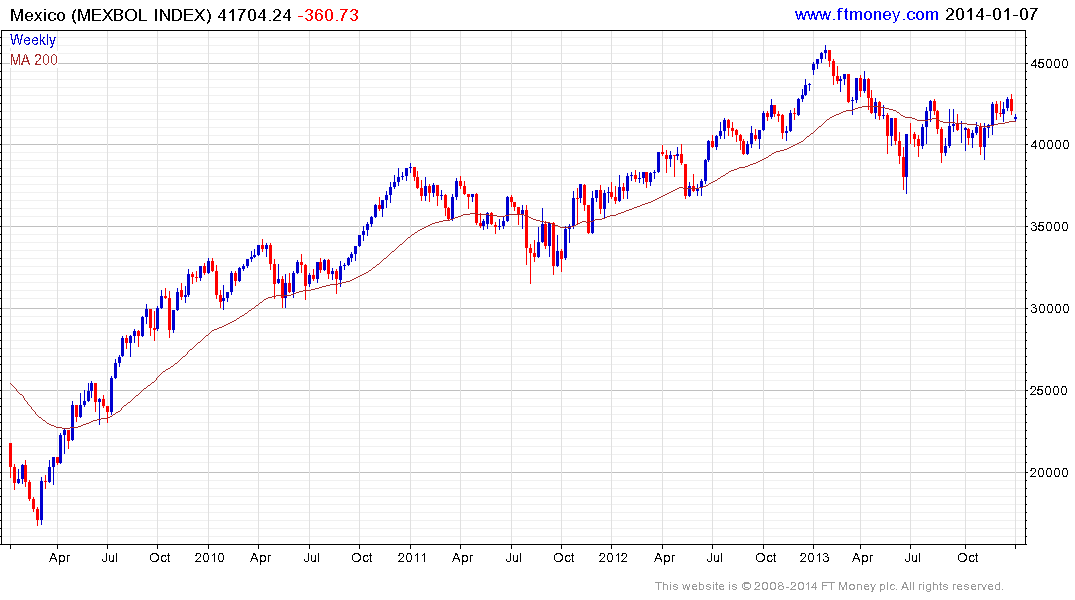 The Mexbol Index, where the foreign affiliates of global Autonomies have a significant weighting, has an historic P/E of 19.55 and yields 1.81%. It has been ranging with a mild upward bias in the region of the 200-day MA since June and a sustained move below 39,000 would be required to question medium-term scope for additional upside. The iShares Mexico ETF (EWW) has a similar pattern.
Back to top