Hurricane Irma Strengthens to a Category 5 Storm
This article by Abigail Morris and Javier Blas for Bloomberg may be of interest to subscribers. Here is a section:


Beyond the threat to people and property in the Caribbean, the focus so far is on agriculture with the storm, "being a case of being long orange Juice futures rather than gasoline futures," Jakob said.

Irma will probably cross the northern Leeward Islands Tuesday into Wednesday, according to the NHC, which said it's still too early to determine what impact it might have on the U.S. Hurricane warnings have been issued for the U.S. and British Virgin Islands, Puerto Rico, Vieques, and Culebra. Tropical-storm-force winds could arrive in the British and U.S. Virgin Islands and Puerto Rico by early Wednesday.

About two-thirds of Florida's citrus crop is located in the lower two-thirds of the peninsula. Frozen concentrated orange juice futures in New York already rose last week on speculation the storm could strike, though prices are down almost 30 percent since January.
Hurricane Katrina hit New Orleans in 2005. Hurricane Harvey hit Houston in 2017 and in between we have seen some of the quietest storm seasons in years. I think that is worth remembering that when so many stories running right now talk about accelerating climate change. Hurricane Irma has not yet made landfall but at Category 5 it is going to create a lot of damage somewhere. If Irma makes landfall it will be the first time the USA is hit by two such powerful storms in one season.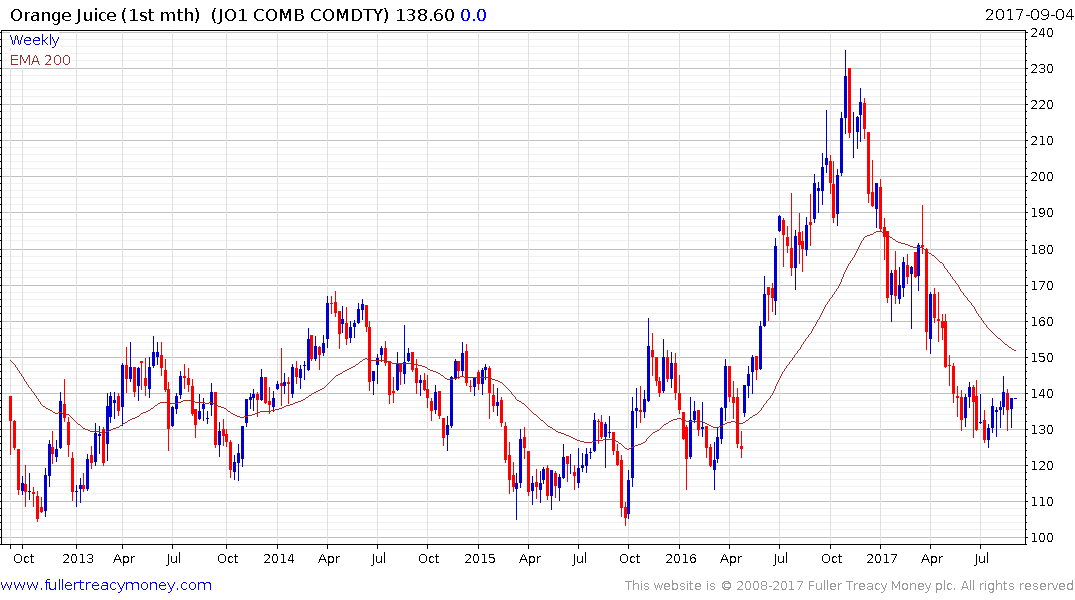 Orange Juice hit a medium-term peak in October last year and trended lower until late July when it failed to sustain the break below $130. It rallied to test its 3-month highs today and a clear downward dynamic will be required to check potential for additional upside.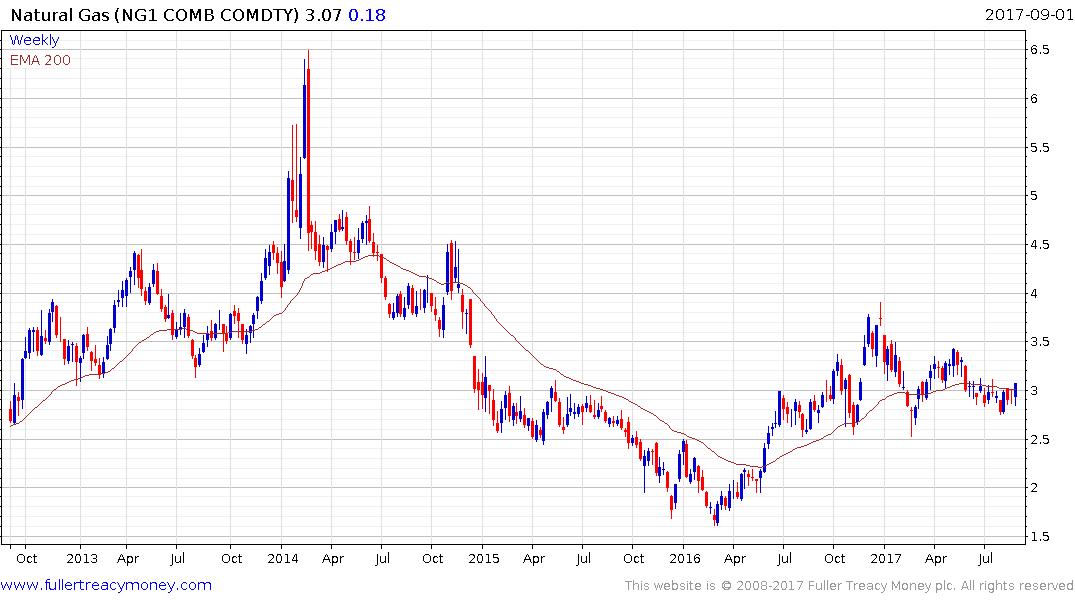 Natural Gas exhibits a similar rounding characteristic to orange juice but if Irma hits Florida it is less likely to move into the Gulf's natural gas fields and vice versa. The price was softer today as it pulled back below $3.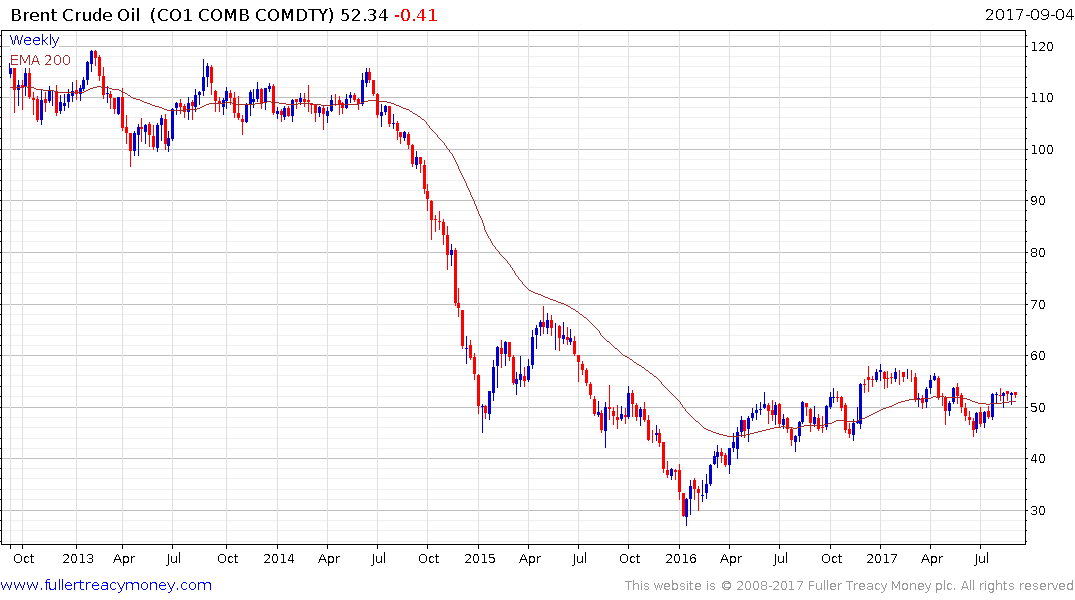 Brent Crude is testing the upper side of a one-month range and a downward dynamic would be required to check potential for some additional upside.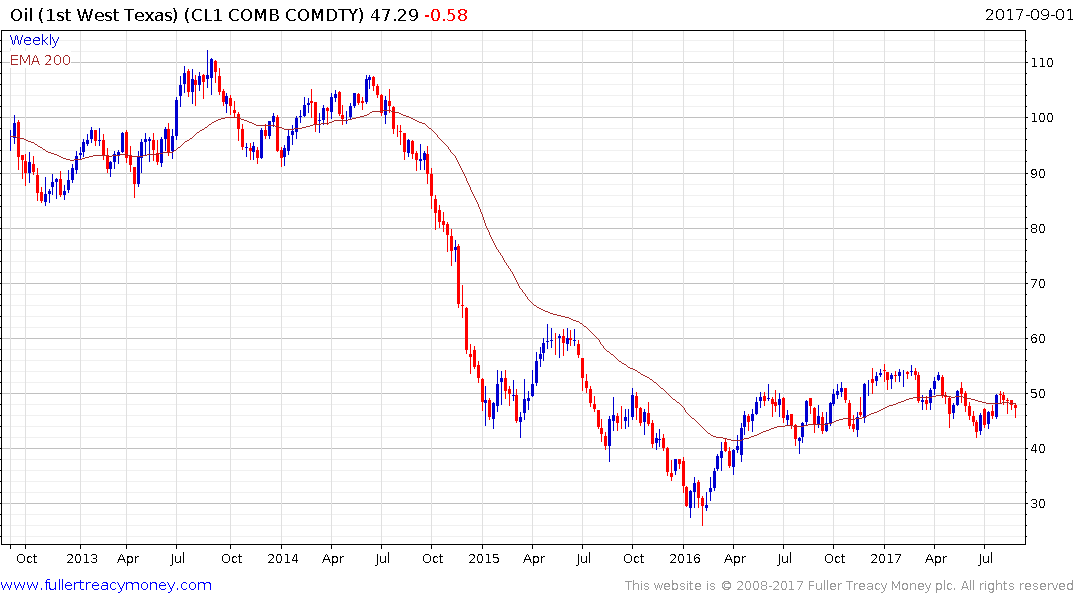 Meanwhile West Texas Intermediate, which is trading at an almost $5 discount, posted an upside key day reversal on Friday and is following through on the upside today.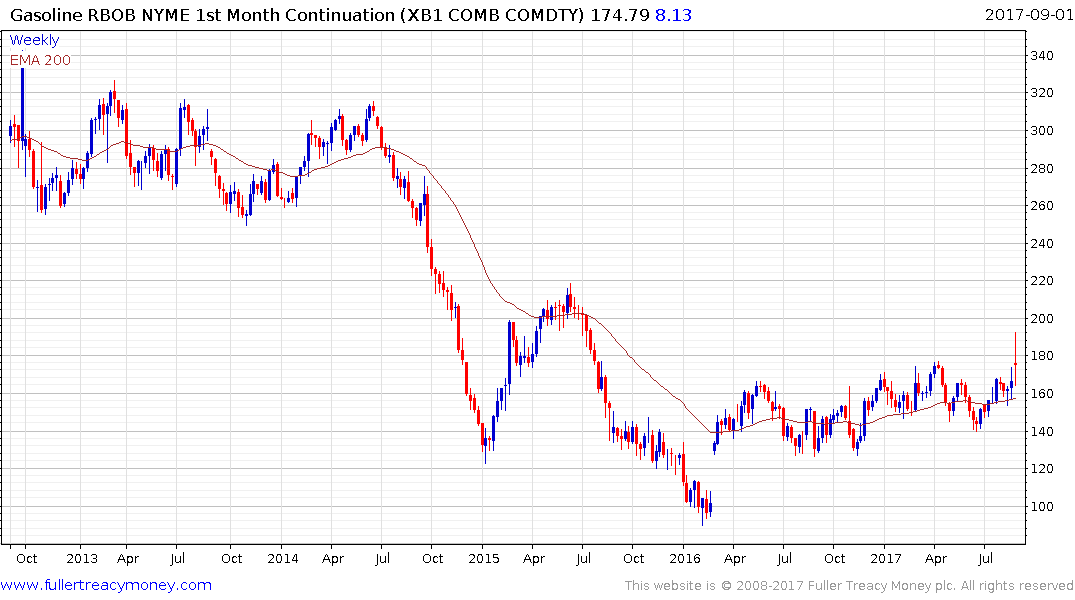 Gasoline prices pulled back following the September to October contract change but the price has stabilised near $1.70 and a sustained move below the trend mean, currently near $1.60, would be required to question medium-term scope for some additional upside.
Back to top