How an Aussie miner and American tech company plan to extract lithium quickly in Argentina
This article by Valentina Ruiz Leotaud may be of interest to subscribers. Here is a section:
What sets this partnership apart is that both the miner and the techie claim they can produce lithium carbonate or lithium chloride more rapidly and at a lower cost than others. According to Lilac, this is possible because its system eliminates the need for sprawling evaporation ponds, which are expensive to build, slow to ramp up, and vulnerable to weather fluctuations.

"Even for the world's best lithium reserves in the Atacama desert, conventional evaporation ponds take many years to ramp up and remain vulnerable to weather volatility. Lilac's projects will run at full capacity from year one of commissioning and maintain that output regardless of weather or brine chemistry. We have done benchtop testing in other brines and we saw recoveries over 95% in less than 2 hours versus 9-24 months in evaporation ponds," the company's CEO, Dave Snydacker, told MINING.com.

Snydacker explained that the reason why the processes run by his company are so fast is that his engineers have developed ion exchange beads that absorb lithium directly from the brine. Once they do that, the beads are then loaded into ion exchange columns and brine is flowed through such columns. As the brine contacts the beads, the beads absorb the lithium out of the brine. Once the beads are saturated with lithium, the alkali metal is recovered from them as a lithium solution, which is later on processed into battery-grade lithium carbonate or lithium hydroxide using streamlined plant designs.
I described the lithium market as an example of supply inelasticity meets rising demand as early as 2013. What is apparent today, following massive investment in additional supply, is that is no longer true. In fact, as demand for the commodity ramps up technological innovation is contributing to the ability suppliers to more than keep pace.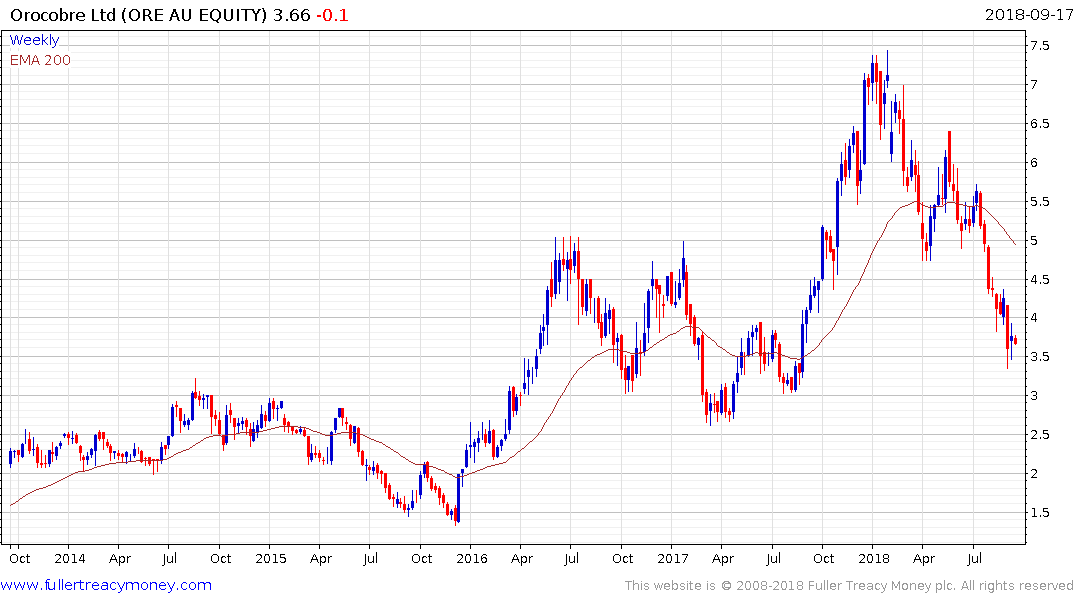 Orocobre for example had significant problems with evaporating brine because of cloudy weather that impacted its production estimates and contributed to its loss of consistency before the lithium price decline.

Incidentally, I have changed the lithium price in the Chart Library to the Chinese renminbi price because it is updated every day. A subscriber kindly informed us that the Asia Lithium Carbonate CIF SWAP is no longer updating so I have removed it.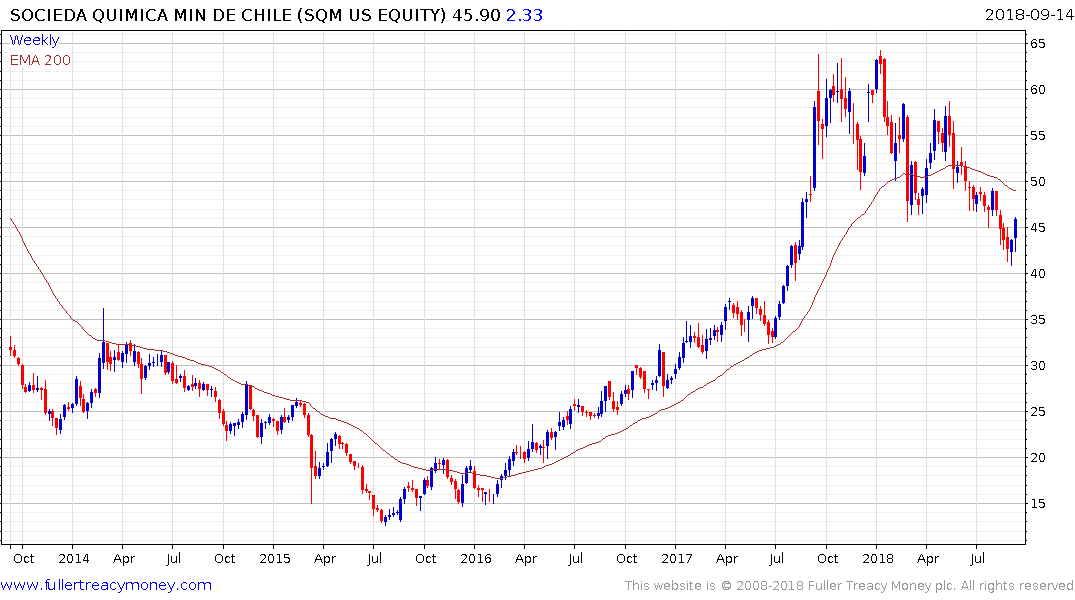 SQM has just about unwound its overextension relative to the trend mean but will not need to demonstrate it can sustain a move above it to question medium-term supply dominance.
Back to top