Hon Hai proposes deal to buy Sharp
This article from Taipei Times may be of interest to subscribers. Here is a section
According to the report, while Hon Hai — known as Foxconn Technology Group (???) outside Taiwan — has proposed acquiring Sharp at a high premium, it also wants Sharp's current management team, including president and chief executive officer Kozo Takahashi, to step down.
Hon Hai would send a team to Sharp to manage the firm, the report said.

Hon Hai also plans to take over the debt shouldered by Sharp to help the firm address its financial problems, the report said.

However, the report also said that Hon Hai has yet to talk with Sharp's bank creditors.

The report said that Sharp was shouldering about ?760 billion in debt as of the end of September.
Hon Hai is not the only potential suitor seeking to buy Sharp, the report said, adding that the Innovation Network Corp of Japan (INCJ), which is sponsored by the Japanese government, is studying a buyout of Sharp.

The report said that the INCJ still needs some time to map out a concrete acquisition deal, and the proposal is unlikely to come out until next year, so Hon Hai is taking advantage of the vacuum created to make a deal.
Hon Hai Precision is best known for assembling Apple's iPhone as well as being one of the world's largest employers. As a fabless manufacturer it generally does not promote its own brands so the potential acquisition of a manufacturer with global brand recognition such as Sharp is an interesting development.

Sharp's LCD business is stated as the company's most attractive asset and yet Sharp is also the manufacturer of one of the world's most efficient solar cells at 46%. The solar business only accounts for 9.6% of revenue but may be considered by Hon Hair Precision as an added bonus considering the economies of scale it could bring to the manufacturing process.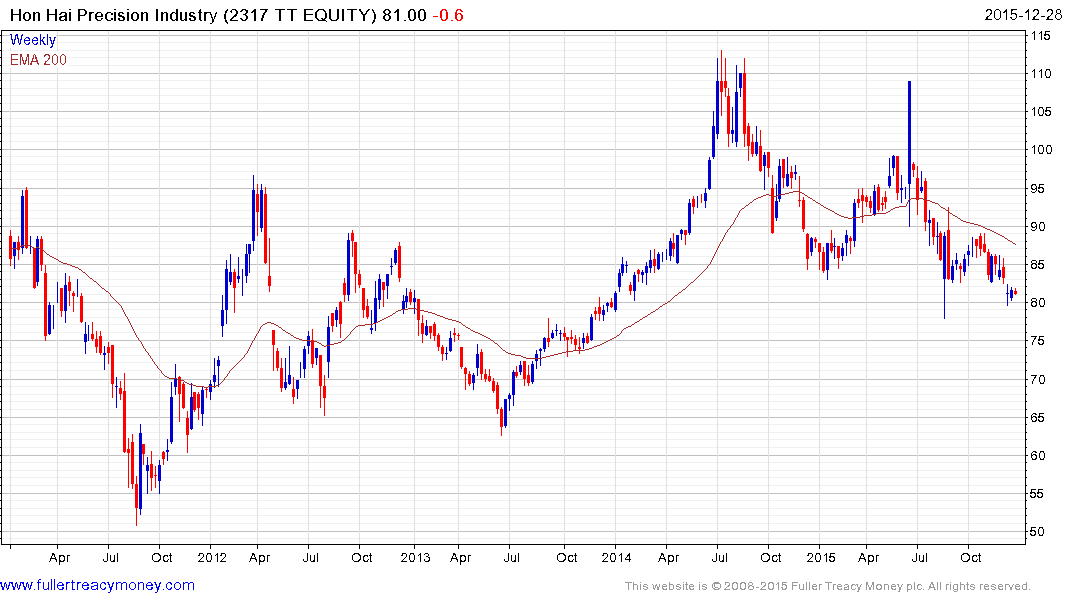 Hon Hair Precision continues to test the TWD80 area and will need to hold the region of the August low if potential for higher to lateral ranging is to be given the benefit of the doubt.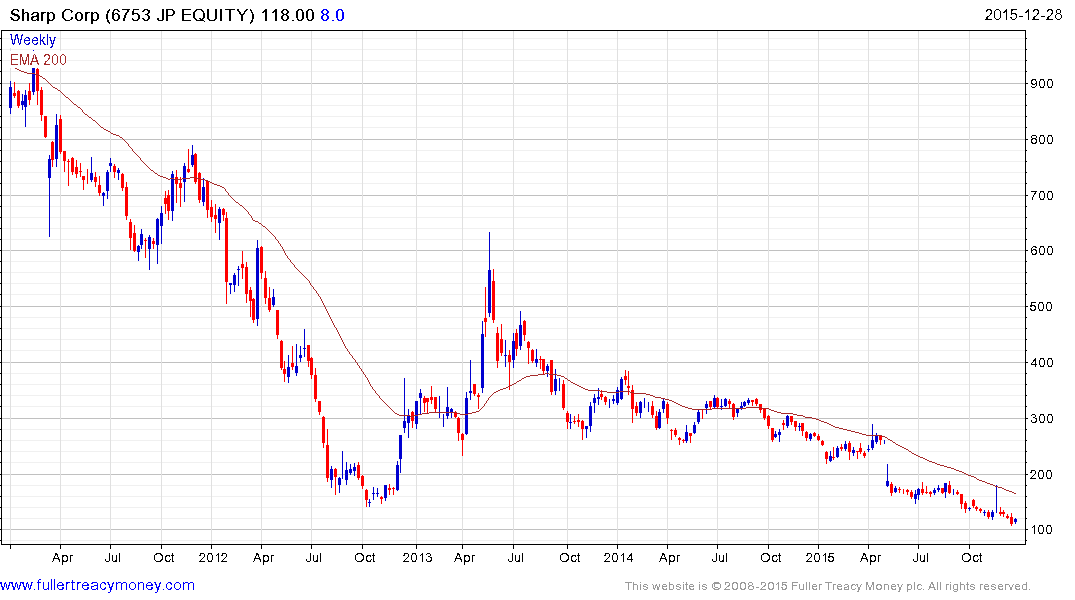 Sharp found at least near-term support today but the paucity of the rally suggests little enthusiasm among investors that the offer will be accepted or indeed permitted by the Japanese authorities.
Back to top