Green Aviation - A Primer
This report from Bank of America may be of interest to subscribers. Here is a section:
Here is a link to the full report and here is a section:
In 2019, CORSIA identified 16 feedstock types that can be converted into aviation fuels through a fuel conversion process. These feedstock types can be broadly classified under waste, oil and plants.
As of June 2020, 8 conversion processes have been approved for SAFs by the ICAO and these relate to the specifications of the fuel to ensure the products are safe for use in an aircraft. Exhibit 1 shows the conversion processes certified by the ICAO. These certifications have been issued when the SAF has been confirmed to comply with the standards developed by ASTM, an international fuel specification body.
Electric plane designs are being commercialised for hopper flights but medium to long-range aspirations depend on innovations in battery technology which have not yet been solved. Hydrogen is a promising potential alternative for jet fuel but it requires a total redesign of aircraft. Both these solutions depend on massive investment in new infrastructure and supply chains. They will also depend on high carbon trading costs to drive the transition for at least the next decade.
To achieve the net zero goals set by politicians it looks increasingly likely that there will be significant demand growth for alternative fuels depending on growing corn, soybeans and palm oil over the next decade at least.
Cutting down rainforests to grow crops for jet fuel is not exactly what people think of when it comes to carbon neutral applications. However, the cost of building the electricity generating capacity to develop power-to-liquid solutions means the agriculture route is by far the most cost effective at present.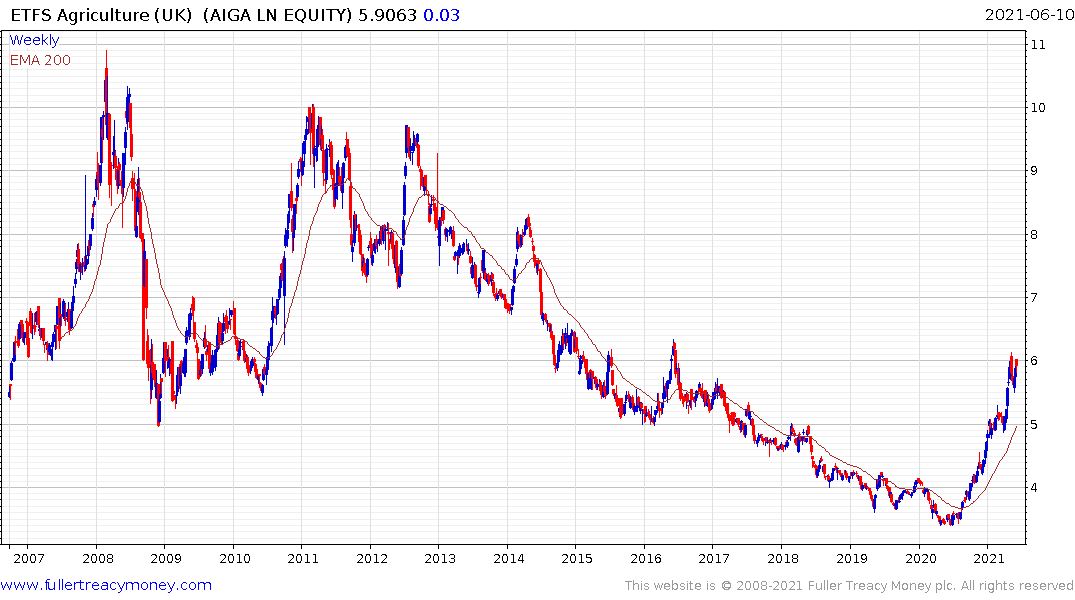 The WisdomTree Agriculture (futures) ETF continues to trend higher in a consistent manner.
Back to top