Global: The one on Tsars, Muftis, Weathermen and Energy Prices
Thanks to a subscriber for this report from Nordea which may be of interest. Here is a section:
How low are inventories? Germany is already under water
German inventories of natural gas are scarily low ahead of the winter. We have taken a deep look at Gazproms major storage sites in Germany (Katharina, Jemgum, Redhen and Etzel), and were almost shocked by the severity of the issue. Current inventories will run frighteningly close to zero by Mid-March 2022, if usual seasonal patterns unfold over winter.

The current 16900 MCM/D inventory in Gazproms German facilities is barely enough to survive the winter, as the inventories usually drops by between 17500-20000 MCM/D between late October and mid-March. This is too much of a knife-edge situation to be truly comfortable with. Remember that natural gas makes up around 25% of the total energy consumption in Europe still. We are counting on you Vladimir!

The situation is about as bad in China, if we just replace natural gas with coal in the charts, which could prove to be even more problematic as coal makes up around 60% of the energy consumption in China. Per anecdotal evidence China has now re-allowed Australian coal shipments to reach Chinese land-territory despite the ongoing geopolitical dispute between the two countries.
Here is a link to the full report.

A topic I discussed in yesterday's audio was the current energy crisis in Europe and China highlights an important logical inconsistency for environmentalists. If one believes the climate is going to change in an unpredictable fashion, then building an alternative energy future which depends on weather patterns remaining constant does not make sense.
No one thought the wind in northern Europe would stop blowing. What if it also becomes cloudier and solar is less effective? It doesn't matter how tall or efficient a wind turbine is if there is no wind. These are not trivial considerations as the future of the energy sector is considered. The electric vehicle future means there is going to be significant additional demand for electricity. Nuclear is the only alternative energy source that is carbon free, provides base load electricity and acts independently of the weather.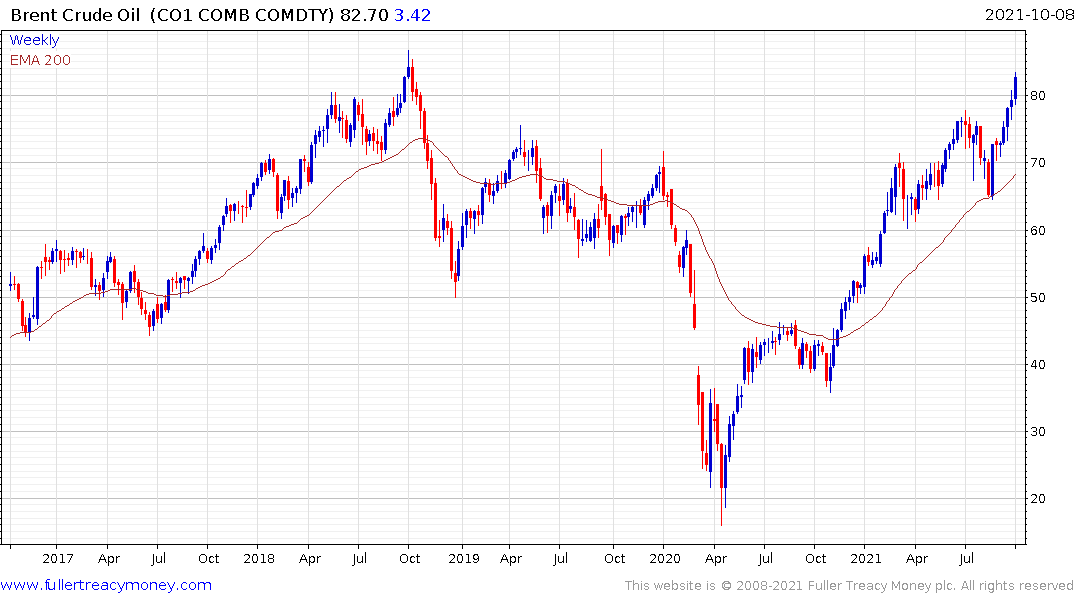 Meanwhile Brent crude oil continues to hold the move above $80.
Back to top