Giant Battery Unit Aims at Wind Storage Holy Grail
This article by Whitney McFerron for Bloomberg may be of interest to subscribers. Here is a section:
Electric-car battery prices already have fallen by 50 percent since 2010 to about $500 per kilowatt hour, and "by drawing on auto-battery technology, battery makers may also be able to supply storage batteries at a lower price," Citigroup said in a Sept. 25 report. Tesla Chairman Elon Musk said in July that battery packs for electric cars will drop to $100 in the next 10 years. The Tehachapi batteries are supplied by LG Chem Ltd. and are the same type used in General Motors' Volt.

The Southern California Edison project is part of a push for more wind and solar power in the state, among the sunniest in the U.S. A third of California's electricity must come from renewable sources by 2020, and mandates also require that the three biggest investor-owned utilities store 1,325 megawatts by 2024. California already has more than 12,000 wind turbines, the most of any state, according to the American Wind Energy Association.
Many of the efficiencies claimed by battery manufacturers have been achieved via scale in manufacturing rather than technological leaps. Tesla's gigafactory takes this process further by introducing additional economies of scale to further reduce the price of lithium batteries. So far ground breaking innovation has been more difficult to achieve than previously envisaged by companies but one benefit of building utility sized batteries is that power to weight ratios which are so important for car batteries are no longer a consideration.
By clicking through the battery manufacturers section of the Chart Library one can quickly ascertain that the build-out of manufacturing capacity is creating some clear winners and losers.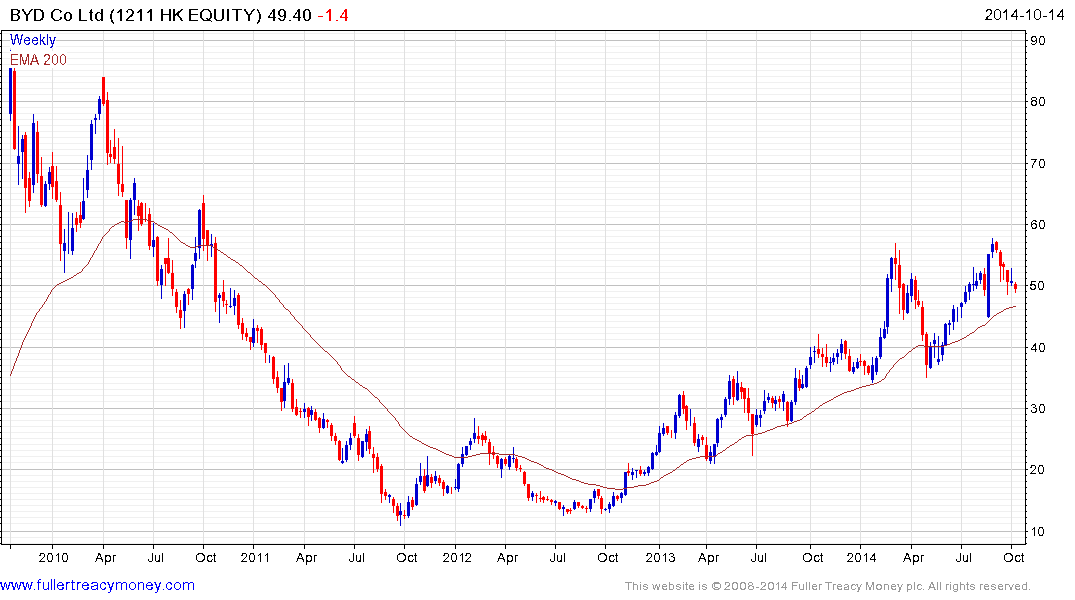 BYD is currently unwinding a short-term overbought condition but continues to hold a progression of higher reaction lows.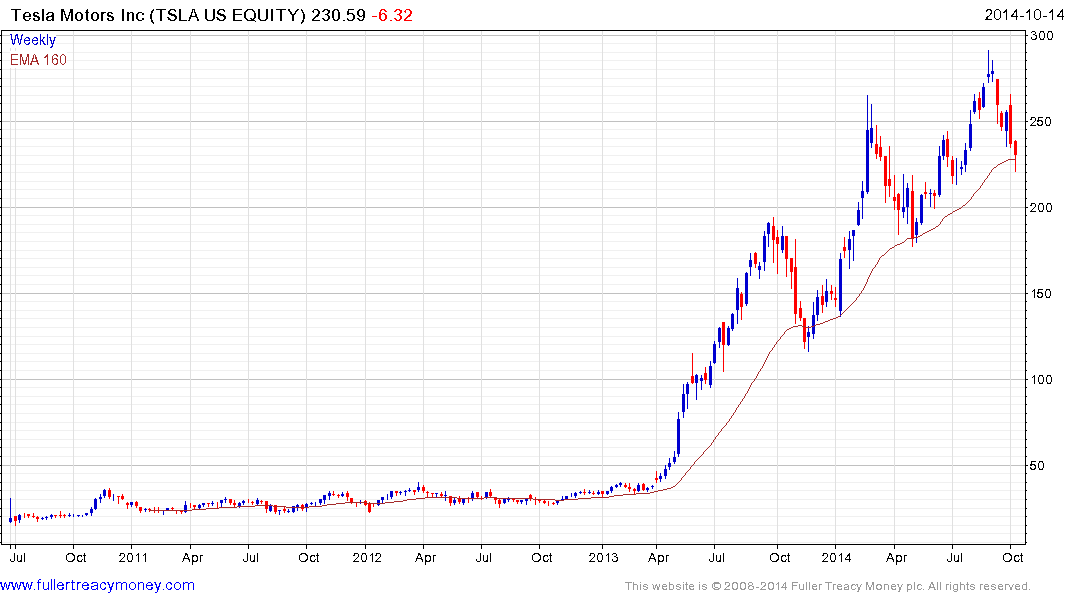 Tesla Motors found support today in the region of the 200-day MA.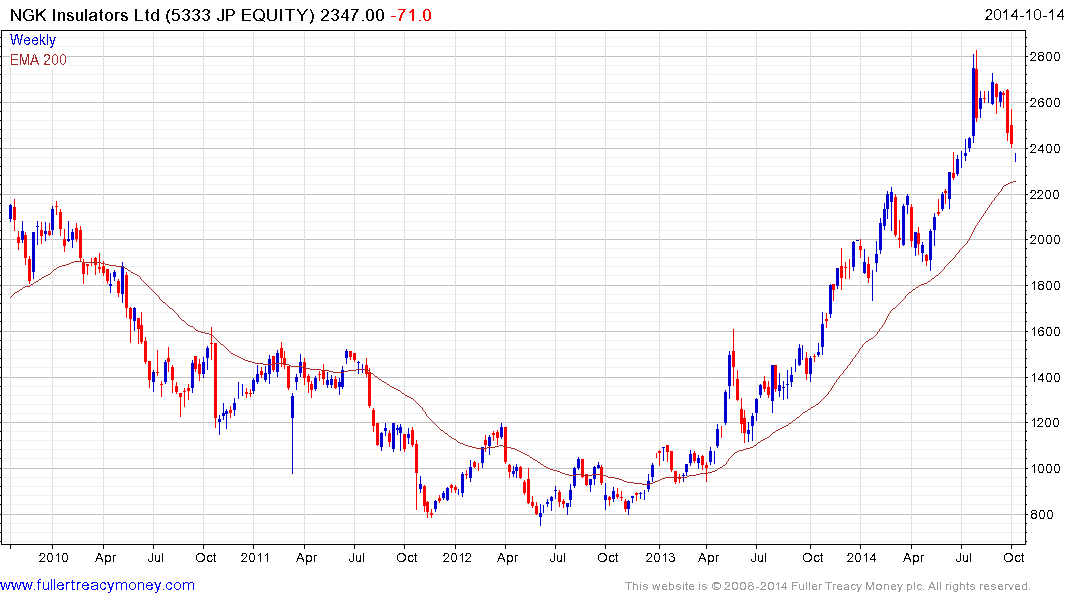 NGK Insulators accelerated to its July peak and will need to find support in the current area if the benefit of the doubt is to continue to be given the medium-term uptrend.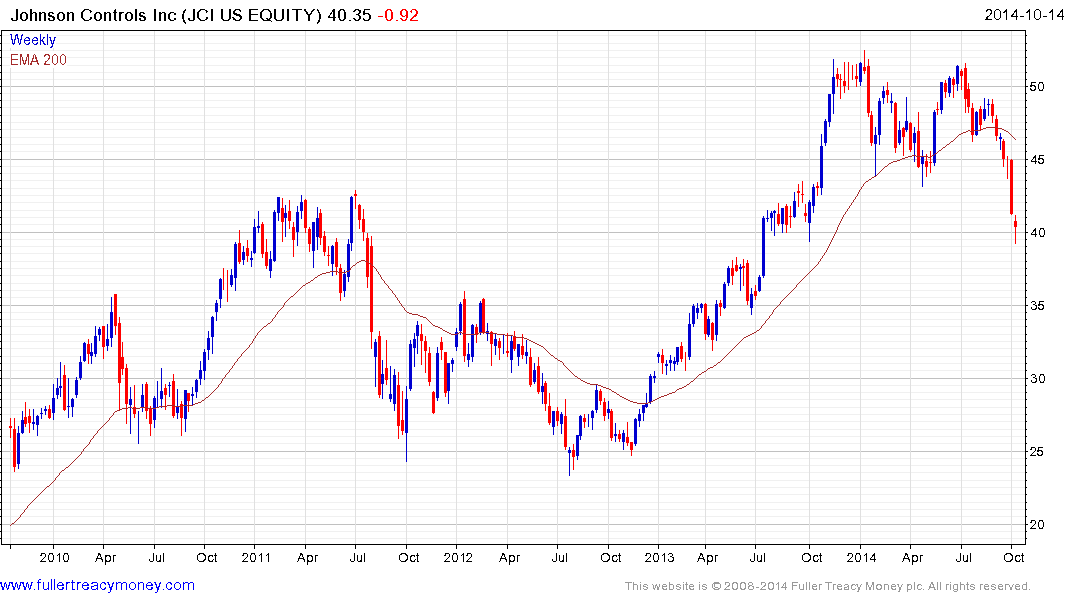 Johnson Controls lost momentum following an accelerated Type-1 advance in late 2014 and completed a Type-3 top last week. A period of support building will be required before one conclude demand has returned to dominance and in the meantime a clear upward dynamic will be required to check downward momentum.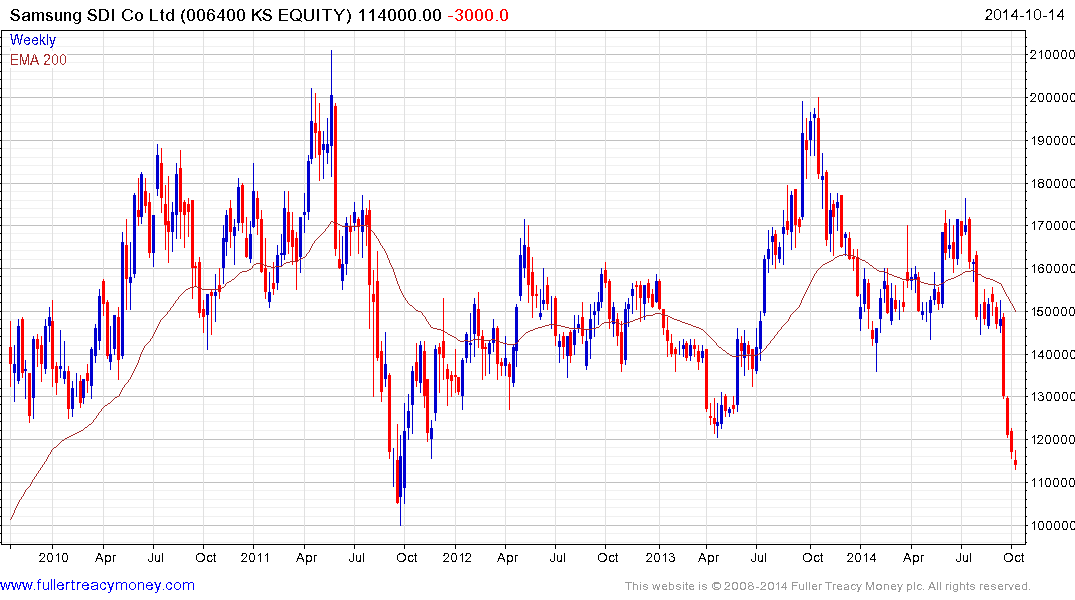 Samsung SDI has accelerated lower over the last month and has returned to test the region of the 2011 lows. A clear upward dynamic will be required to check momentum and pressure shorts.
Back to top