Fastest Electric Car Chargers Waiting for Batteries to Catch Up
This article by David Stringer for Bloomberg may be of interest to subscribers. Here is a section:
"The charging capacities of electric vehicles have doubled in the space of a few years,'' Wolfsburg, Germany-based Volkswagen said in an email. "We expect that fast-charging in public spaces will become the norm.''

Tesla, which has more than 12,000 chargers globally, is boosting the speed of its own refueling units to cut time at the pump by as much as half. The upgrade promises to add as much as 75 miles of charge in five minutes -- still lagging the ultra-fast models.

The speed at which current EVs can recharge is limited by such factors as the size of their battery, the voltage the pack can accept and the charger's current.

While it may be years before battery packs able to handle the power surge from ultra-fast chargers go mainstream, some new EVs -- including Hyundai Motor Co.'s Kona Electric and Jaguar Land Rover Automotive Plc's I-Pace -- already can recharge faster than previous generations.

Volkswagen's Porsche brand will introduce its electric Taycan sports car later this year. It's the first vehicle capable of taking full advantage of the fastest chargers, with a larger battery and the ability to operate at a higher voltage.

"The cars are coming," said Marty Andrews, CEO of Chargefox Pty, which installed ABB's fastest units at some Australia charging stations. "The carmakers want ultra-rapid chargers because they want this to be future-proof. This is not a six-month plan, it's a 10-year plan."
Refueling infrastructure during the era of internal combustion engines was built out by the oil companies and they still own large parts of the filling station market. What was particularly interesting about Royal Dutch Shell's announcement last month that it aims to become the world's largest power producer by 2030, is that this dovetails with the proposed increase in demand from electric vehicles.
That has little to do with the environmental impact of the move and more to do with protecting a significant portion of its business from terminal decline.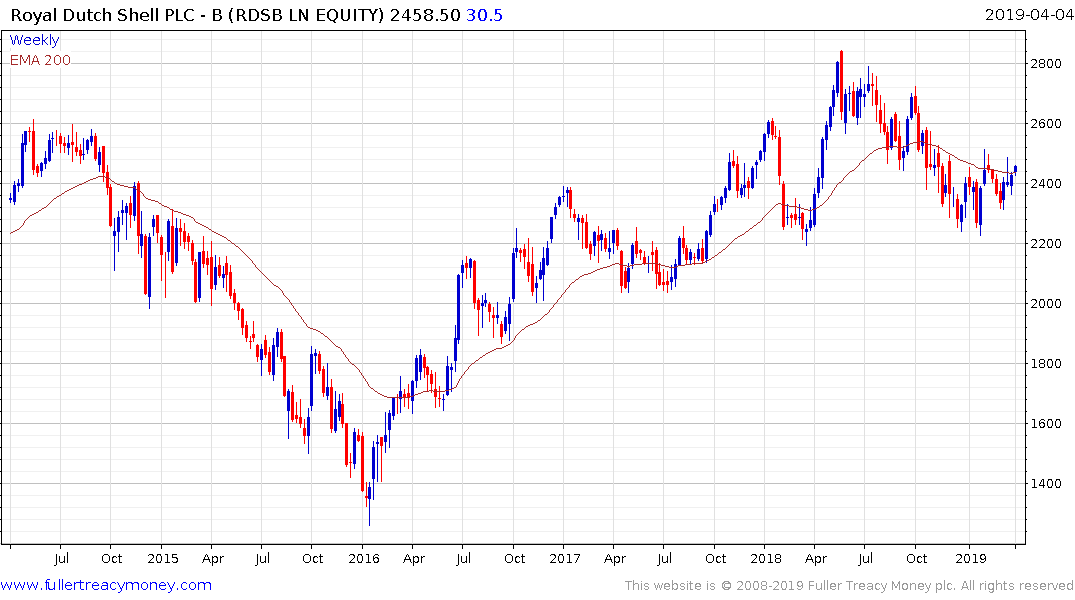 Buildout of a charging network is going to represent a significant trend over the next decade, not least as demand for charging stations increases. Upgrades to battery specifications and improving chemistries and voltage rates will ensure there is significant growth over the next few years as even existing infrastructure will need to be upgraded. That also makes the argument for leasing rather than buying electric vehicles because they suffer from obsolescence at a rate that is much higher than internal combustion engines.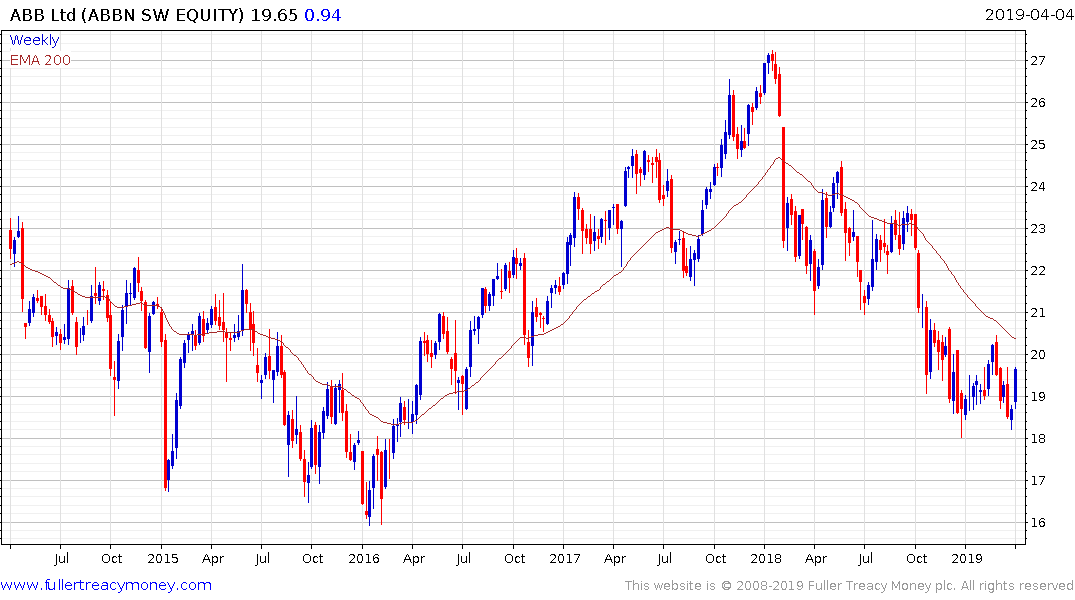 The major European energy companies have already made investments in charging infrastructure but among industrials ABB is among those with products in the market. The Share trended downwards from its early 2018 peak and has stabilised over the last few months above CHF18. It needs to sustain a move above the trend mean to break the downward bias.
German utility E.ON is in the process of taking utilities network owner and charging station manufacturer Innogy over.
Back to top