European Gas Prices Jump on Delay to New Russian Pipeline
This article from Bloomberg may be of interest to subscribers. Here is a section:
The German regulator said Tuesday it suspended the certification procedure for the Nord Stream 2 project because the operator of the pipeline decided to set up a German subsidiary, which will be the owner of the section of the pipeline in the country. The permitting process has been halted until assets and people are transferred to the new unit.

Benchmark European gas prices surged as much as 12% after the announcement as it adds to the uncertainty over how much gas the energy-hungry market will have this winter. Many in Europe expect Russia to significantly increase supplies only when the pipeline is approved.

"This is potentially a good thing for the project for the long term, as the changes could mean it would be eventually approved," said Ole Hansen, head of commodity strategy at Saxo Bank A/S. "But it's not helping the short-term outlook for the market where a bad, cold winter could leave us short."
There is no doubt the Nordstream 2 pipeline will eventually be permissioned. However, that is not going to happen until German regulators have had the opportunity to feign independence in making the decision. No one likes to admit they are beholden to a foreign power but unfortunately, Europe is completely dependent on Russian gas. They need that pipeline as much as Russia wants it and therefore it will be permissioned eventually.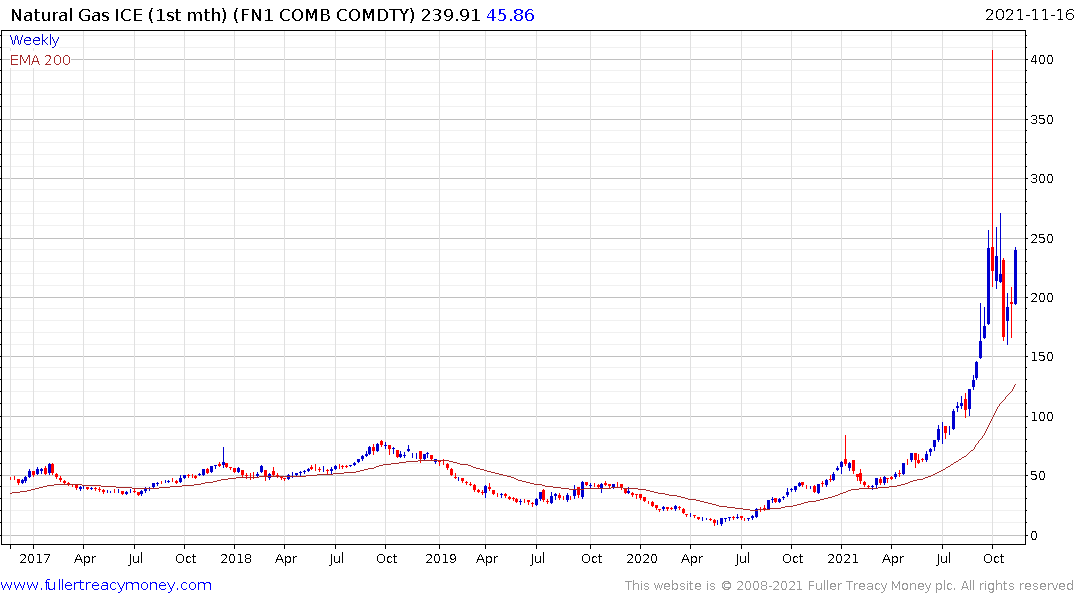 In the meantime, the price of European gas experienced a deep pullback following completion of construction and is now bouncing ahead of the conclusion of permitting.

The big picture is natural gas prices have taken a significant step higher. These kinds of secular moves do not last forever but they don't tend to be fully reversed either. It remains likely that the price will hold the breakout from the decades' long base formation.

That represents a massive change for the price structure of everything natural gas is used to manufacture in Europe, particularly fertilisers. It also points to higher heating and cooling costs in future and will accelerate the drive towards energy independence.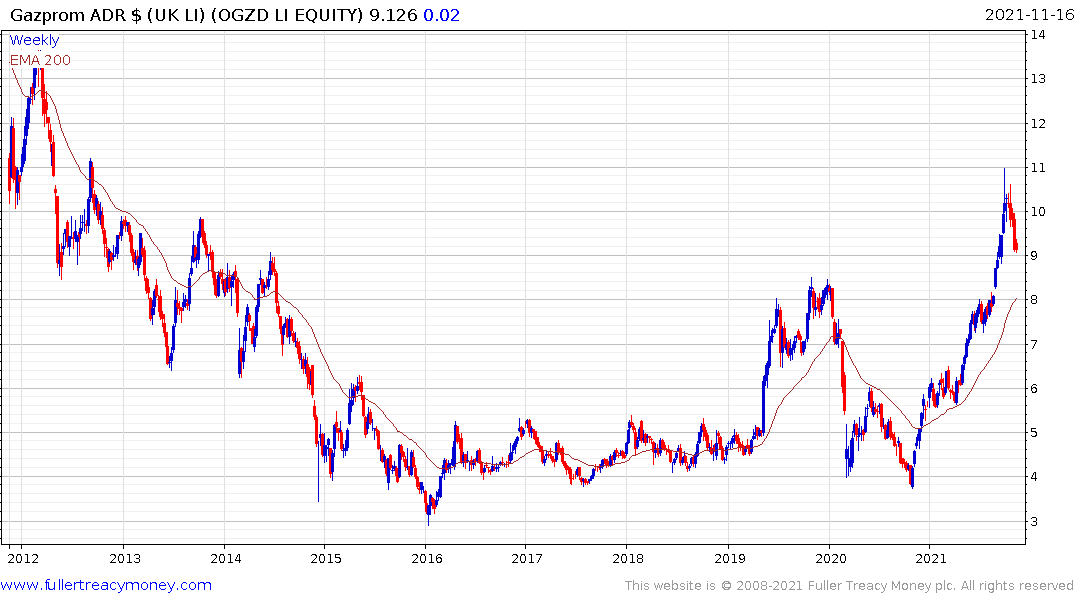 Gazprom is currently unwinding its short-term overbought condition relative to the trend mean and will need to hold the $8 area if the benefit of the doubt is to continue to be given to the upside.
The set of graphics from the Financial Times displaying how Europe gets its gas may also be of interest.
Back to top