European Gas Falls After Netherlands Says It May Boost Output
This article from Bloomberg may be of interest to subscribers. Here it is in full:
European natural gas erased earlier gains, after the Netherlands said it may boost production at its biggest field this year.

The announcement halted a rally that's seen prices jump about 30% this week, topping 100 euros a megawatt-hour earlier Friday. It brings some relief to a market where benchmark contracts are still almost three times higher than they were just six months ago, with Russia continuing to limit flows to Europe.

Output from the Dutch Groningen field may total 7.6 billion cubic meters in the 12 months through September, up from an earlier forecast of 3.9 billion cubic meters, according to data from grid operator Gasunie. The deposit is still due to be shut down later this year, after decades of extraction triggered earthquakes. Separately, booked capacity for Norwegian gas to Europe rose for a second day.

Benchmark European gas futures declined 6.4% to 90.285 euros a megawatt-hour by 3:33 p.m. in Amsterdam, after earlier climbing as much as 6.7%. The equivalent U.K. contract for February was down 6.5% at 220 pence a therm.

Extra supply would be welcome news for the region, where prices had rebounded this week after easing in late December. The recent price surge has been underpinned by a lack of sufficient supply from Russia, whose Yamal-Europe pipeline has been flowing in a reverse direction for more than two weeks -- sending gas east instead of west. Russian flows via a key route through Ukraine also remain low.

Europe is drawing on depleted gas storage, raising concerns of a repeat of the current supply crunch next winter, consultant Inspired Energy said in a research note.

The continent has sought increased shipments of liquefied natural gas to ease the pressure. Regasified LNG entering the grid from European import terminals has jumped during the first week of January, network data show.
Europe is scrabbling for gas supplies and is praying for a mild winter. That has boosted the appeal of the region for LNG shipments. It is also forcing efforts to temporarily boost supply; like the Dutch announcement today. The high price of energy in central Asia was the catalyst for protests in Kazakhstan and that's for a country which is a major energy exporter.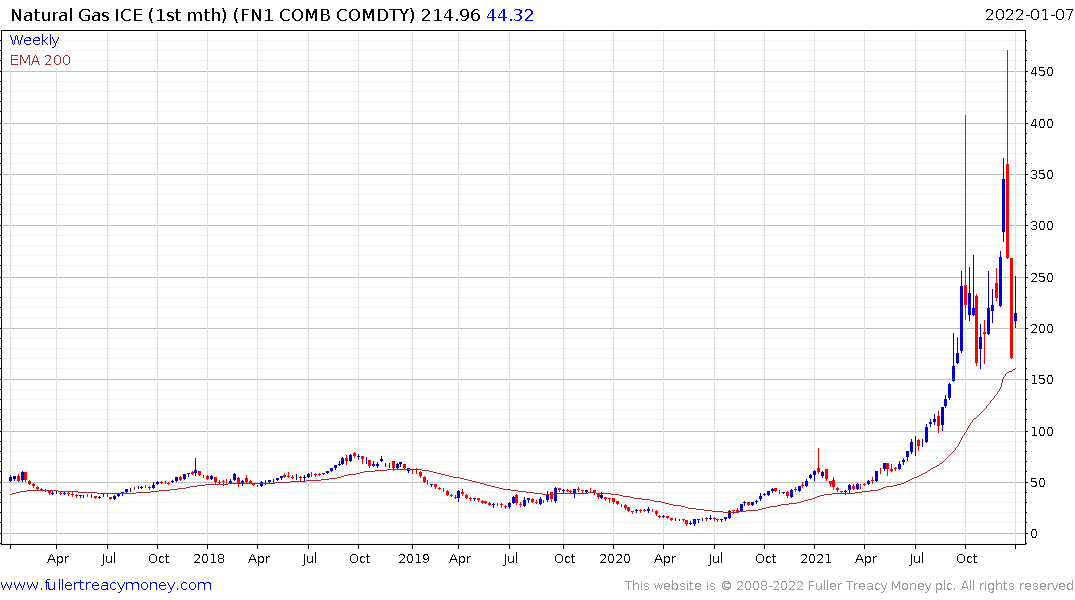 The natural gas price has contracted significantly over the last three weeks and unwound the overbought condition relative to the 200-day MA. Nevertheless, it remains unlikely that the price will be drop back down into the base formation.
Foregoing security of supply in favour of intermittent domestic renewable infrastructure is not going to be addressed overnight. Additionally, there is a significant geopolitical risk premium attached to the European oil and gas market. If Russia continues to push for greater control over Ukraine and furthers its aim of recreating the USSR, Europe is going to have a difficult time accepting its dependence on Russian imports.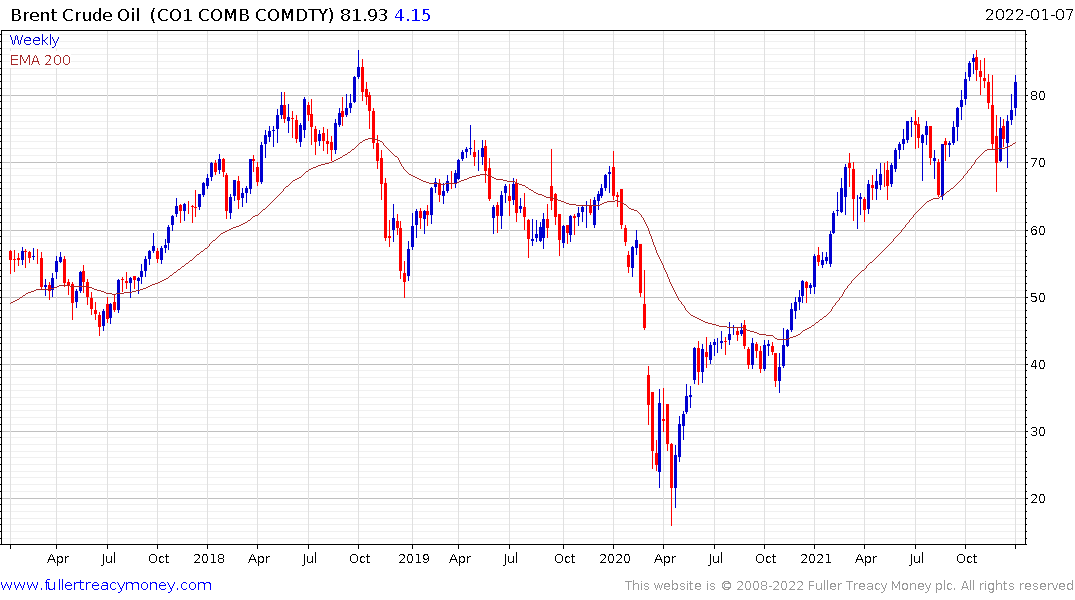 That is most graphically evident in the continued strength of crude oil.
Back to top