Email of the day on timelines to implementing new technologies
About the development of technologies in Batteries and EV, I think a great standpoint is that of Umicore (UMI BB), which is one of the main producers of cathodes. They had their Capital Market Day in June, and with a bit of patience one can follow the webcast on their site here: , and specifically the part presented by Mr Vandeputte

One of the points made is that manufacturing autos is complex to the point no one takes on technological risk with a light heart, so the technology currently in use will probably stay around for a years before we get some leap forward into something different such as solid-state batteries.
Thank you for this informative email as well as the reports from Umicore which I'm sure will be of interest to the Collective. Much of the investment focus for batteries has been on lithium but as you say other battery components also offer investment avenues for the sector.
I agree that the automotive sector tends to be very conservative in their designs because they have to be. It is an enormously capital-intensive business to produce cars and trucks in volume so small changes can have a big impact. However, the diesel scandal means they have no choice than to rush through innovation now because the legacy infrastructure for diesel needs to be written down.
As if that were not enough of a challenge the rise of Tesla and electric vehicles, which have a lot fewer parts is an additional disruptive force. In that regard it does not matter whether Tesla survives as a going concern or not. They have proved that it is possible to build an electric vehicle consumers aspire to own.
These two important themes mean auto manufacturers are rushing to market with new electric and hydrogen fuel cell vehicles. Until now, in-house R&D on alternatives to the internal combustion engine could take place at a lackadaisical pace. Today they are the only hope many companies have for survival. Daimler's profit miss today attributed to the cost of migrating from diesel is a case in point. The capital commitments to beef up EV production is one of the primary contributors the share's underperformance.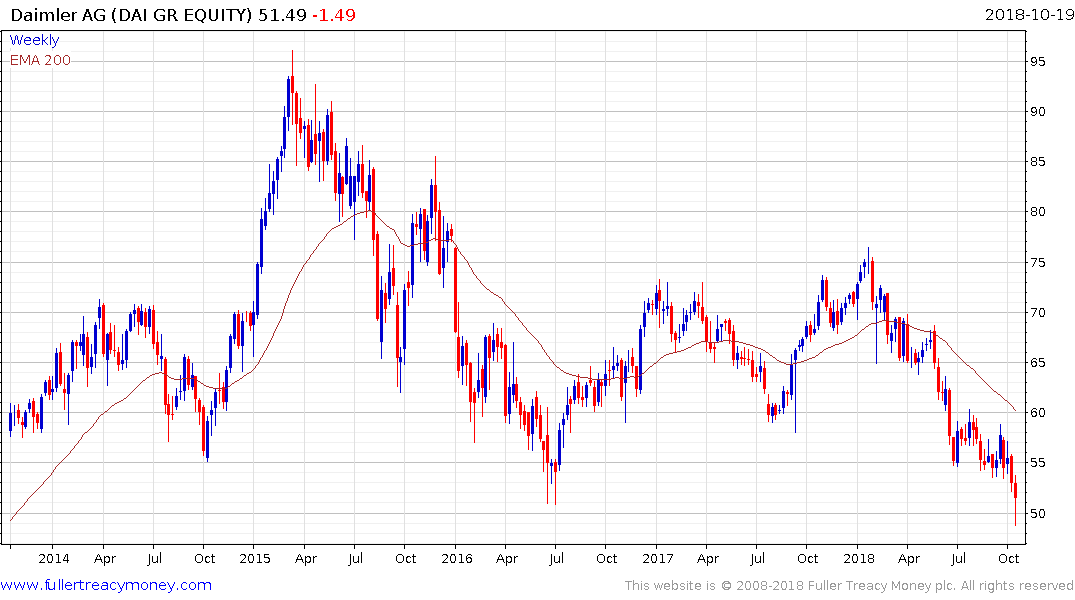 The share is back testing the €50 area which represented an area of support in 2016 and a short-term oversold condition is evident. Potential for a reversionary rally has improved but a sustained move above the trend mean will be required to question the medium-term downtrend.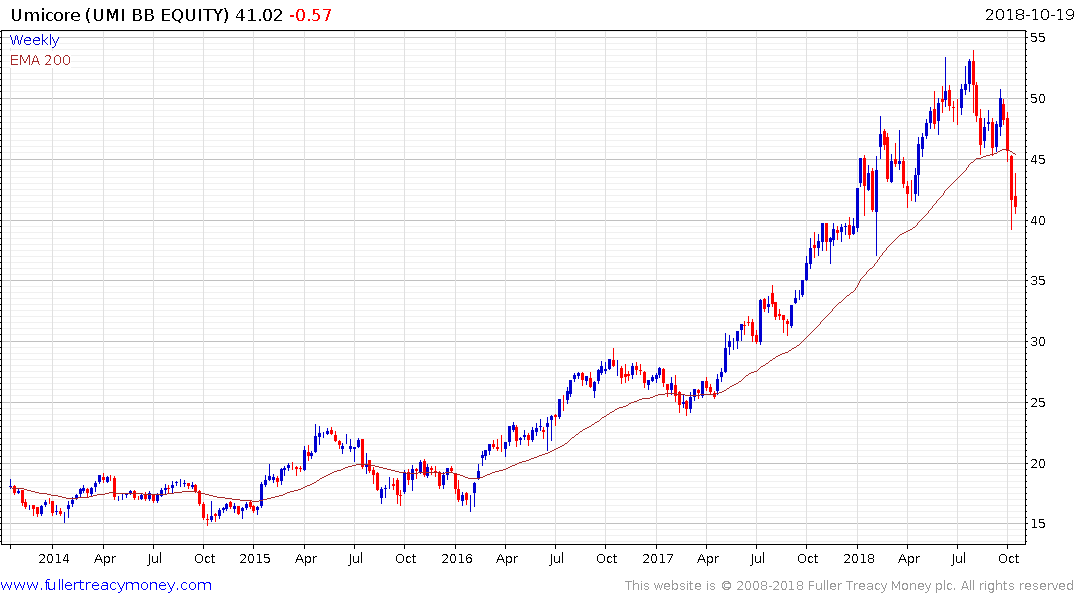 Umicore trended higher in a reasonably consistent manner until August but failed to hold the move above €50 and dropped below the trend mean in a dynamic manner last week. That represents a major trend inconsistency and a massive reaction against the prevailing trend. A sustained move above the trend mean would now be required to question the downward bias.
Back to top