Email of the day on generation IV nuclear reactors
"Last year I forwarded some information about nuclear molten salt reactors. I thought I would provide a brief update and have attached an article from Reuters on China's push for future nuclear technologies, in particular thorium and the molten salt reactor design. The article, in my opinion, places too much emphasis on thorium, as I believe the reactor design is the crucial factor. The article highlights considerable efforts being made by China, while one wonders what goes around in the heads of US Government that seems to be taking a back seat in the push for our nuclear future! I find that amazing when one thinks about the technological capacity of the US, and one may speculate about the incumbent nuclear industry's lobbying efforts to protect the status quo.?¡À

"Best regards for 2014"

Here is a section from the article:

"Beijing's long-term goal: commercialize the technology by 2040, after building a series of increasingly bigger reactors. The Shanghai Institute of Applied Physics is recruiting nuclear physicists, engineers, project managers and support staff, according to a regular stream of job advertisements it publishes online. Its team is expected to expand to 750 by 2015 and eventually include 1,000 researchers.

"A director at the Shanghai Institute, Li Qingnuan, and other senior researchers are wooing top young talent across China to join the project. After lecturing on molten-salt reactor technology at Sichuan University in April, Li invited students from the audience to apply for positions at the institute, according to a report on the university's website.

"China's sprawling network of nuclear-research and industrial companies are gearing up to assist. In early June, the China National Nuclear Corporation, the body overseeing all Chinese civilian and military nuclear programs, announced that state-owned China North Nuclear Fuel Company had signed an agreement with the Shanghai Institute to research and supply thorium and molten salts for the experimental reactors.

"The push into thorium is part of a broader national energy strategy. The government wants to reduce its dependence on coal-fired power plants, which account for about 80 percent of the nation's electricity but have darkened its skies. Nuclear energy is a big part of the plan: China aims to have 58 gigawatts of nuclear power on the grid by 2020, an almost five-fold increase from 12.57 gigawatts today.

"Thorium is a hedge on that nuclear bet. China has 15 conventional nuclear reactors online and 30 under construction. But energy authorities are also investing in a range of different technologies for the future, including advanced pressurized water reactors, fast-breeder reactors and pebble-bed reactors. China has little uranium but massive reserves of thorium. So, the prospect of cheaper nuclear power with secure supplies of fuel is a powerful attraction.

"At last year's Shanghai thorium conference, Jiang described how clean nuclear power would allow China to make a "revolutionary" move towards a greener economy.

"The bet on unconventional nukes, he said, explains "why China is the first one to eat a crab" - citing an old Chinese proverb about the individual who dares to make a discovery important to civilization."
The USA is an energy superpower. China is not. This simple fact helps to explain the emphasis China has put on securing energy assets overseas, purchasing the technology required to begin exploiting its unconventional oil and gas resources and developing a multi-strand nuclear policy. China aspires to provide a first world standard of living for its citizens and this will require energy production to expand by multiples over the next few decades. It has no choice but to explore every possible avenue if it is to achieve that goal not least if air quality is to improve.
On the other hand, the USA is approaching a situation where an energy surplus is a realistic possibility. Against that background, the lack of enthusiasm for expensive research projects, for technology that tends to arouse powerfully negative emotions among the electorate, is unsurprising. This suggests that major innovations in the nuclear field are likely to occur outside the USA but the net result will be that the nuclear industry will have an important role in the 21st century global energy mix.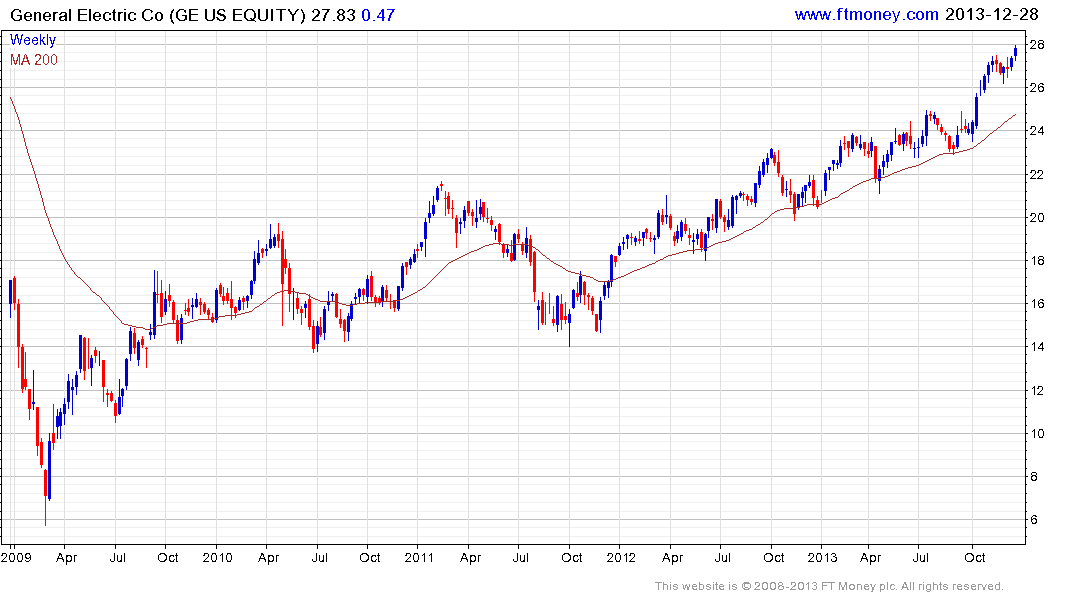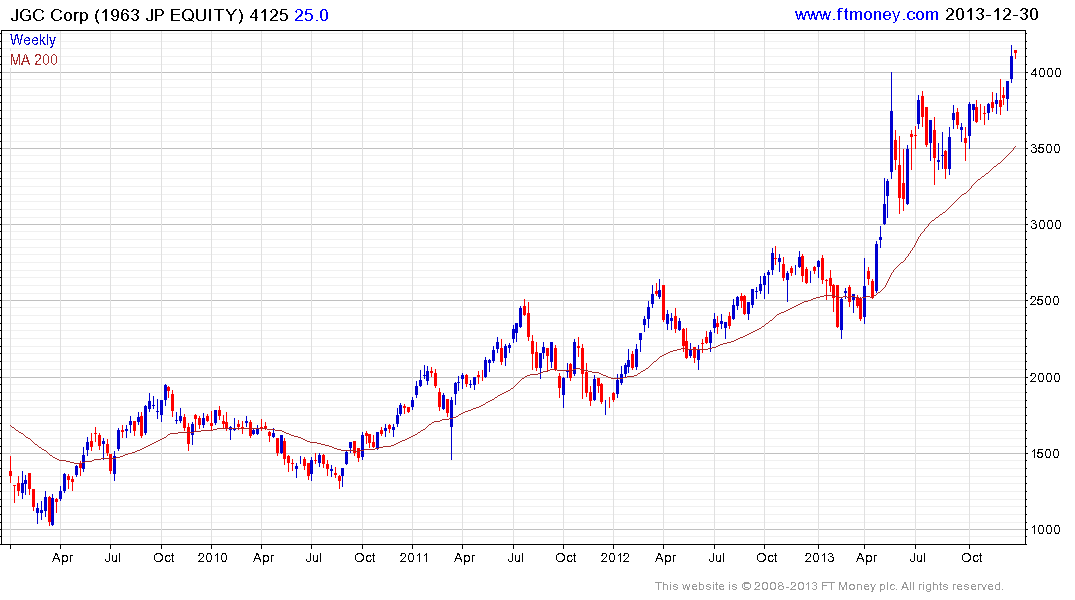 While there are relatively few pure plays on reactor construction, a number of large industrials with interests in the sector have participated in this year's rally. Among these, Atkins (WS) and Chicago Bridge & Iron are among the most overextended relative to their respective trend means. The pace of General Electric and JGC's uptrends has picked up while Babcock & Wilcox posted a new recovery high last week. Toshiba Plant Systems has found at least short-term support in the region of the 200-day MA and, based on commonality with the above shares, represents a recovery candidate.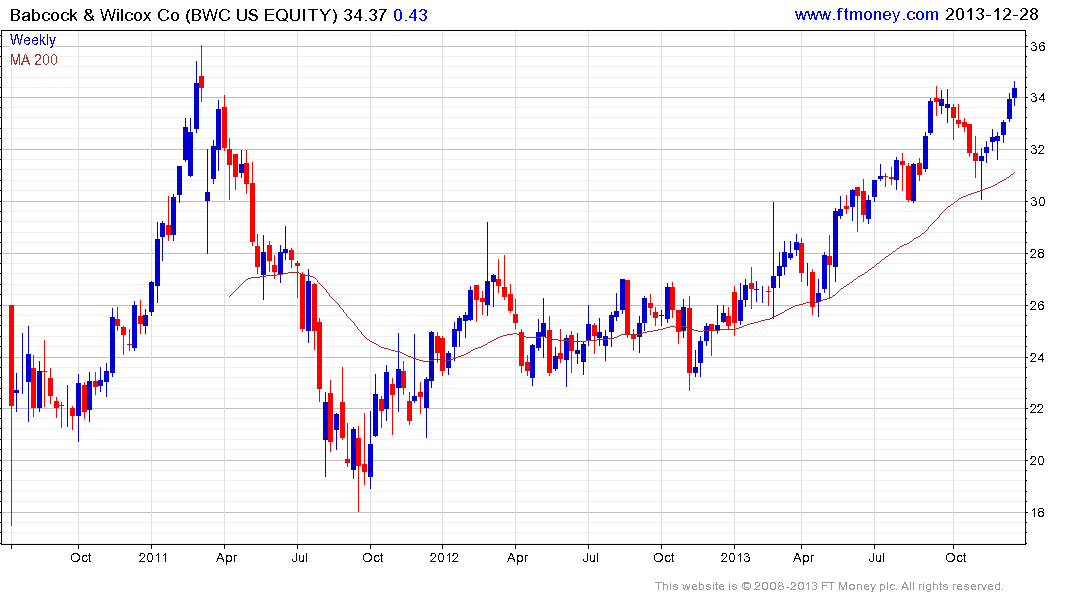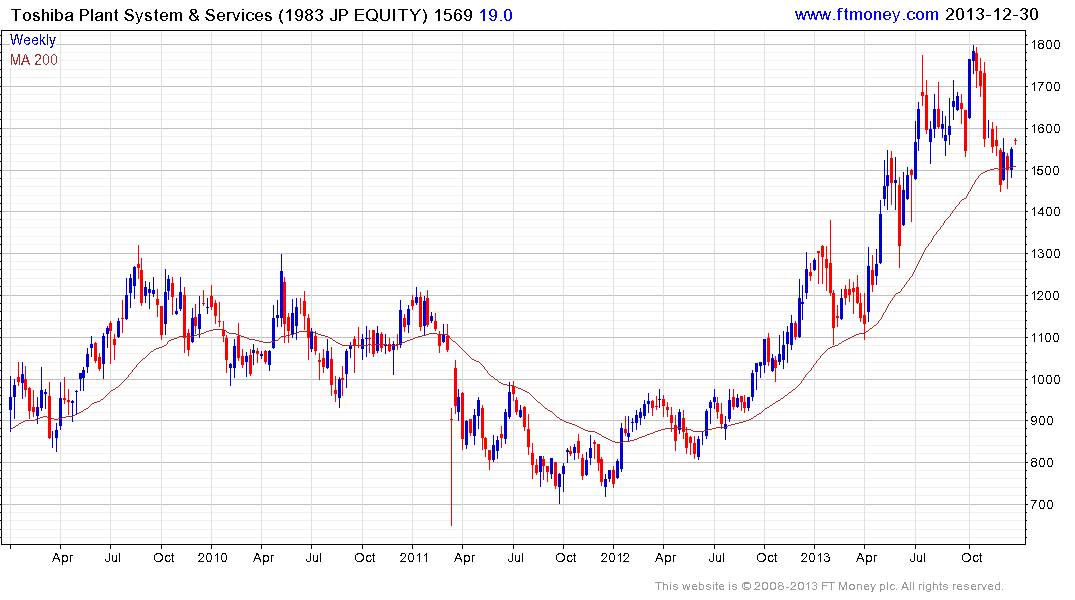 France's Areva is also worthy of mention. The company is involved in every aspect of the uranium fuel cycle from mining to reprocessing of spent fuel. The share fell from €80 to €10 by 2012 and spent 18 months forming a base above that level. It broke out in October and a sustained move below €15.50 would be required to question recovery potential.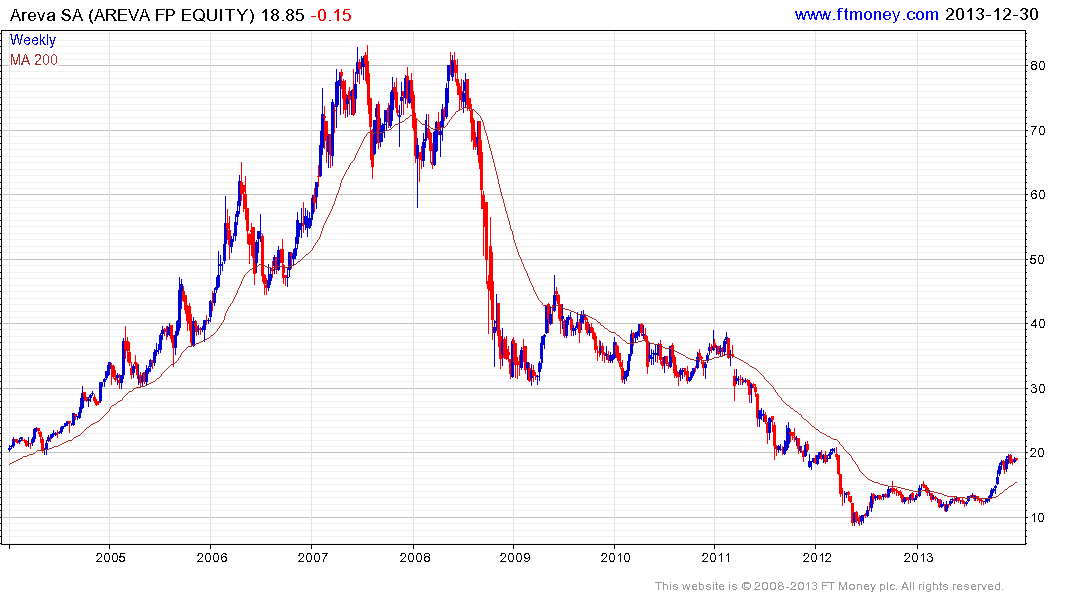 Back to top