Email of the day on emissions trading
Eoin Hope you are well and settled in your new home. In your comments, you refer to companies having to purchase carbon credits and how Tesla has profited at the expense of others. Could you kindly share some more color on this or direct us to articles you may have posted. Also, could you please shed some light on carbon futures, and where they trade? Thanks much and stay safe Regards
Thank you for this timely email. Royal Dutch Shell's failure to avoid censure in the Netherlands brings the issue of how emissions are priced into sharper focus.
Here is a section from a relevant article:
"Companies have an independent responsibility, aside from what states do," Alwin said in her decision. "Even if states do nothing or only a little, companies have the responsibility to respect human rights."
There are currently 1,800 lawsuits related to climate change being fought in courtrooms around the world, according to the climatecasechart.com database. The Shell verdict could have a powerful ripple effect, not least among its European peers including BP Plc and Total SE. Those companies have set similar emissions targets, which have also been criticized by campaigners for not going far enough.
Court Wins
The courts have become an increasingly successful arena for campaigners to hold governments and countries to account over pollution and climate change. This is the second time in quick succession that a Dutch court has ruled that Shell's parent company in The Hague is liable for environmental damages in other jurisdictions.
In January, a court of appeals said that Hague-headquartered Shell had a duty of care to prevent leaks in Nigeria. The German government fell foul of a judge over its climate targets when its top court ruled that Chancellor Angela Merkel's climate-protection efforts were falling short in April.
"Urgent action is needed on climate change which is why we have accelerated our efforts to become a net-zero emissions energy company by 2050," a Shell spokesperson said. "We are investing billions of dollars in low-carbon energy, including electric vehicle charging, hydrogen, renewables and biofuels."
Also see Comment of the Day on June 20th 2020
Energy majors are receiving a frosty reception in Europe. The EU does not have a large domestic energy production sector. Most of Europe's energy resources are imported and therefore the regulatory scrutiny the sector receives at home is much more onerous than it is in the USA or Norway for example. However, neither of these countries is immune from activism. Just today Exxon was forced to concede two board seats to a tiny shareholder with a green agenda. We are quickly witnessing the subjugation of the profit motive in preference to deference to climate priorities. That's not a positive development from the perspective of shareholders.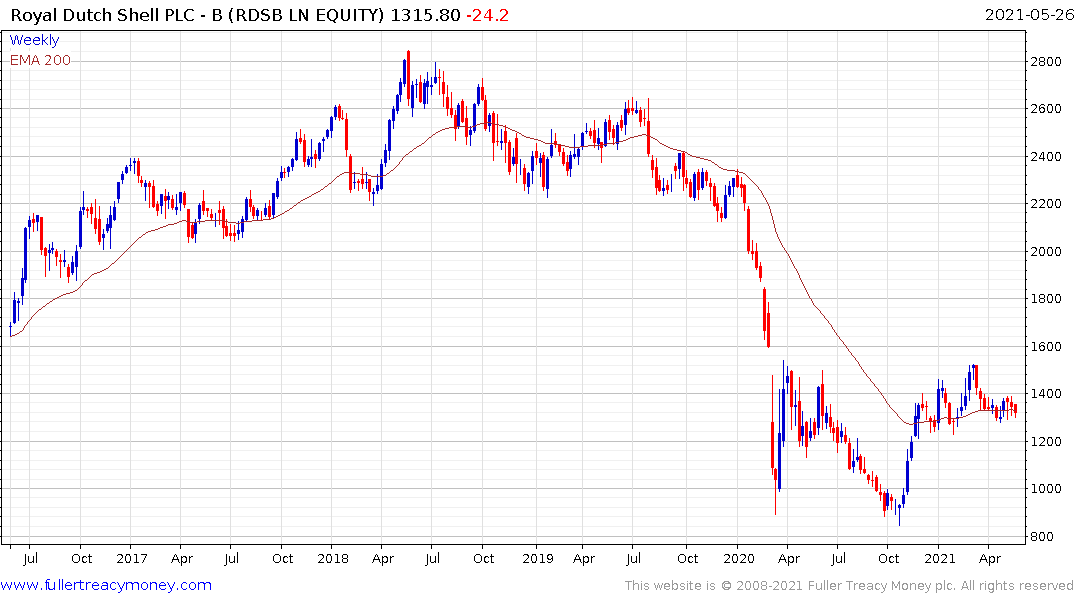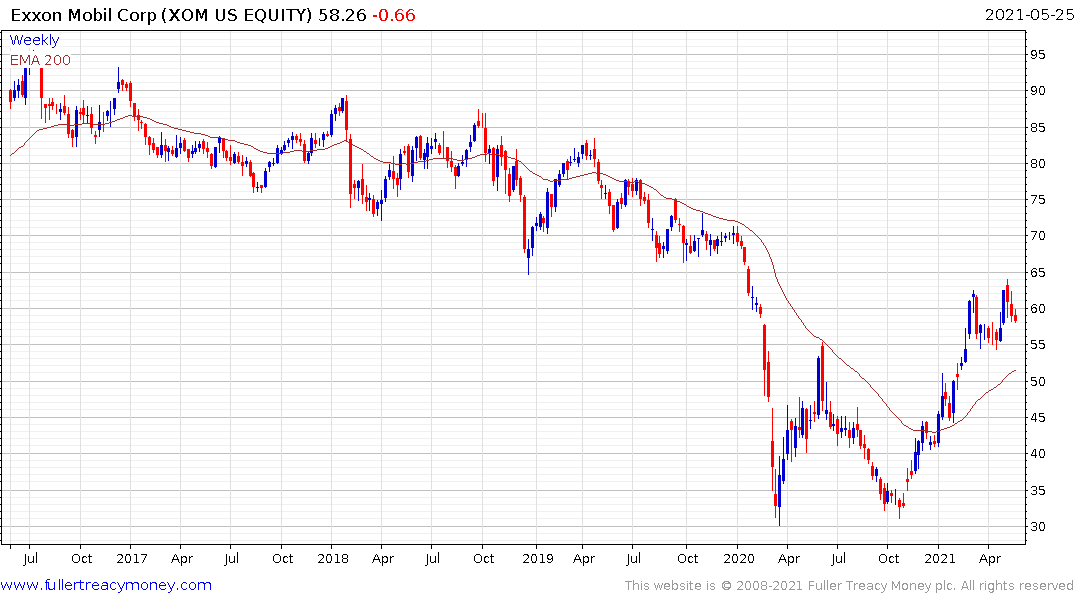 The EU is also desperate for an additional source of revenue and has concluded the energy sector is a cash cow for politically motivated vanity projects. More importantly, many politically active Europeans see the energy sector as the enemy and on the hook for the both perceived and real sins of the past, present and future. This kind of article is what the rationale for the system is based on but pays no heed to the upward pressure on consumer prices.
This article highlights how Tesla made more money from selling carbon credits and bitcoin last quarter than it did from cars. The only way the company has succeeded in making a profit has been from its sales of carbon credits.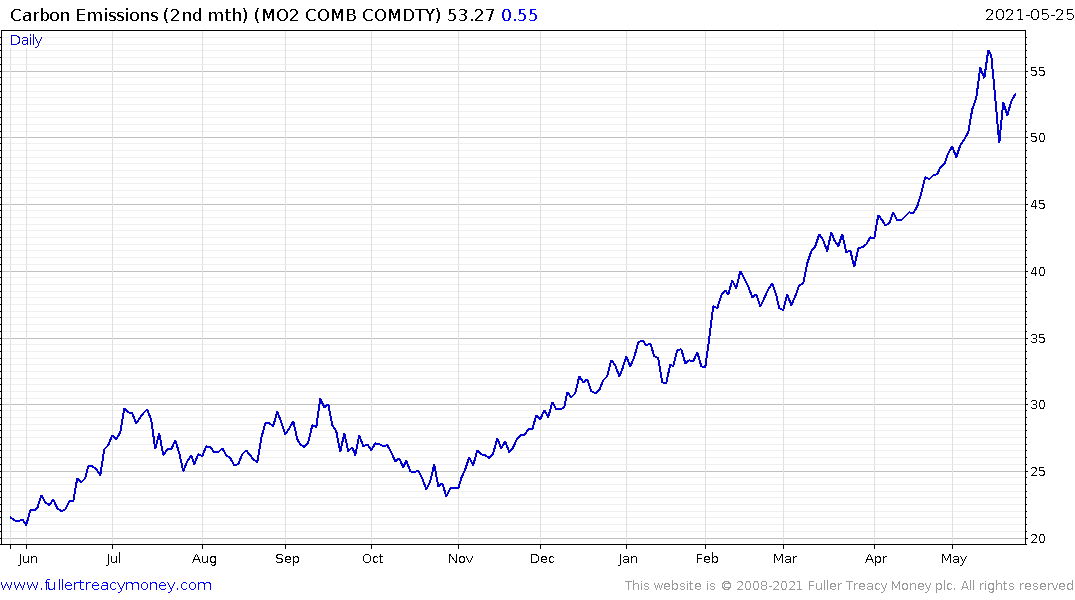 European emissions futures trade on the ICE commodities exchange in London (formerly the IPE). The price has rallied extremely impressively over the last year. It experienced a larger pullback than at any time over the last year recently and rebounded last week. The potential for a deeper reversion towards the trend mean has increased as a result.
Back to top