Email of the day on China's energy challenges
You mentioned the energy shortages in China. These two articles from the Daily Telegraph spell out the scale and the implications globally. Best wishes to you and family
Thank you for the wishes and both these articles. Here is a section from Ambrose Evans Pritchard's and here is a link to the other: https://24htech.asia/streets-go-dark-and-lifts-grind-to-a-halt-as-china-cuts-power-to-meet-energy-targets.html
The property squeeze is compounded by a parallel squeeze on carbon. Xi has promised peak CO2 emissions by 2030, a 25pc cut per unit of GDP by 2025, and a 3pc cut in energy intensity this year.
He knows that China is paying a high credibility price for foot-dragging as Europe and the US launch green deals (nobody can hide behind Trump any longer), and may soon face a carbon border tax in its top markets if it is not careful.
Energy-saving edicts are raining down. Party cadres have been mobilised to pursue CO2 crimes, and are reportedly doing so with the zeal of the Cultural Revolution. The state planner (NDRC) says 20 Chinese provinces have failed to meet this year's goals on cutting energy intensity.
Nomura says nine have received "Level 1 warnings", including Guangdong and Jiangsu, 35pc of China's economy between them. Woe betide the Party officials responsible.
The steel, cement, and aluminium industries face production caps by the industry ministry (MIIT). They stole part of their allowance over the first half, and must cut back this half to compensate. That means drastic falls in steel output. It has already begun and is hammering iron ore prices, along with miners such as Vale and BHP Billiton.
I wonder does anyone remember the butter mountains and the wine lakes of the late 1980s and early 1990s? They were a political embarrassment, but prices were low. The EU and North America were overproducing because they subsidized farmers and low prices meant third world country farmers were impoverished and could not compete. The result was the abandonment of subsidies, much higher prices, still impoverished global farmers and a migration of market dominance to Brazil. I mention it here to emphasise that no good intention is left unpunished in the commodity markets.
Europe is becoming progressively more protectionist and is deploying climate regulation as a weapon to improve the competitiveness of its markets. China therefore has both internal and external factors forcing the migration to lower carbon emissions. The additional desire to look good for the Winter Olympics is also relevant and highlights the willingness of the Communist Party to sacrifice the welfare of citizens for vanity projects.
It would be nice to think European and North American governments are above that kind of disregard for the welfare of their citizens but the rushed dependence on renewables is putting that to the test.
The simple answer to the problem is coal production. Prices are surging because less is being mined, not because the world has suddenly run out. Even if coal production ramps up on at least a temporary basis, the medium-term outlook for natural gas as a globally fungible commodity has seldom looked brighter.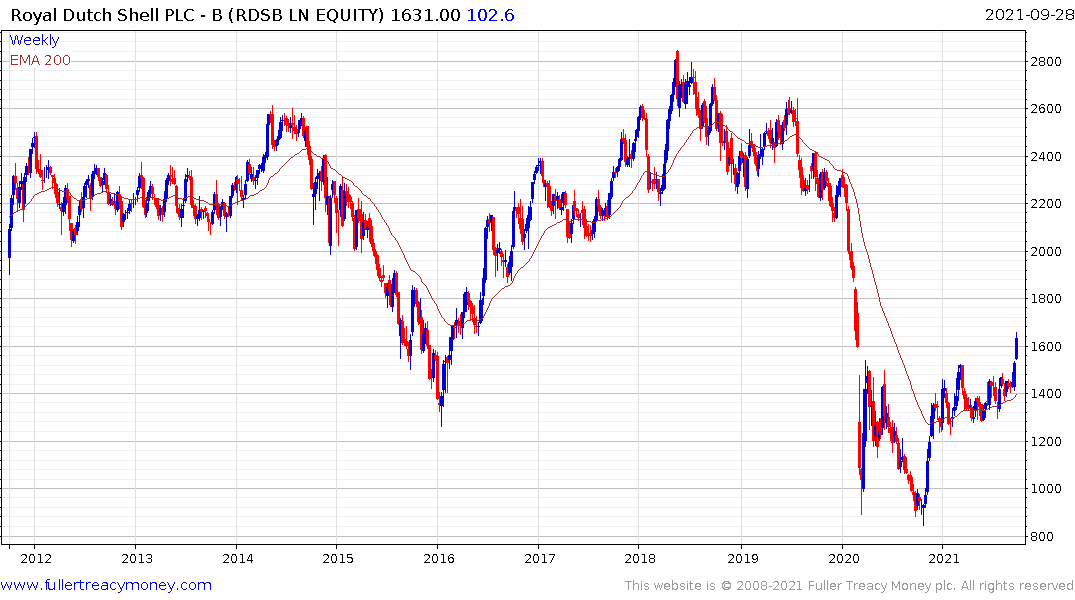 Royal Dutch Shell broke conclusively above the 1500p level this week to complete the medium-term base formation.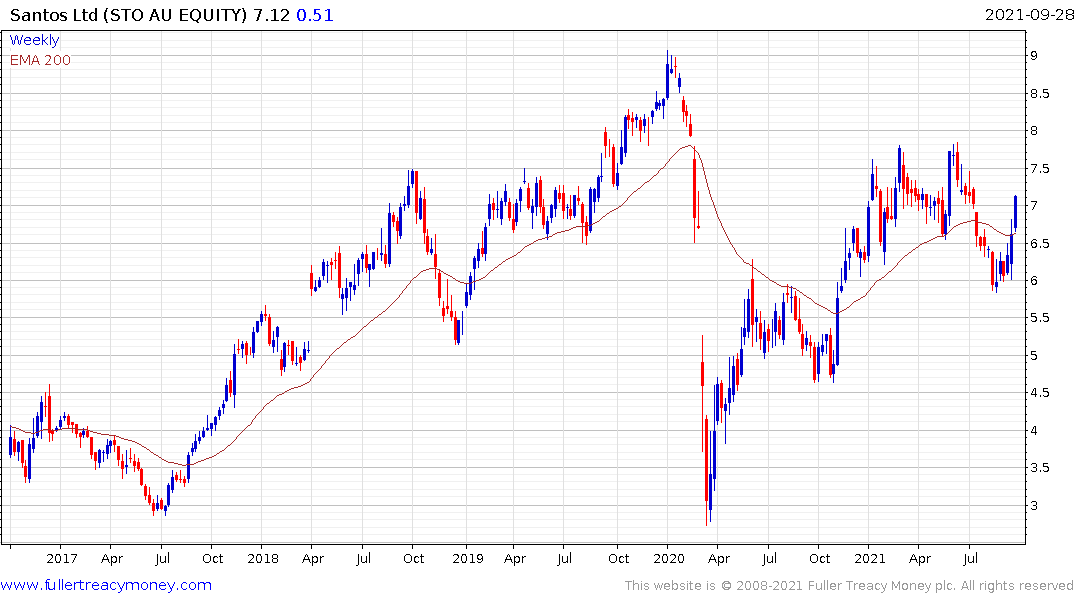 Australia's Santos is firming within its base formation.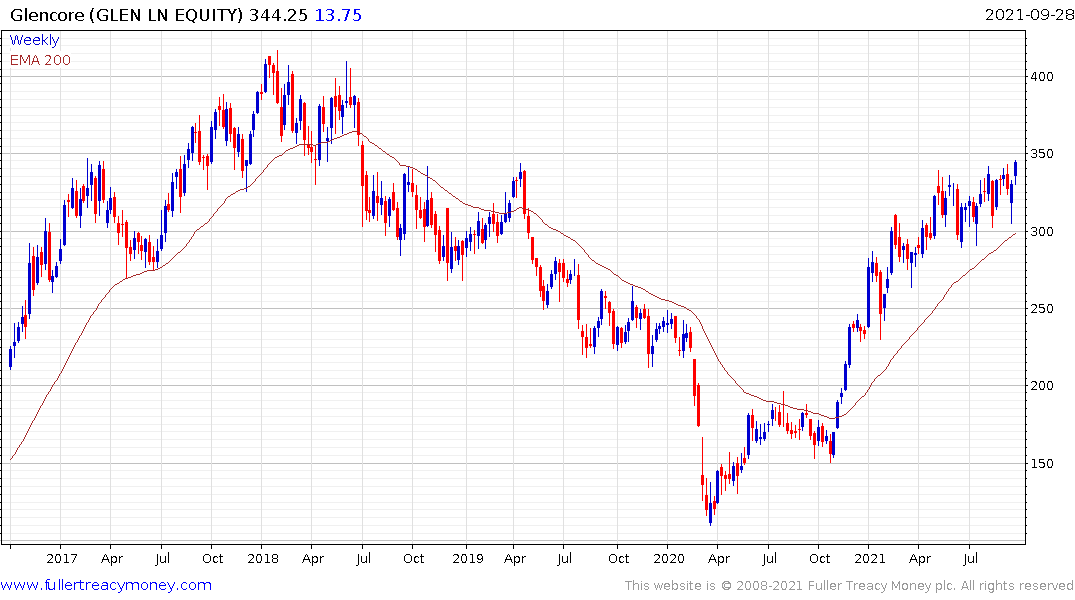 Meanwhile Glencore's resilience in holding its coal assets is beginning to pay off while Arch Resources remains in a clear uptrend.
The challenge at present, beyond the energy crunch, is China is facing down the barrel of a double dip recession. That suggests there is a going to have to be significant stimulus to blunt the effect on the wider economy. The sooner that arrives, the better for the global economy.
Accelerating trends need to monitored closely for signs of exhaustion. Prices do not rise at this rate beyond the short term.
Back to top