Email of the day on carbon sequestration
Montreal company Carbicrete has developed a method for sequestering carbon in concrete, claiming its product captures more carbon than it emits. The technology cuts out the need for calcium-based cement, a key ingredient in traditional concrete that is responsible for around eight per cent of all global CO2 emissions. I thought you might be interested in this.
Thank you for this informative email. There is a clear incentive for innovators to come up with ways to profit from the rising cost of carbon emissions. The COP26 agreement will create a global market for emissions and will broaden the number of companies subject to carbon restrictions. That is all aimed at creating a market for alternatives in much the same way that subsidies fostered the solar and wind sectors.
This article from electrek.co may be of interest to subscribers. Here is a section:
While a lot of the focus right now is on the Build Back Better Act being discussed in the Senate, the government passed another infrastructure bill earlier this year that already had significant investments for electric vehicles.
It included $7.5 billion for EV infrastructure and $7.5 billion to electrify public transport.
Today, the White House released what it calls the "Biden-⁠Harris Electric Vehicle Charging Action Plan" to spend the former.
As of now, the actions are still mainly about creating a framework to distribute the money – most of which will be for states to spend.
But the overall goal is to take the number of EV charging stations in the US from 100,000 to 500,000.
In short, the government is now talking to EV charging stakeholders to best understand their needs and make sure that the money will be cycled through the US to not only deploy the stations, but also build them here.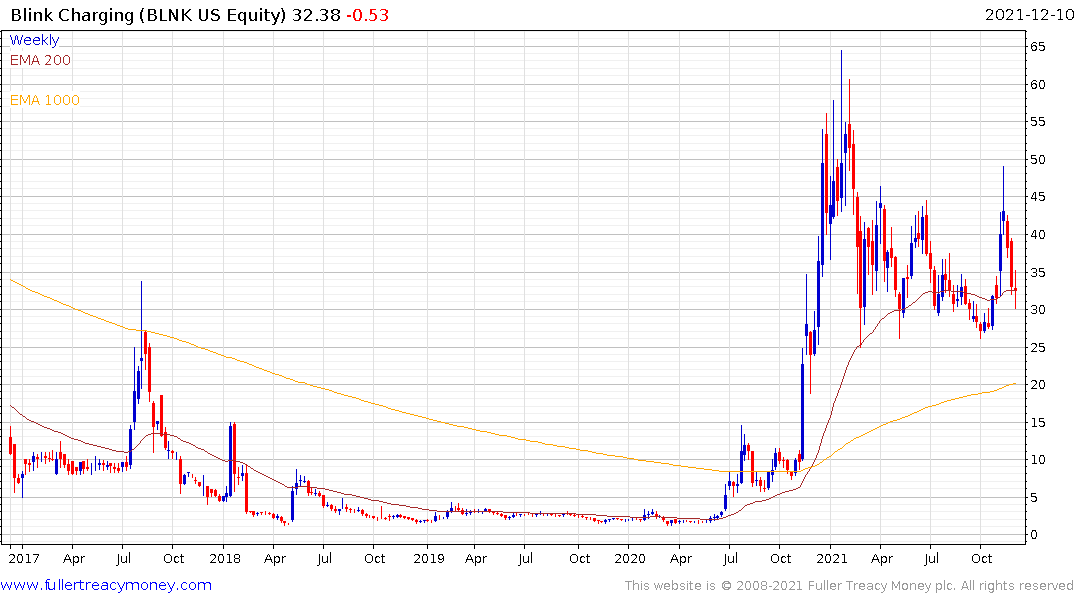 Companies like ChargePoint, Blink Charging and Bloom Energy should benefit from the US governments bounty. However, none are revenue positive at present. They are very dependent on flows from both the government and investors to remain afloat until electric vehicle market saturation reaches a point to justify their investments.
I'm reminded of the adage "there is many a slip between the cup and the lip". The threat of liquidity being retracted currently outweighs the promise of growth.
Back to top