During Irma's Power Outages, Some Houses Kept The Lights On With Solar And Batteries
This article by Adele Peters for fastcompany.com may be of interest to subscribers. Here is a section:
Of course, if a storm is strong enough to tear solar panels off a roof and the battery can't recharge, this type of system wouldn't work for long. It's also expensive: A single Powerwall unit, which can store 14 kilowatt-hours of energy, costs $5,500 plus supporting hardware and installation that can cost up to $2,000. A similar battery from Mercedes-Benz ranges from $5,000 to $13,000 for a 20 kilowatt-hour system including installation. In the U.K., where Ikea now sells both solar panels and batteries, its batteries are also nearly $4,000 at current exchange rates. Beyond cost, if someone rents an apartment or house and can't install solar panels, it's not an option.

But the cost is likely to drop, and battery storage and solar power could also be used in community solar projects, where customers don't have solar panels at their own homes, but invest in or buy power from a nearby microgrid. In Orlando, customers can buy solar energy from a 12-megawatt solar farm built on top of a landfill; while the power is currently sent back to the grid, in the future, it's possible that it and other community solar farms could use batteries to provide local backup power from multiple locations in emergencies.
Microgrids, batteries and solar cells have the potential to grow exponentially as costs come down and business models evolve. There are two additional points that are likely to prove attractive to consumers as well as government. The first is that the utility network is likely to be a target in any future war and foreign governments have already demonstrated both the intent and ability to tamper with it.

The second is that an increasingly large number of people live in areas prone to natural disasters whether hurricanes or earthquakes. In an economy increasingly reliant on services, with customers that could be anywhere, being out of commission for days is not an option many would choose. Domestic supply and batteries represent an attractive and increasingly cheap option.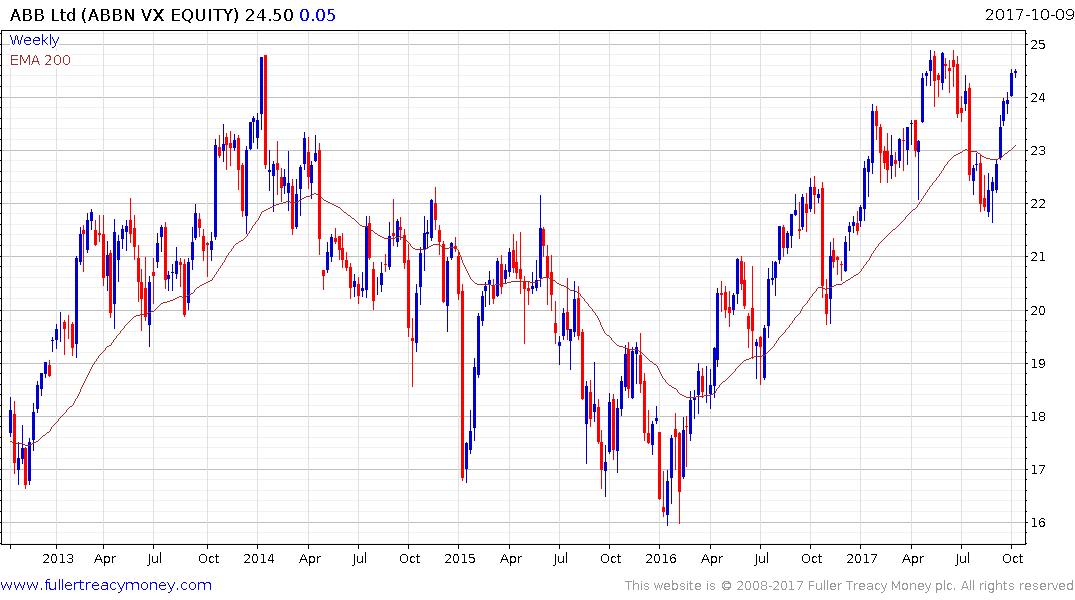 ABB is one of the largest providers of electricity networking equipment. The share rebounded impressively from the region of the trend mean in September and a sustained move below it would be required to question medium-term scope for additional upside.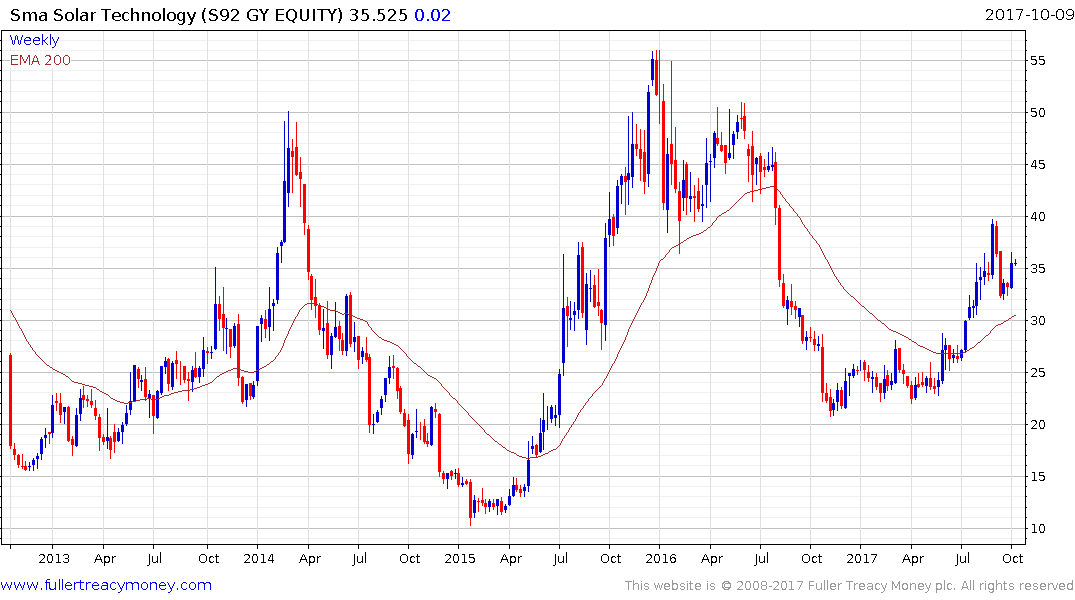 SMA Solar Technologies is one of the largest producers of solar inverters. The share has been confined to a volatile range since 2012 and is currently rallying from the lower boundary.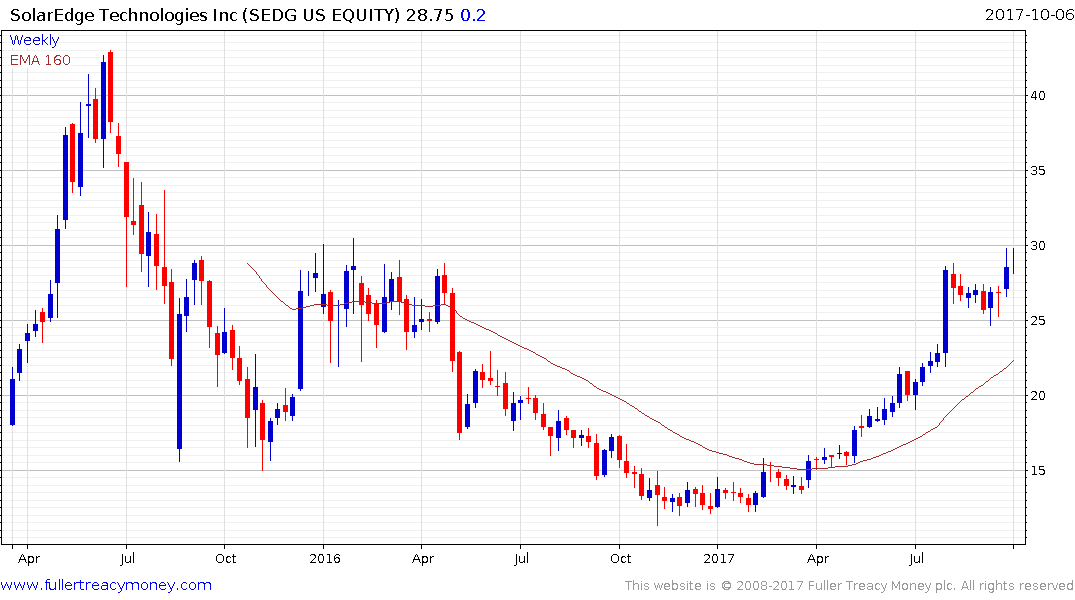 SolarEdge Technologies has held a progression of higher reaction low since the beginning of the year and a break in that sequence would be required to question medium-term recovery potential.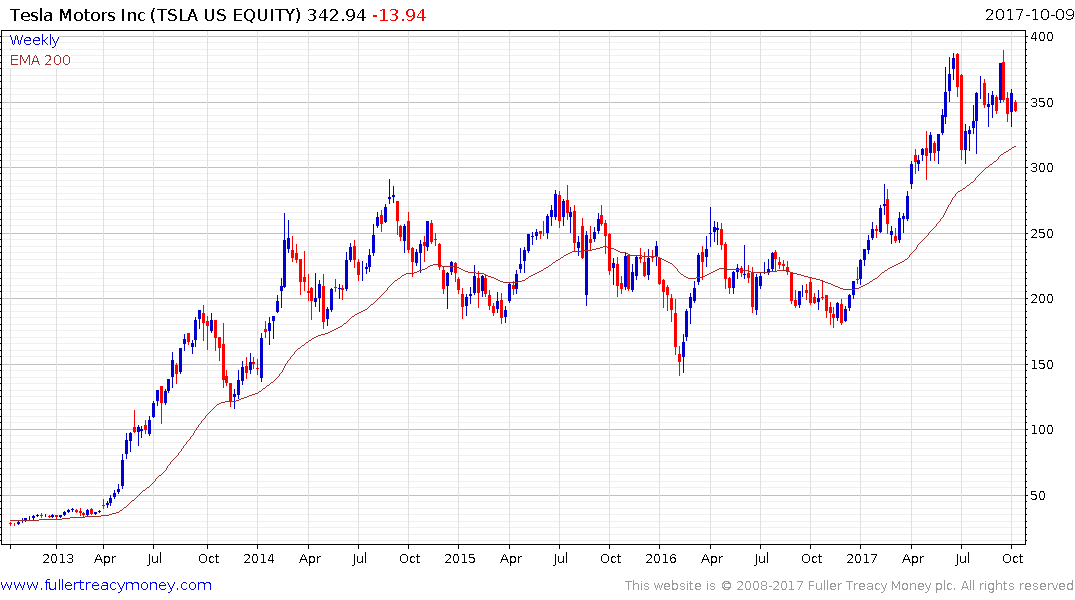 Tesla is still the leading producer of batteries but it is facing increasingly stiff competition. The share continues to hold this year's progression of higher reaction lows and will need to sustain the move above $300 if medium-term scope for additional upside is to be given the benefit of the doubt.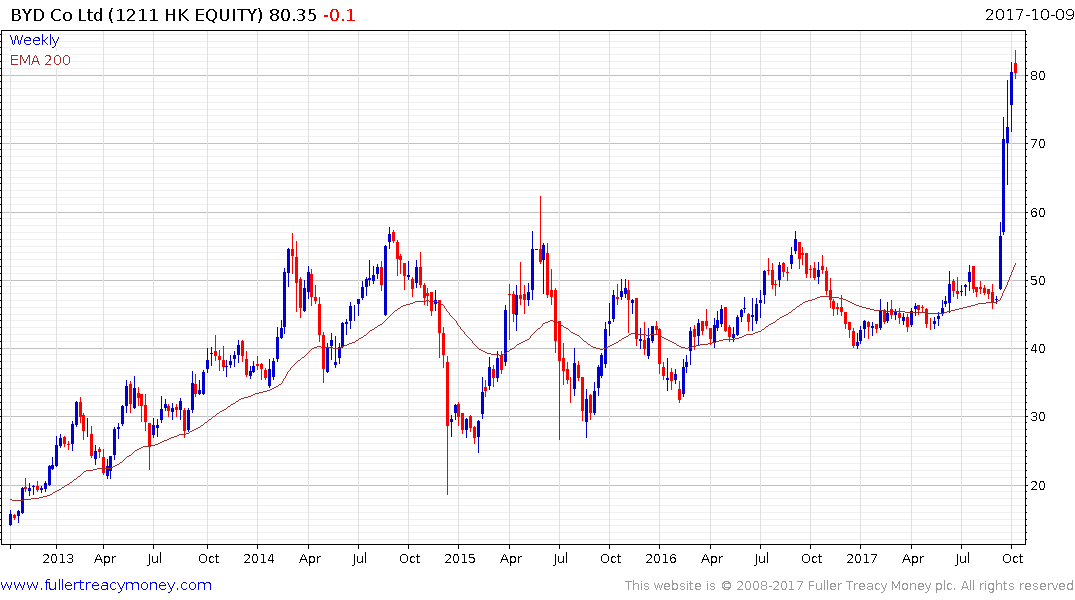 BYD surged higher in September on increasing Chinese support for electric vehicles. With the share now testing the 2009 peak some consolidation of recent gains is looking increasingly likely.
Back to top