Doctor Who Saw Omicron Early Says Symptoms Milder Than Delta
This article from Bloomberg may be of interest to subscribers. Here is a section:
South Africa announced the identification of a new variant on Nov. 25, saying a few cases had first been identified in neighboring Botswana and then others had followed in Tshwane, the municipal area in which Pretoria is located. The announcement caused a global panic, roiling markets and resulting in travel bans on southern African nations.

Scientists advising South Africa's government told a media briefing on Monday that while omicron appeared to be more transmissible, cases appeared to be very mild.

Coetzee's patients have been relatively young. A vaccinated 66-year-old patient did return a positive test on Monday but was only mildly ill, she said.
Everything we have been led to believe over the last couple of years is that cold and flu viruses mostly evolve to be more transmissible because that furthers the urge to replicate all organisms share. Becoming less deadly is often a part of that because it aids in replication. That part of the argument is complicated by the fact that COVID does not kill before it is has ample time to replicate and disperse.
The delta variant caused all sorts of trouble for national governments because it was much more transmissible and similarly dangerous to vulnerable populations. The Omicron variant is even more transmissible; by orders of magnitude. Even if it is less deadly, it is unlikely to less dangerous in equal measure to how much more transmissible it is.
This is a very different environment to February 2020 when we knew comparatively little about the virus and no treatments were available. Vaccines have been very effective in curtailing the severe symptoms and have also aided in the treatment of long-Covid symptoms. The market spasms experienced last week were panicky and reflected fear of the unknown and potential need for additional lockdowns.
Against that fear, the big question for investors and traders is will Omicron be enough to delay the pace of monetary and fiscal normalisation? I suspect it will; be but not immediately. The rebound for liquidity magnets like bitcoin, Tesla and other mega-caps suggests traders are at least willing to bet the stay-at-home champions will be relatively well insulated.
Large numbers of downside weekly key reversals and an equal number of instruments returning to test areas of potential support were witnessed last week. Most steadied today.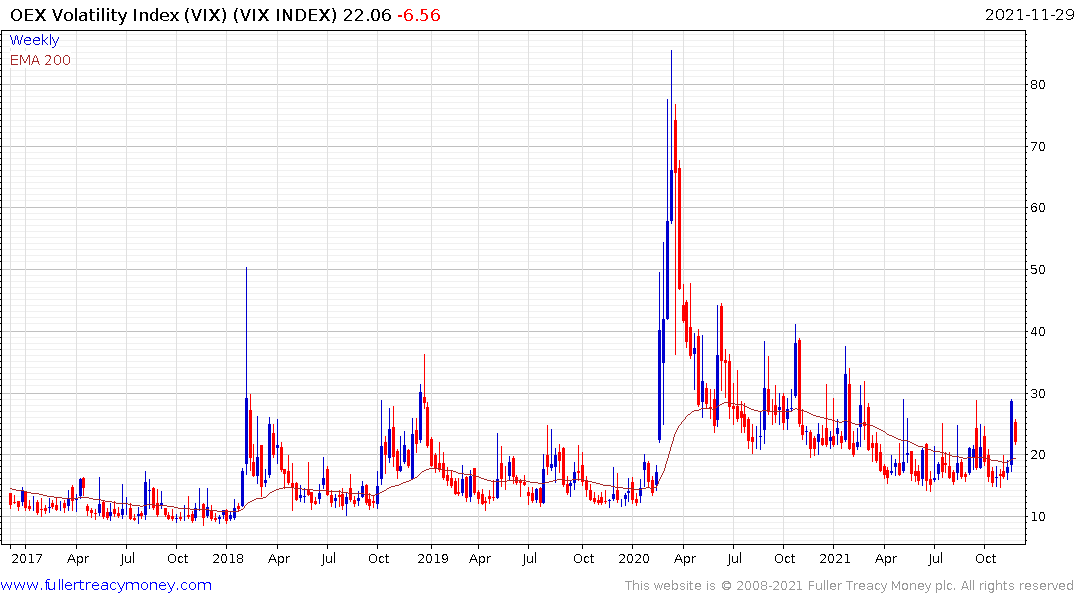 The VIX Index has not followed through on the upside. Instead, it is reversing which suggests a short-term low for most stock markets.


Brent crude steadied from the region of the upper side of the underlying trading range but will need to hold more than an intraday rally to rebuild confidence.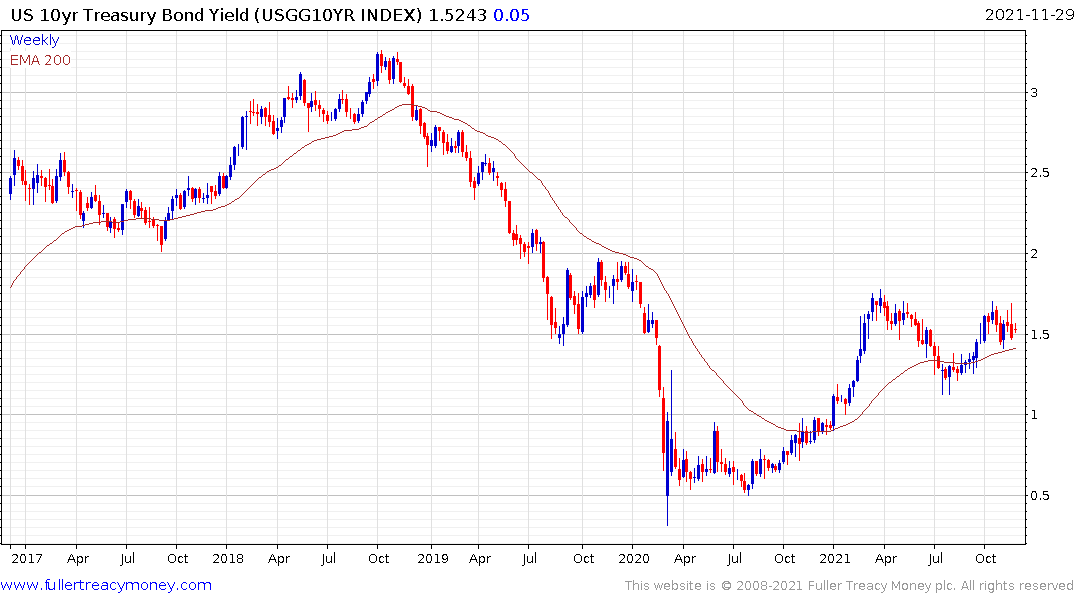 Treasury yields continue to hold the region of the 200-day MA.
There is potential that we see markets rebound for the rest of the year. This set back will offer an opportunity to any asset managers seeking to make up lost ground so there is an incentive to buy the dip provided the news does not get measurably worse.
Back to top