CTA, Money Manager Unwinds Could Be Behind Oil Drop
This trading note from Bloomberg may be of interest to subscribers. Here is a section:
Crude oil has fallen the most in nearly three months, sliding as much as 4.75% today, and on its way to a test of the March 4 low at $60.52 per barrel. The move is probably linked to some unwinding of long positions from CTAs as daily price gains or losses of more than 3% can often trigger this account group to quickly unload. Watch for this unwind to continue if price action maintains this pace in the days ahead.

Beyond that, money managers could be unwinding longs. This group's crude holdings are the longest in more than two years, according to the most recent CFTC data. Let's not forget Iran is swamping China with oil. Also, quarter-end window dressing can also get in the way of an otherwise nice trend.
There is no shortage of oil. OPEC is deliberately restricting supply. The shale properties massively reduced drilling activity in response to low prices and rising borrowing costs have inhibited a swift recovery. However, it is not as if the world has to spend hundreds of billions to find new sources of supply. Everyone knows where the oil is. The question is only at what price it will be produced. The higher prices move the greater the sensitivity to supply gains.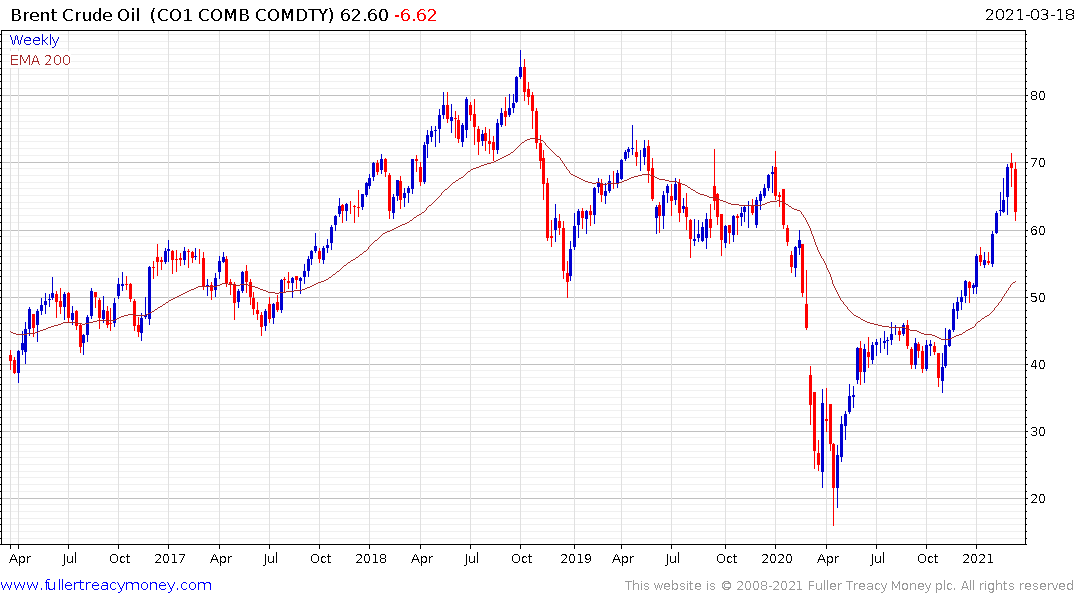 The price is now pausing in the region of the peaks from early 2020 so the entire pandemic decline has been unwound. Some consolidation is overdue and appears to now be unfolding.
There has been a great deal of enthusiasm about the value proposition represented by energy shares. They were very depressed six months ago and priced as if they would go out of business. That was too extreme, and many have rebounded to varying extents.
The challenge going forward is the regulatory burden for oil companies is only going to become more onerous. That's particularly true in Europe and potentially also in the USA under the current administration. Against that background it is difficult to envisage a reason for why there should be a secular bull market.
If oil price increases moderate that will both encourage global growth and moderate inflationary pressures.
Back to top