Crackdown Deepens as Russian Troops Arrive
This article from Bloomberg may be of interest to subscribers. Here is a section:
Kazakhstan's top uranium miner, Kazatomprom, said supplies of the radioactive metal used for nuclear fuel haven't been disrupted by the unrest and work at all company units has continued. Kazakhstan produces more than 40% of the world's uranium; prices for the metal jumped.

"We are fulfilling all our obligations easily, there are no problems with uranium shipments and we will meet all delivery deadlines," Kazatomprom Chief Commercial Officer Askar Batyrbayev said in a phone interview.

Russian Foreign Ministry Says Unrest 'Inspired From Outside' (1:51 p.m.)
The unrest in Kazakhstan is "an attempt inspired from outside to violently undermine the security and integrity of the state with the use of organized and trained armed units," Russia's Foreign Ministry said on Thursday in a statement.

​The ministry didn't offer further details on who was meant by outside forces. A senior Russian legislator, Konstantin Kosachyov, blamed terrorist groups from Afghanistan and the Middle East, without providing evidence.
The Arab Spring began as a series of popular protests in Tunisia, in response to the rising cost of bread. Eventually, the popular movement toppled Egypt's government and created strife everywhere in the region. It appears likely Russia and its satellites have learned the lesson. Allowing protest movements', a toehold can have a disastrous impact on the ability of a regime to retain control. China's efforts to control all public discourse are also informed by the results of the Arab Spring.
Kazakhstan is the largest and lowest cost producer of uranium. By flooding the market with supply, they successfully drove a large number of producers out of business. The risk is sanctions will be imposed on the country in response to the heavy-handed way in which this protest is being put down.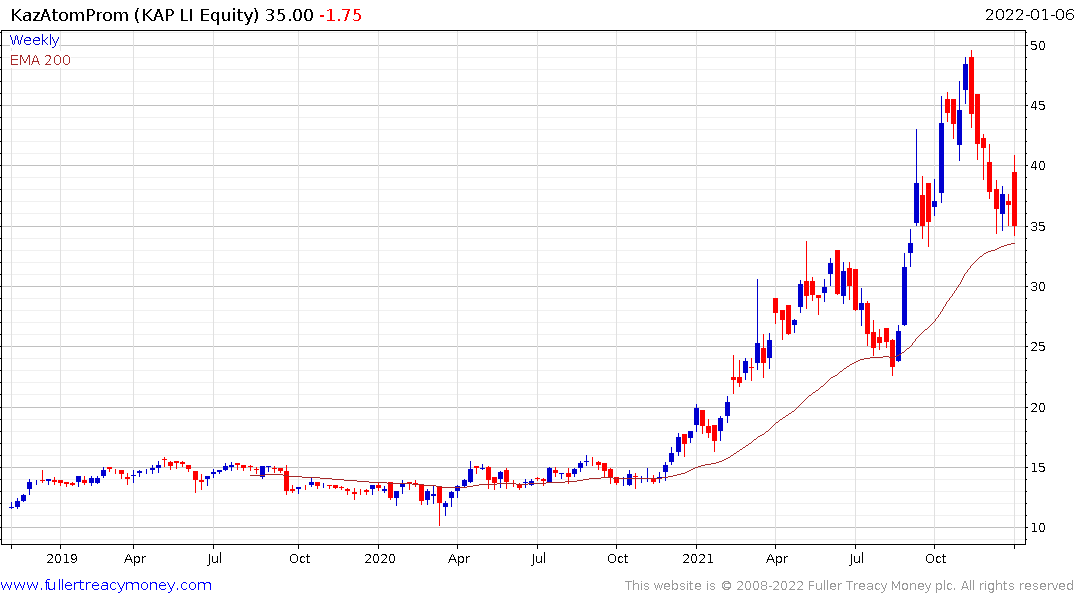 Kazatomprom has pulled back sharply this week to retest the region of the trend mean and will need to bounce soon if the uptrend is to remain intact.


Cameco also pulled back sharply today suggesting a knee jerk reaction from ETF investors.
Back to top