Cost to Bury Carbon Near Tipping Point as Emissions Price Soars
This article by Rachel Morison and Samuel Etienne for Bloomberg may be of interest to subscribers. Here is a section:
"We need to see higher carbon prices to make those projects profitable," said Anders Opedal, chief executive officer of Equinor ASA, which is developing CCS in the U.K., Norway, Germany and the Netherlands. "It actually needs to be more expensive to pollute than actually capture and store."

Britain has the most ambitious climate goals of the G-20 nations, targeting a 78% reduction in emissions by 2035. The nation has committed to helping fund two industrial hubs, where heavy industry and power generation can use carbon capture and storage by 2025, with another two by the end of the decade.

The aim is to scrub as much as 10 million tons of carbon dioxide from the atmosphere every year. Details on how the funding will be allocated are due before December. At today's power prices, the U.K.'s largest planned project at Drax Group Plc's biomass station in north England already would be profitable using carbon-capture technology, according to Credit Suisse.

"We need to be sure we could get those prices over a long time period, but we're getting pretty close," CEO Will Gardiner said in an interview on Bloomberg Radio. Drax's project will start in 2027, and by 2030 it will capture and store 8 million tons of carbon dioxide a year.

In 2019, the world emitted about 33 gigatons of carbon. Operational projects are capturing just a fraction of that, about 40 million tons, according to Wood Mackenzie. There are 19 large-scale CCS facilities in operation today and another 32 in development, according to Credit Suisse. If these all come online, they could store 100 million tons – a slightly bigger fraction.

There's also a chance the technology might not be as effective as promised. The world's biggest project, at Chevron Corp.'s $54 billion liquefied natural gas plant in Australia, has fallen short of its target to capture 80% of emissions from the plant, burying just 30% over five years.

"The tech isn't there yet for large-scale adoption, but our industry has to start changing how we operate," said Andrew Gardner, chairman of Ineos Grangemouth Ltd., which is working with Royal Dutch Shell Plc on the Acorn project in Scotland that's scheduled to start in 2027.

The system developed by Oslo-based Aker Carbon Capture ASA costs between 60 euros and 120 euros per ton, CEO Valborg Lundegaard said. That means CCS could be nearing a crossover point.
The fundamentals of carbon prices focus on the outlook for the economy and how much emissions will be created to achieve the anticipated growth rate. The reality, however, is that this is a politically motivated rate. The European Commission has said on regular occasions that it wants to see prices trade up to €100 and nothing has happened to question that view.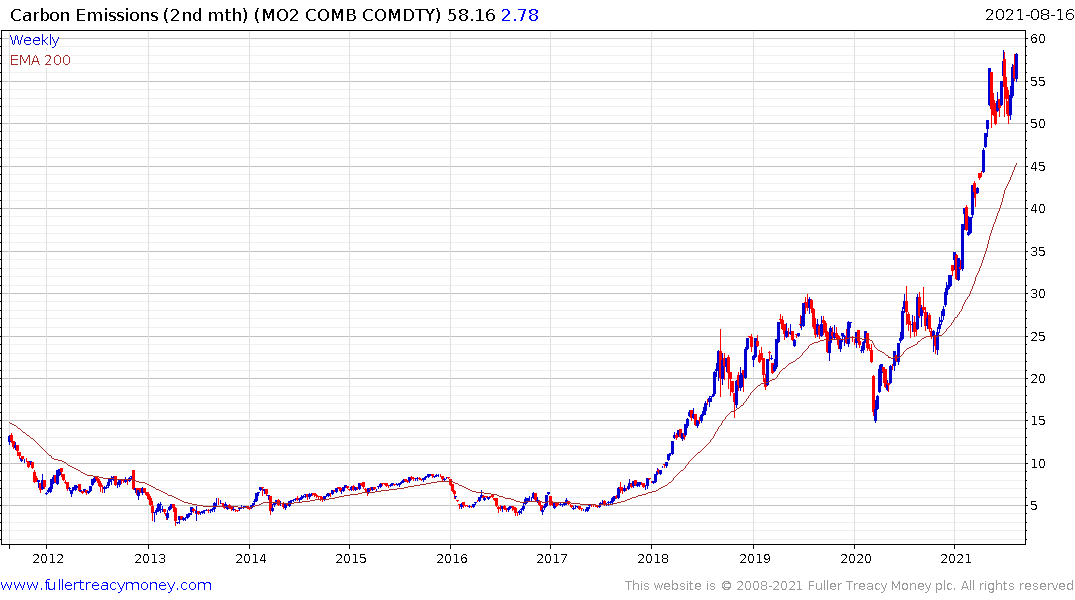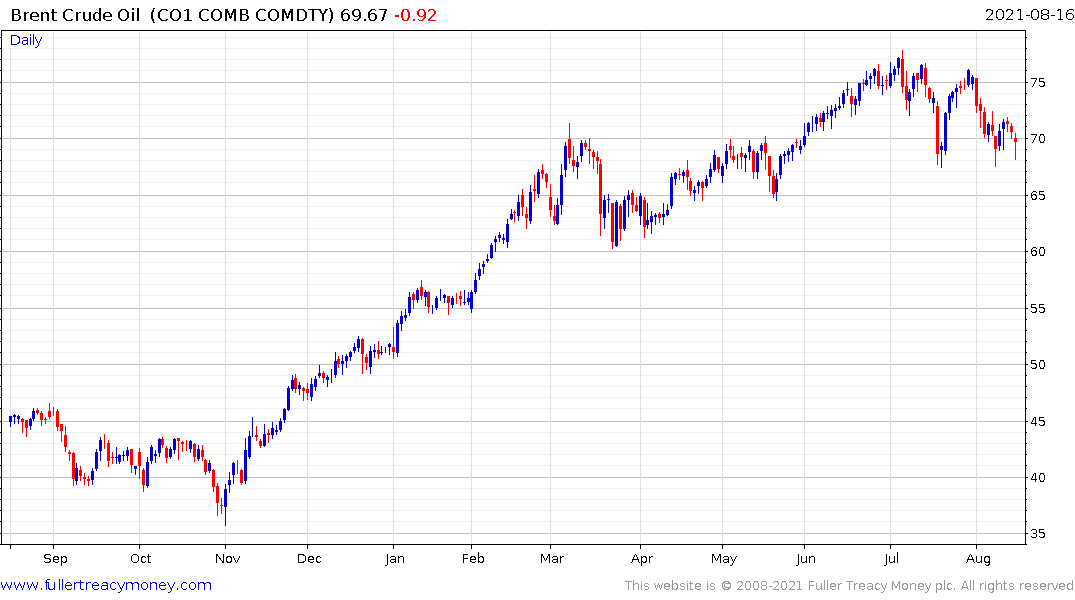 The biggest takeaway today is that carbon prices have decoupled from oil. Brent crude prices are at the lower side of their range while carbon prices on the cusp of breaking out. The EU is particular is deadly serious about curbing emissions and delivering on the dream of energy independence.


It is going to be an incredibly expensive procedure and consumers will bear the brunt of the measure as costs as passed on. A gigaton is a billion tonnes so even if every project under way achieves the goal of capturing 100 million tonnes, that is less than 1% of annual emissions.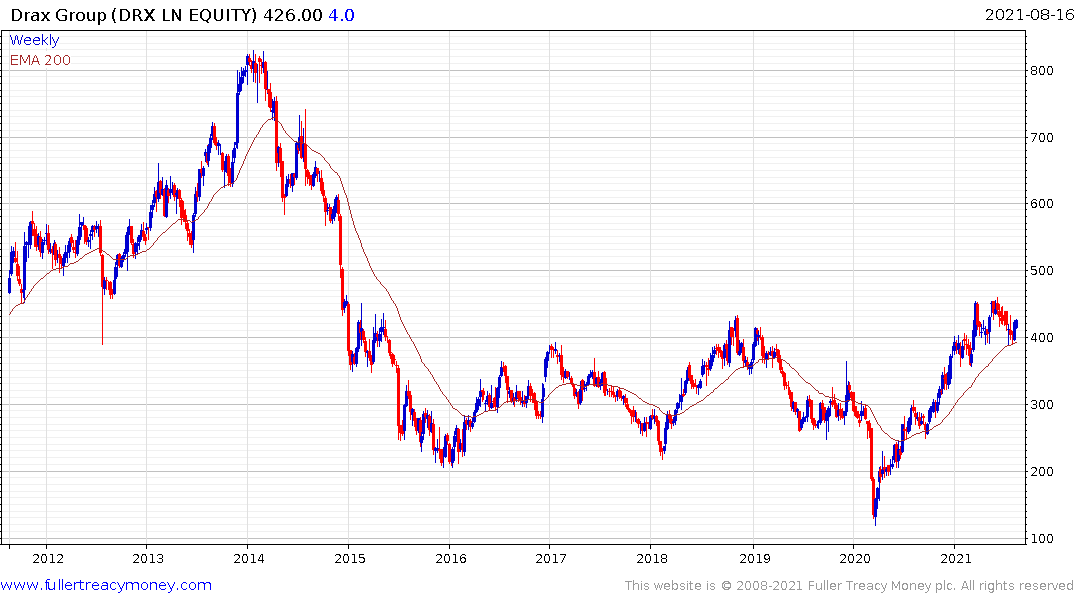 It is more likely that the high cost of emissions and the accelerating price of gas will inhibit emissions growth in the normal way; through slower economic growth.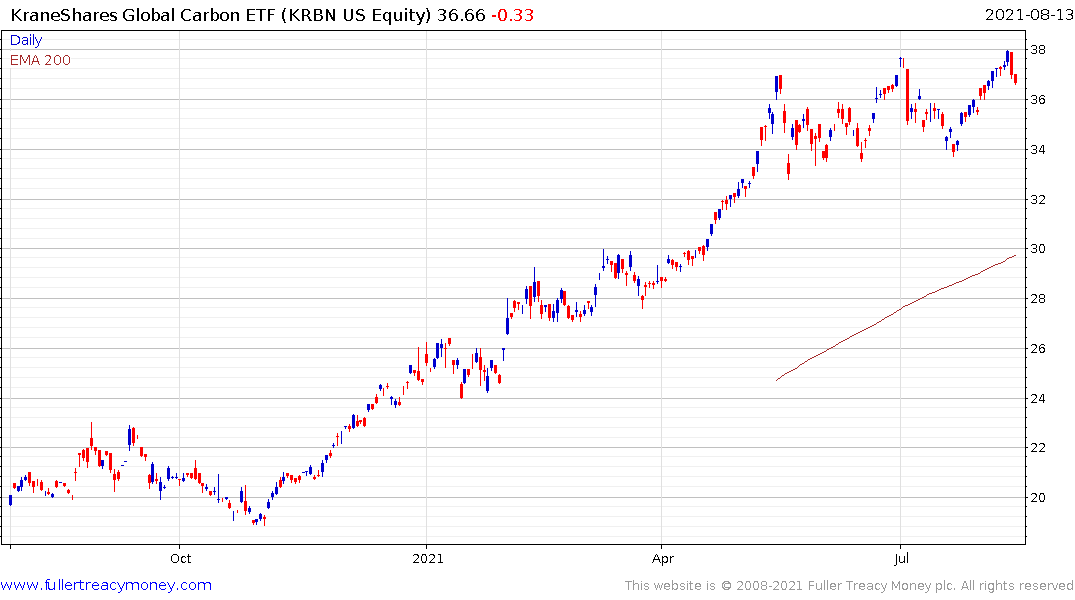 KraneShares Global Carbon ETF (KRBN) and the iShares MSCI ACWI Low Carbon Target ETF (NYSE:CRBN) have done a reasonable job of tracking the carbon credits price.
Back to top