China to accelerate nuclear power development
Thanks to a subscriber for this article from Xinhua which may be of interest to subscribers. Here is a section:
By the end of last year, 17 nuclear plants were in operation, with a total capacity of nearly 15,000 megawatts of electricity.

At a meeting of the National Energy Commission on April 18, Premier Li Keqiang announced the introduction of new nuclear power plants along the east coast "at a proper time".

Earlier this month, the Ministry of Environmental Protection released the environmental impact statements for two new nuclear power plants, one in Guangdong Province and another in Shandong, but this is still not enough in the longer term.

"China's nuclear power sector still has a long way to go before reaching the global average," said Ye Qizhen of the Chinese Academy of Engineering.

A proportion of 10 percent of nuclear power is an ideal number for China, Ye said.
With a serious pollution problem and energy consumption on a secular upward trajectory, China has little choice but to explore every avenue for electricity generation. The approval of new nuclear reactors suggests the period of contemplation that followed the Fukushima disaster has ended.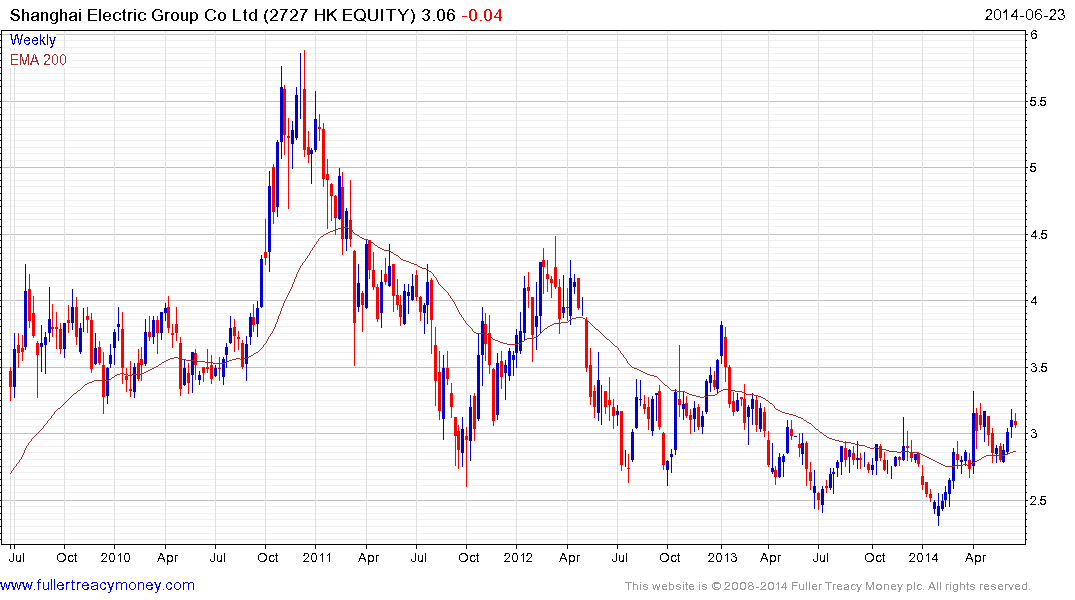 Among Chinese companies related to the construction of nuclear reactors; Shanghai Electric Group (Est P/E 12.35, DY 3.04%) found support three weeks ago in the region of the 200-day MA. It will need to hold above the HK$2.80 area if potential for additional higher to lateral ranging is to be given the benefit of the doubt.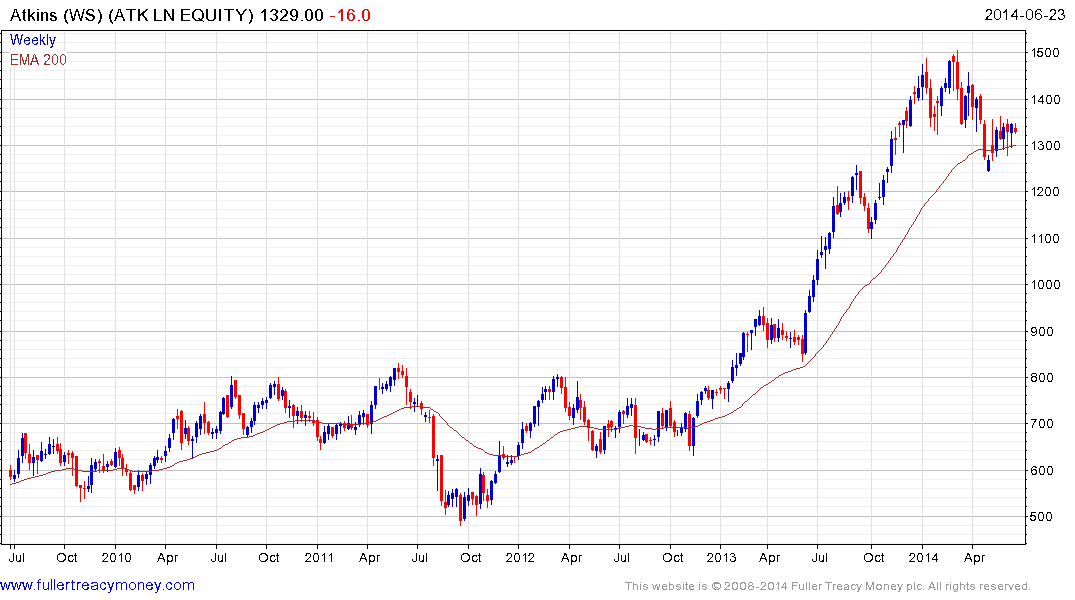 Elsewhere, UK listed Atkins (Est P/E 14.58, DY 2.79%) experienced an explosive breakout in 2013 following a lengthy base formation. It unwound the overextension relative to the MA from March and has at least has paused in the region of the trend mean since April. Some additional ranging below the 1500p peak appears to be the most likely scenario and a sustained move below the 200-day MA, currently near 1250p, would be required to question this view.
In recreating the constituents of my Nuclear Reactor Construction and Uranium Miners sections of my Favourites in the International Equity Library, it became clear just how much consolidation has occurred within the mining sector. Titanium Uranium, Strathmore Minerals, SXR Uranium One, Uranium One, Uranium Focused Energy Fund, Global Uranium Fund , Extract Resources, Rockgate Capital, First Uranium and NWT Uranium have all either been taken over or gone bust over the last two years.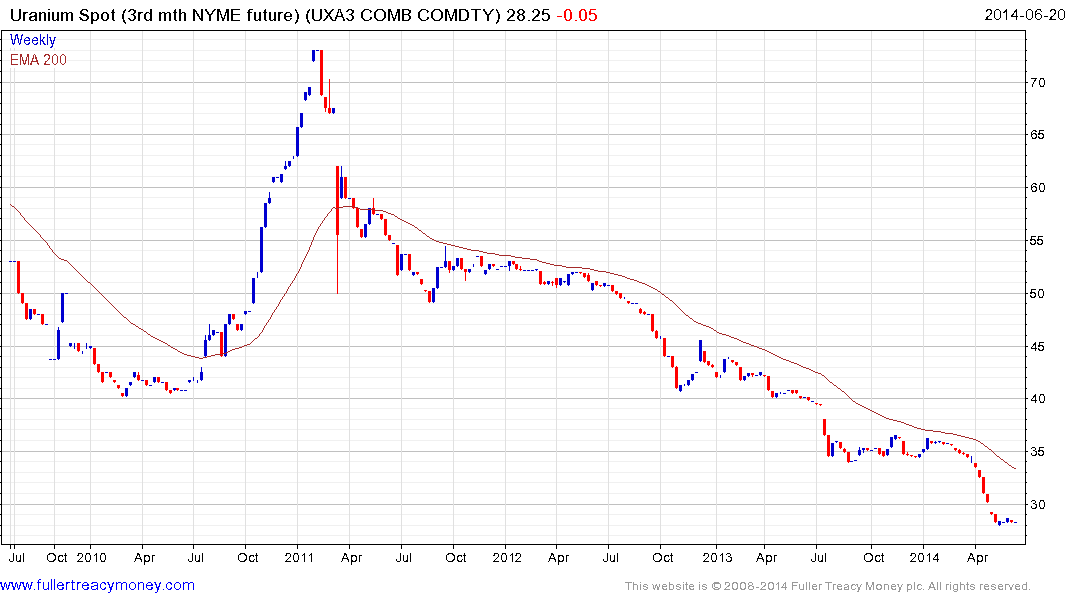 Uranium prices remain in a relatively consistent downtrend and will need to sustain a move above the 200-day MA, currently near $32.40, in order to suggest a return to demand dominance beyond the short term. Considering the continued weakness in uranium pricing, the process of consolidation within the mining sector is probably not over.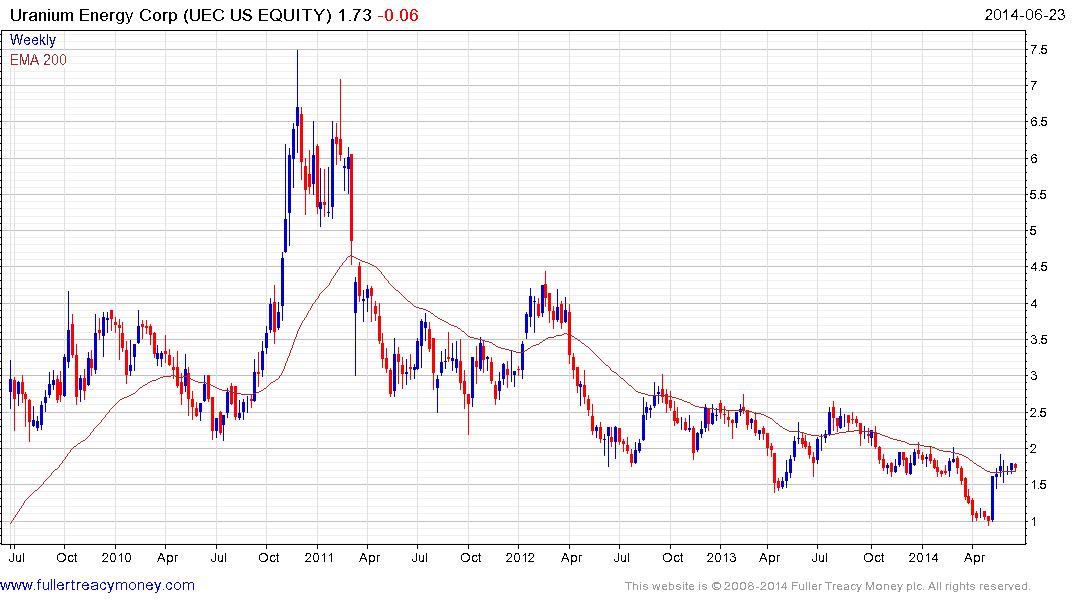 Uranium Energy Corp has rallied to test its progression of lower rally highs and is currently the sector's best performer.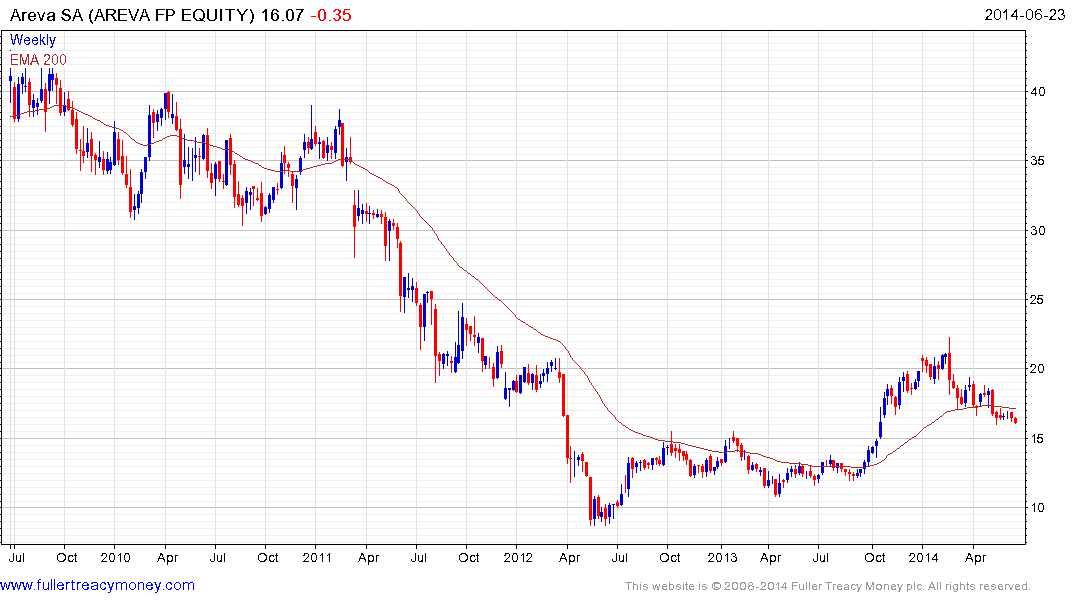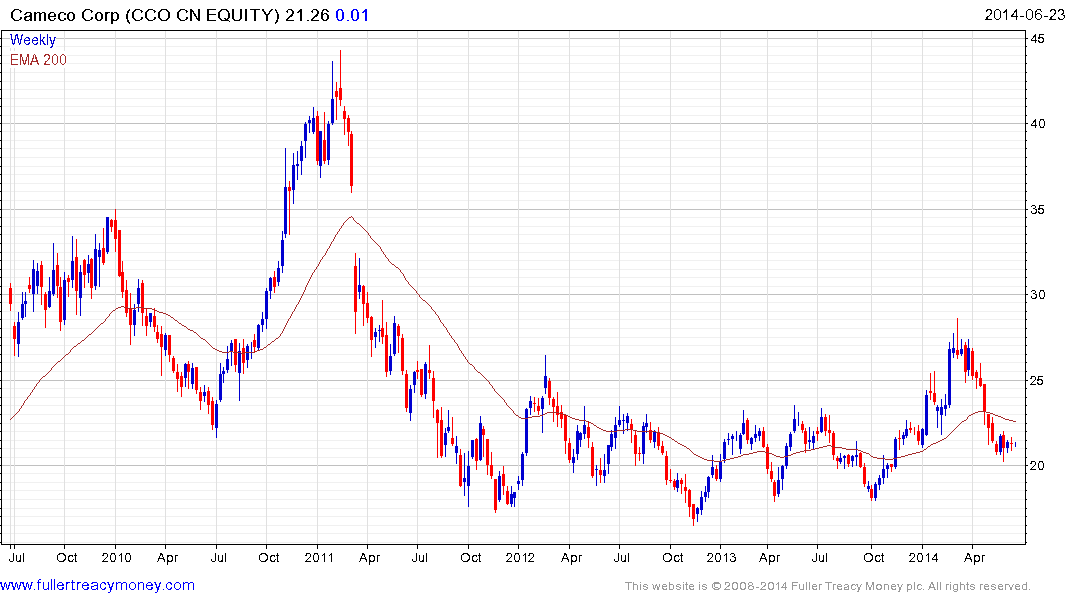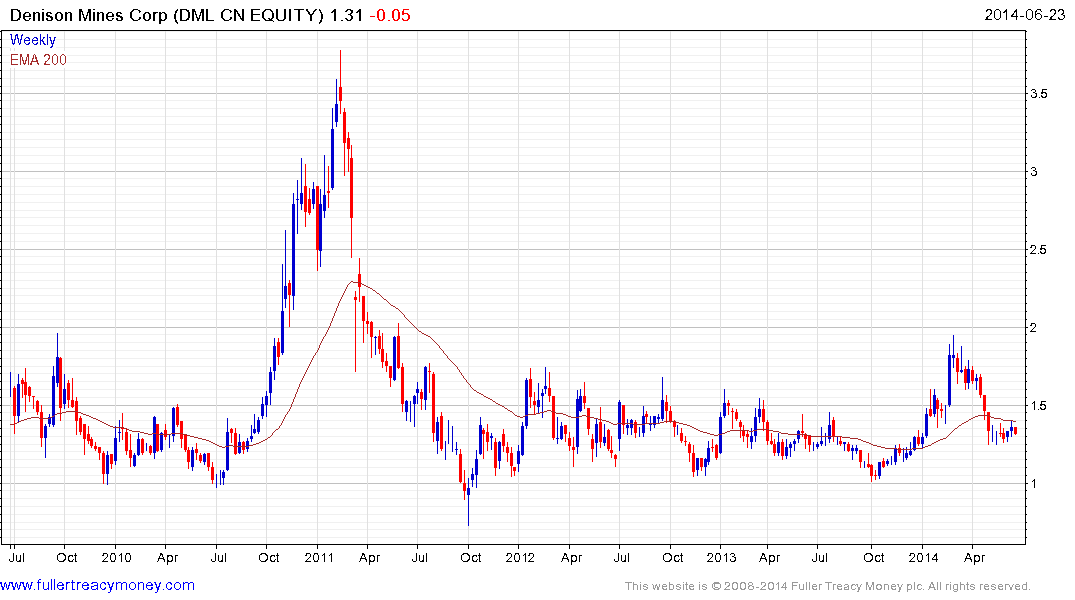 Areva, Cameco and Denison Mines share a similar pattern when they pulled back sharply from their February peaks and have at least paused near their May lows. Those lows will need to hold on their next reactions in order to begin to suggest a return to demand dominance.
Back to top