China Is Giving the World's Carmakers an Electric Ultimatum
This article from Bloomberg News may be of interest to subscribers. Here is a section:
The world's biggest market for electric vehicles wants to get even bigger, so it's giving automakers what amounts to an ultimatum. Starting in January, all major manufacturers operating in China—from global giants Toyota Motor and General Motors to domestic players BYD and BAIC Motor—have to meet minimum requirements there for producing new-energy vehicles, or NEVs (plug-in hybrids, pure-battery electrics, and fuel-cell autos). A complex government equation requires that a sizable portion of their production or imports must be green in 2019, with escalating goals thereafter.

The regime resembles the cap-and-trade systems being deployed worldwide for carbon emissions: Carmakers that don't meet the quota themselves can purchase credits from rivals that exceed it. But if they can't buy enough credits, they face government fines or, in a worst-case scenario, having their assembly lines shut down.
China is the world's largest market for automobiles so what they decide is permissible within their market is likely to shape the plans of manufacturers for the globe. One of the primary reasons companies have been announcing plans for lots more electric and hybrid vehicles over the coming years is because of the Chinese mandates. That is the primary driver behind the capacity build in the battery sector which needs to ramp up substantially if the demand growth profile is to be reached.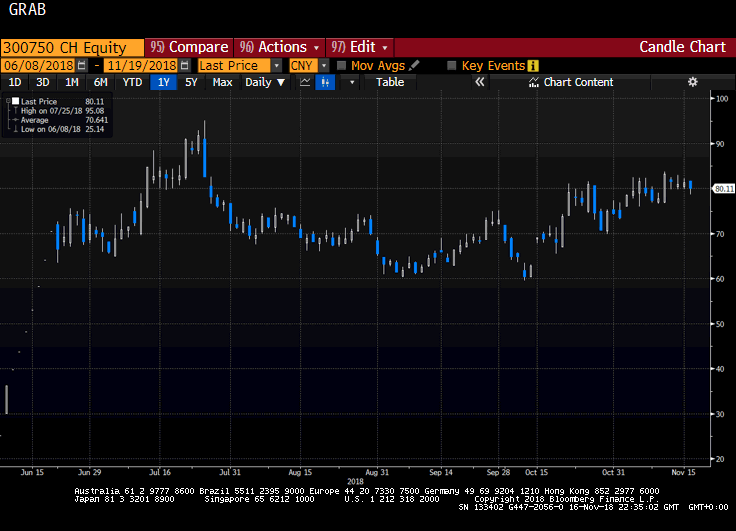 Contemporary Amperex Technology Co Ltd (CATL) will be the world's largest battery manufacturer if it is not already. The share listed in China in June and retains an upward bias.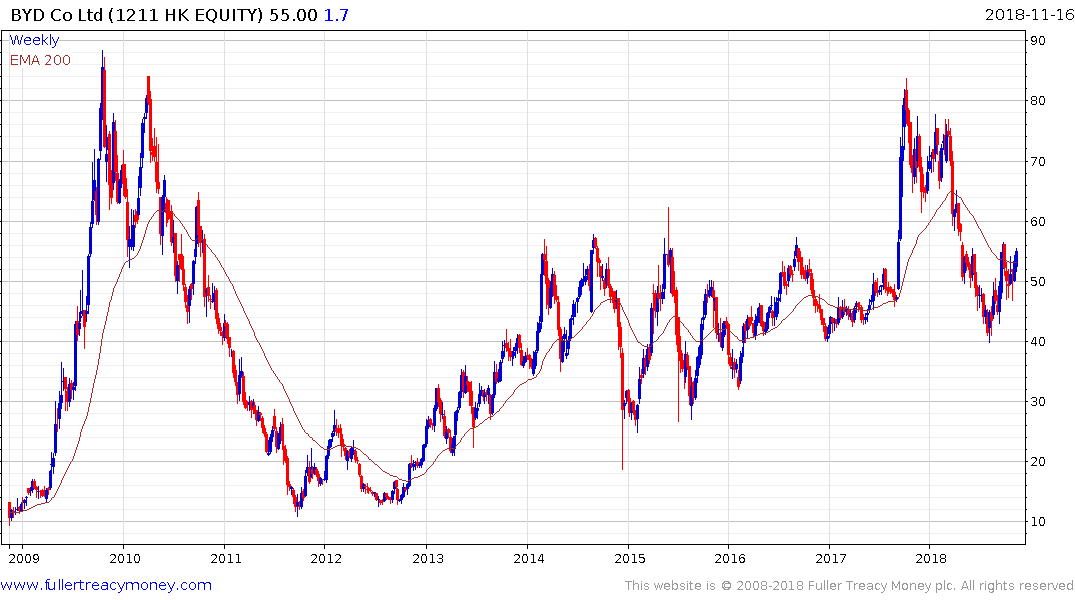 BYD has been subject to a great deal of volatility over the last few yeas but there is a clear upward bias to trading. The share is currently firming from the region of the trend mean.


SK Innovation has been aggressively courting European companies to supply batteries for their proposed vehicles. The share failed to sustain its breakout to new highs in October and is now testing firming from the lower side of its range.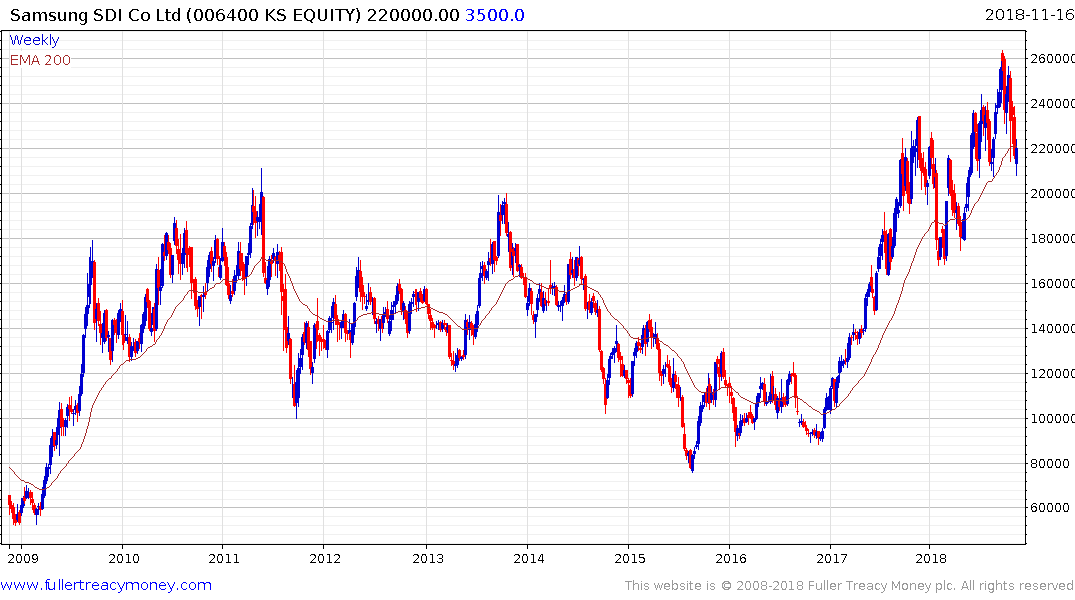 Samsung SDI is currently testing the region of the trend mean,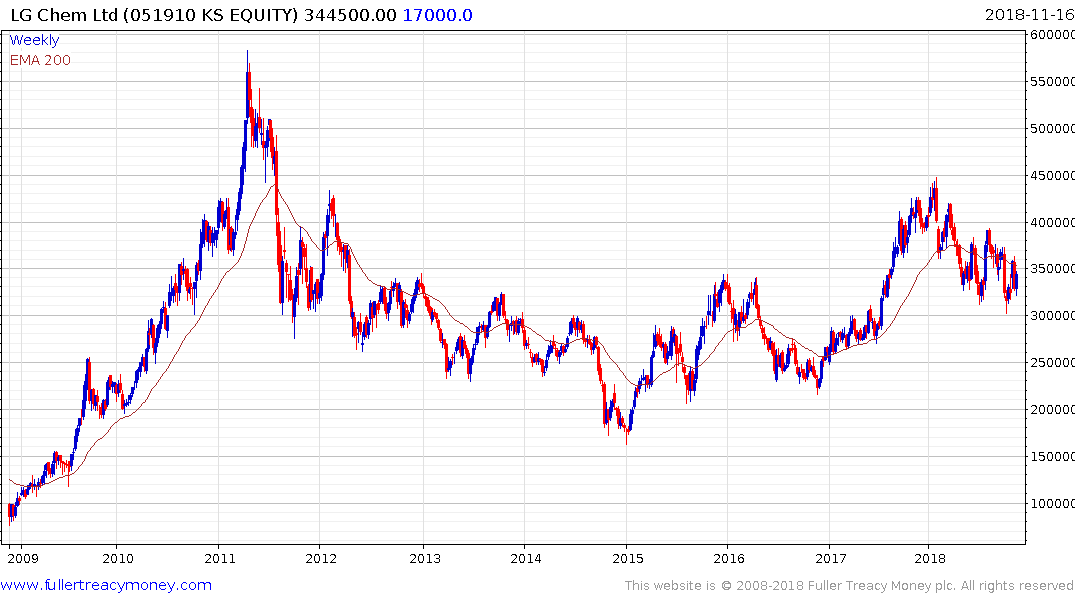 LG Chem has first step above the base characteristics as it firms from the upper side of the almost five-year base.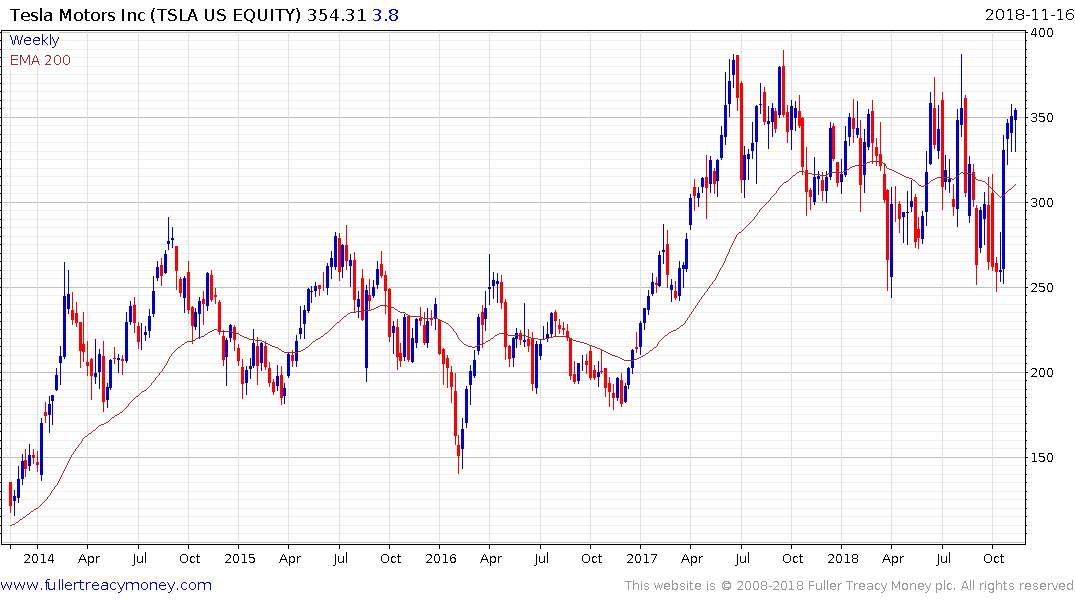 Tesla is attempting to be one of the few vertically integrated mass-market vehicle producers. The share is currently testing the upper side of its range but will need to sustain a move above $350 to confirm a return to demand dominance beyond the short term.
One of the greatest indictments of the European automotive sector is no company has had the vision to be a first mover in either the electric vehicle or battery sectors. They are now only beginning to play catch up and will be competing at a significant competitive disadvantage relative to other manufacturers for at least the next few years if not decade. That alone is a significant contributing factor in Germany's economic contraction last quarter. Synchronised global fiscal stimulus anyone?
Back to top