China gas demand becomes more feasible at low LNG prices but challenges persist
Thanks to a subscriber for this article from S&P Global focusing on Chinese LNG demand. Here is a section:
China's Shenzhen Energy closed a buy tender on May 30 seeking an August-delivery cargo,and the tender was awarded in the low $9s/MMBtu,according to several sources.

Prior to this, China's Guanghui Energy was heard to have partially awarded a buy tender for certain cargoes delivering from July 2023 to January 2024,S&PGlobal Commodity Insights reported earlier.

The prices of pipeline gas in China, which reflect crude prices 9-12 months ago, have been rising this year, with the average net import price above $8.5/MMBtu in April, showed calculations based on customs data

This means that the price advantage of pipeline gas over spot LNG is fading, which is expected to stimulate buying interest from importers who do not have sufficient long-term contracts in hand, market sources said.

"Rising prices of domestic pipeline gas in China could provide some incentive for downstream industries to switch to LNG," a Chinese importer said, adding that the current LNG prices were quite competitive and second-tier buyers could be more likely to come out to buy spot cargoes.
Here is a link to the full report.

I was not previously aware of the look back relationship between current Chinese pipeline gas prices and the crude oil price a year ago. That suggests pipeline gas prices will begin to fall over the coming month since crude oil rolled over in June of 2022.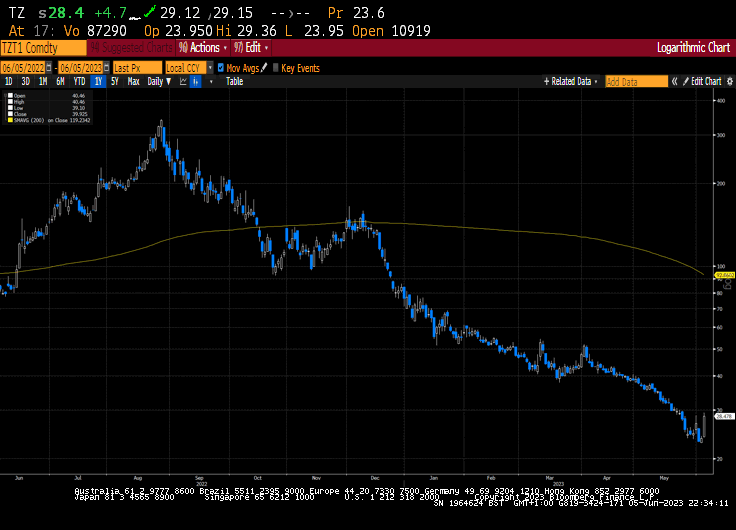 The bigger question is about China's plans to build out gas fired power station infrastructure over the coming few years. They also wish to avoid being fully reliant on pipeline gas from Russia so there will always be a market for LNG. European gas prices jumped today to check the steep downtrend on speculation Chinese demand will soak up some of the excess supply.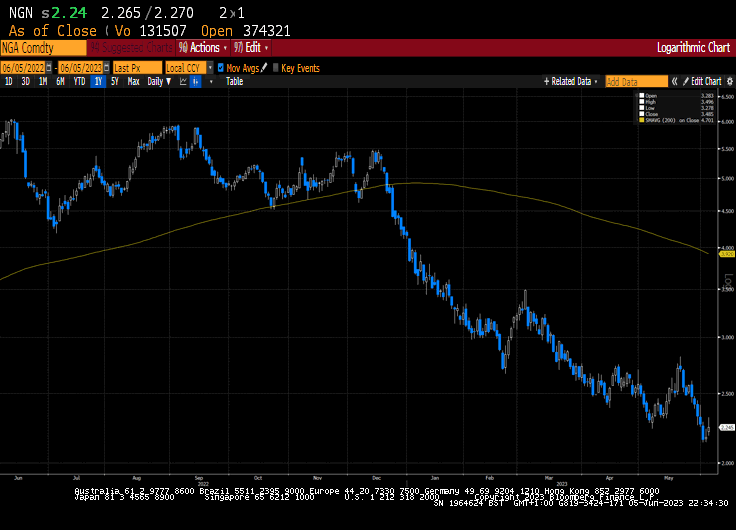 US Natural gas prices are also beginning to firm from depressed levels.
If the cure for high prices is high prices because of demand destruction, the cure for low prices is low prices because it creates demand. China is still building coal fired power stations but ultimately, rising living standards demand cleaner air and that implies greater gas demand over time.
Back to top