CATL Unveils EV Battery With One-Charge Range of 1,000 Kms
This article may be of interest to subscribers. Here it is in full:
Contemporary Amperex Technology Co. Ltd. unveiled an electric-car battery it said has a range of over 1,000 kilometers (620 miles) on a single charge and is 13% more powerful than one planned by Tesla Inc., a major customer.

CATL, as the world's biggest maker of electric-car batteries is known, will start manufacturing the next-generation "Qilin" next year, according to a video the Chinese company streamed online Thursday. The battery charges faster than existing cells, and is safer and more durable, CATL said.

The Qilin battery, named after a mythical Chinese creature, has an energy density of up to 255 watt-hour per kilogram, Ningde, Fujian-based CATL said.

"It's an important advancement for CATL as it keeps them at the forefront on the innovation side," said Tu Le, managing director of Beijing-based consultancy Sino Auto Insights. "Being the lowest cost provider isn't enough to command loyalty, there needs to be more to it -- and that seems to be the Qilin battery for CATL."

CATL's shares climbed 5.9% in Shenzhen, closing at the highest since Feb. 9.

The company said Wednesday it raised 45 billion yuan ($6.7 billion) in a private placement of shares, with the proceeds intended for production and upgrade of lithium-ion battery manufacturing in four Chinese cities, as well as research and development.

CATL has experienced a wave of volatility this year, grappling soaring prices of raw materials as well as rumors of trading losses. Its first-quarter net income slid 24% from a year earlier to 1.49 billion yuan. The company hasn't explained a 1.79 billion yuan derivatives liability, the first such charge since it listed.
The massive run-up in battery metal prices has put significant pressure on companies dependent on buying them to support their businesses. Lithium, copper, cobalt and nickel prices have surged this year as projections for future demand and low available supply created an inelastic trading environment. That created problems for nickel traders which resulted in a short covering price spike and lithium prices also surged to previously unimaginable levels.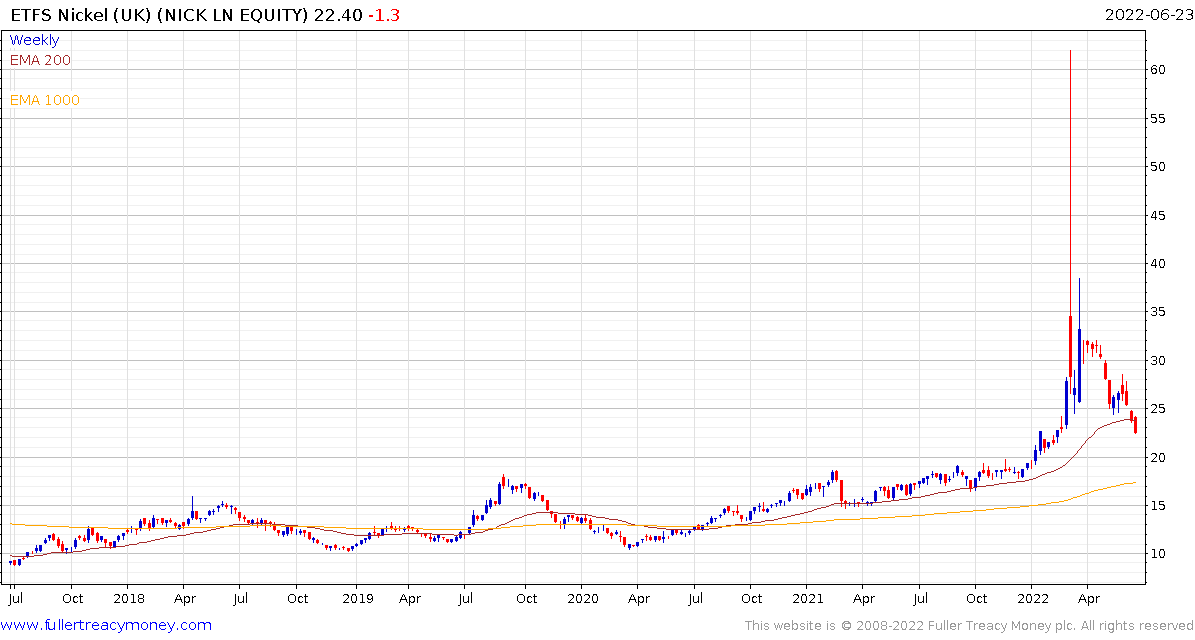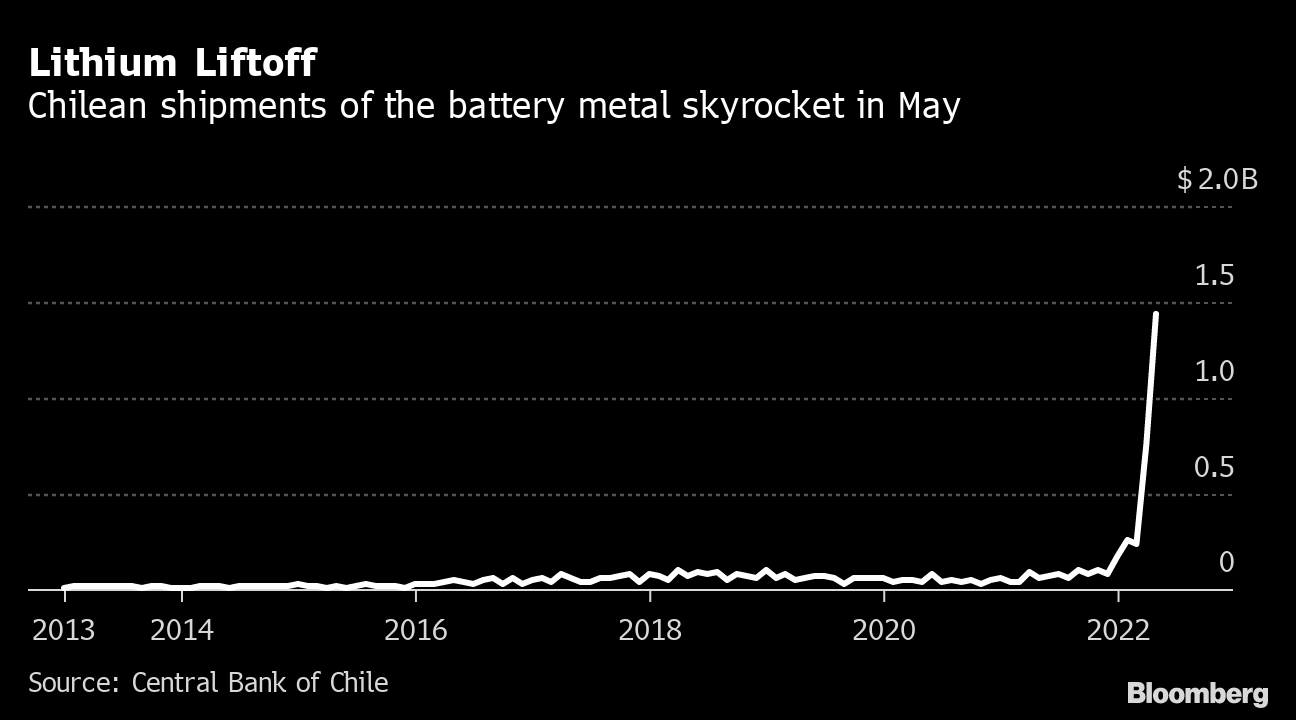 The recent election in Chile and the prospect of a tighter government grip on supply has resulted in a massive surge of lithium exports. That suggests beneficial owners of companies like SQM are cashing in now to avoid disenfranchisement later.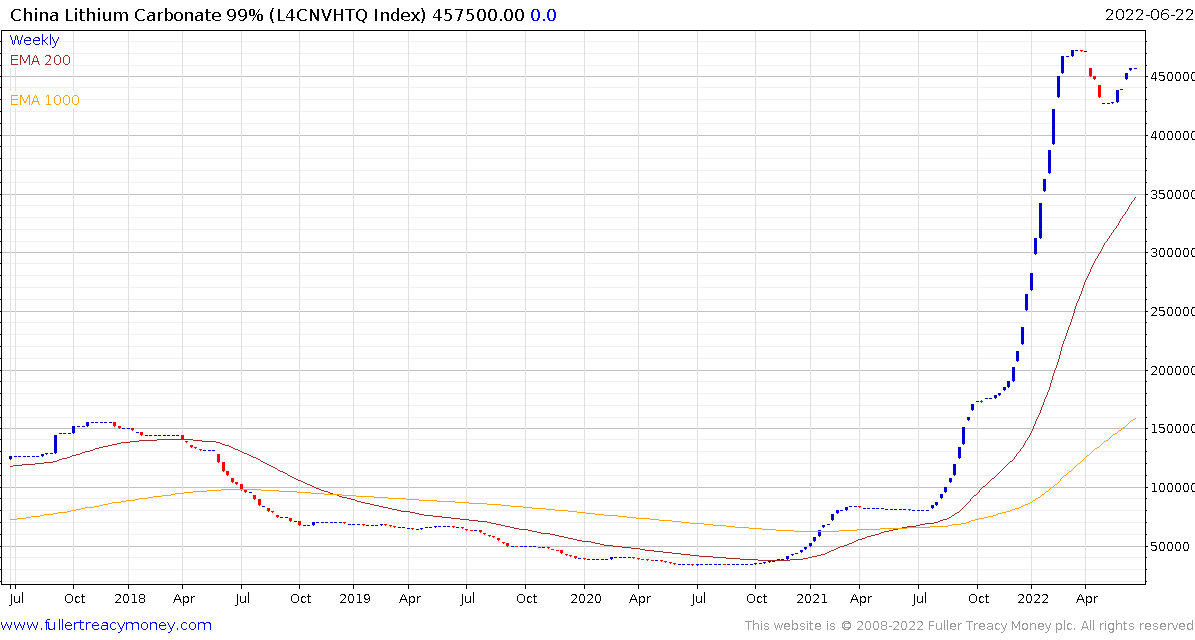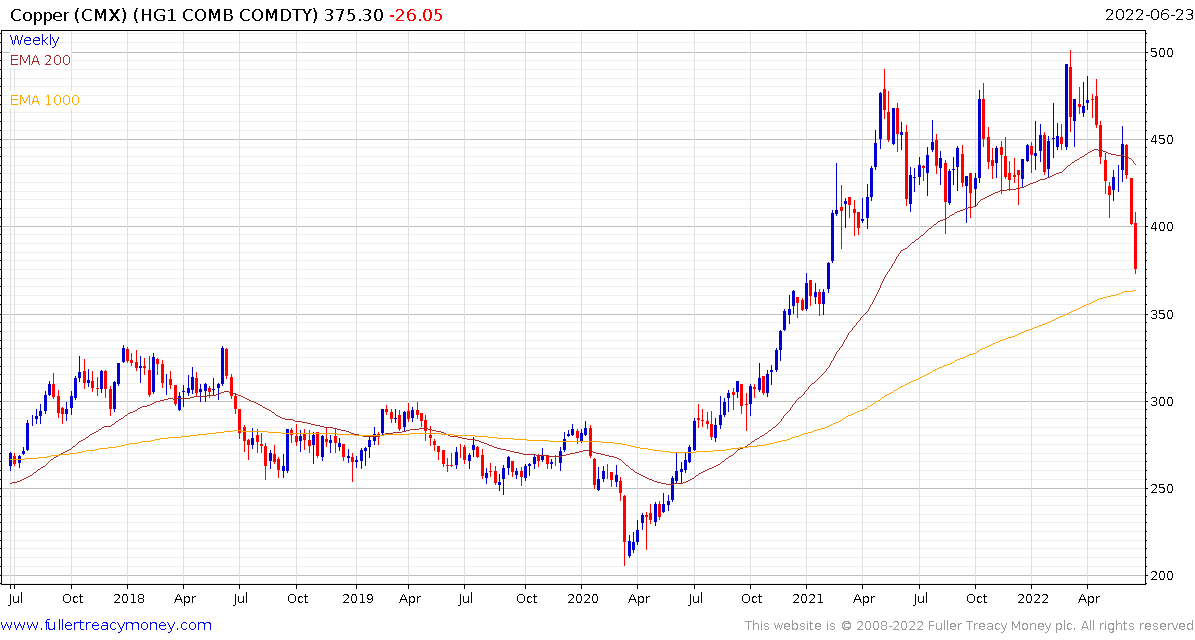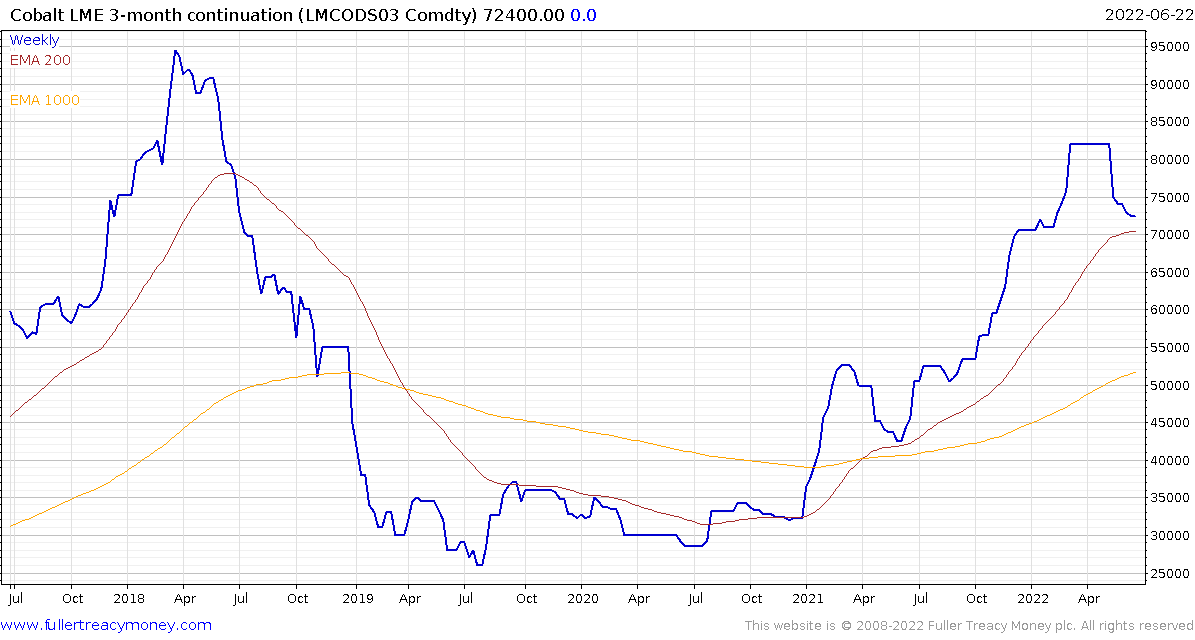 China's lithium carbonate price has been static for much of the last few months but could easily correct as this surge of supply reaches customers. Nickel is already coming back down and cobalt is reverting towards the mean.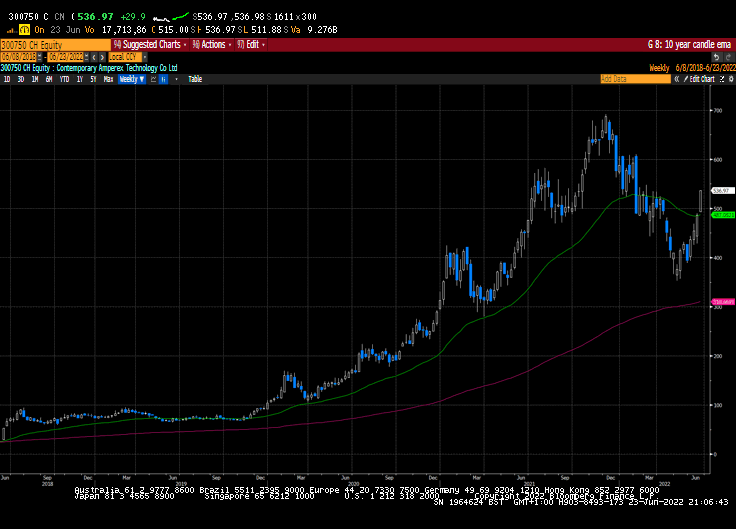 CATL raised a great deal of money in share sales this week and will put its new battery into production next year as new investments ramp up. The battery technology sector is especially competitive and the provision of a battery that can charge quickly while also delivering long range is a major innovation. The share halved between the December peak and the May low. It rallied back above the 200-day MA today to break the seven-month downtrend.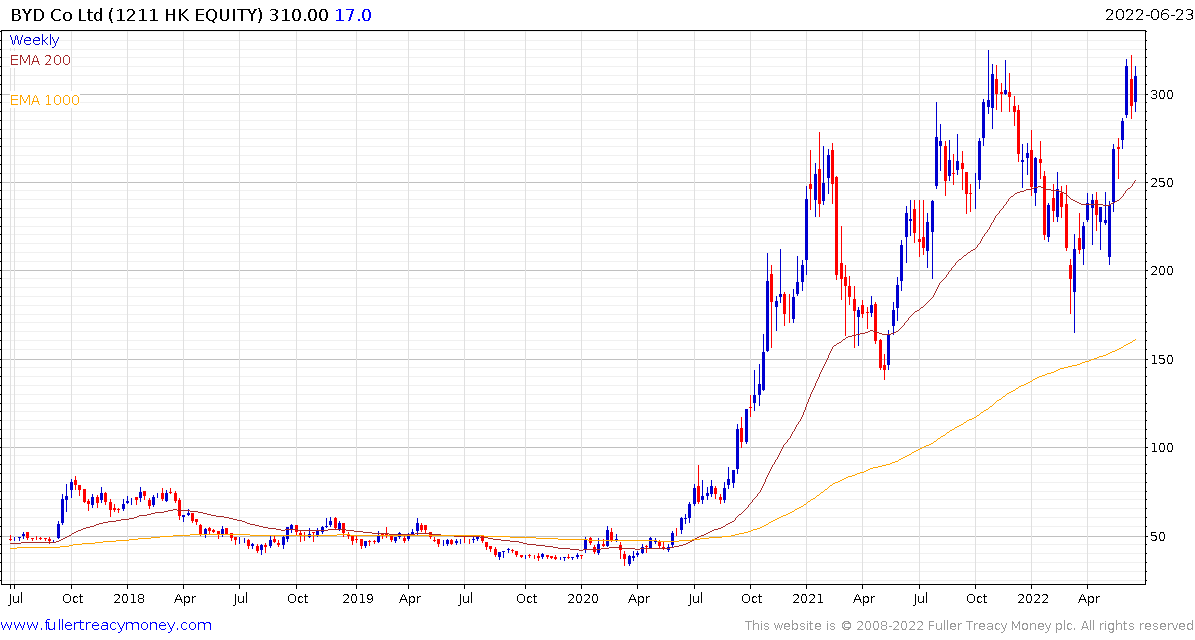 BYD remains steady as it pauses in the region of the all-time peaks.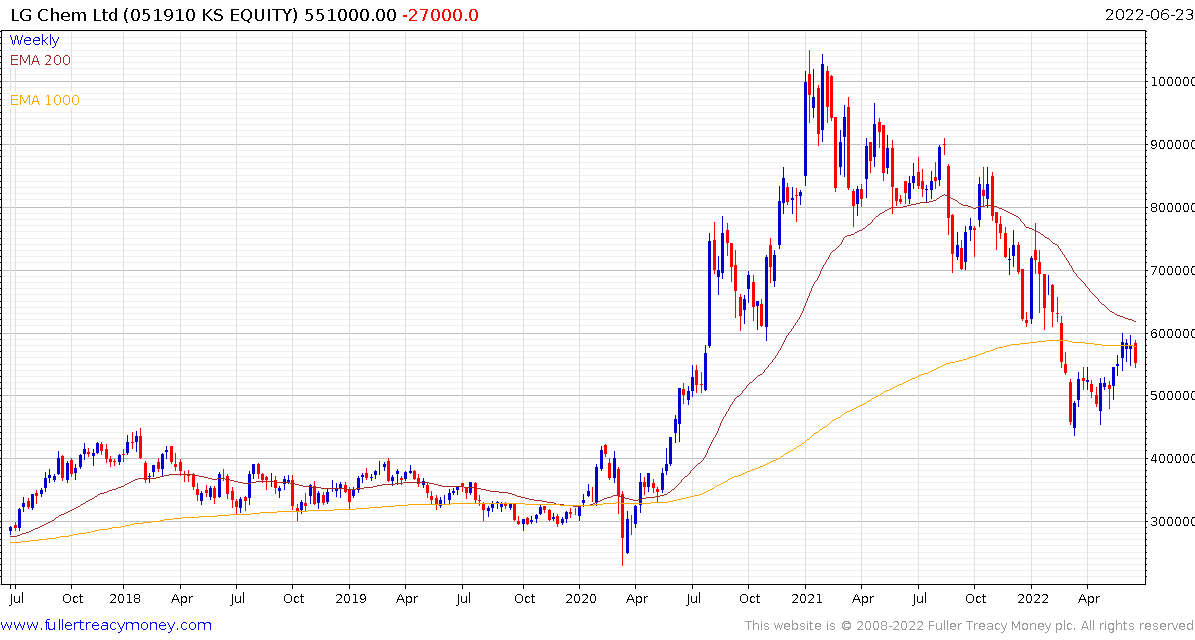 Meanwhile LG Chem remains in a consistent downtrend and encountered resistance in the region of the 1000-day MA this week.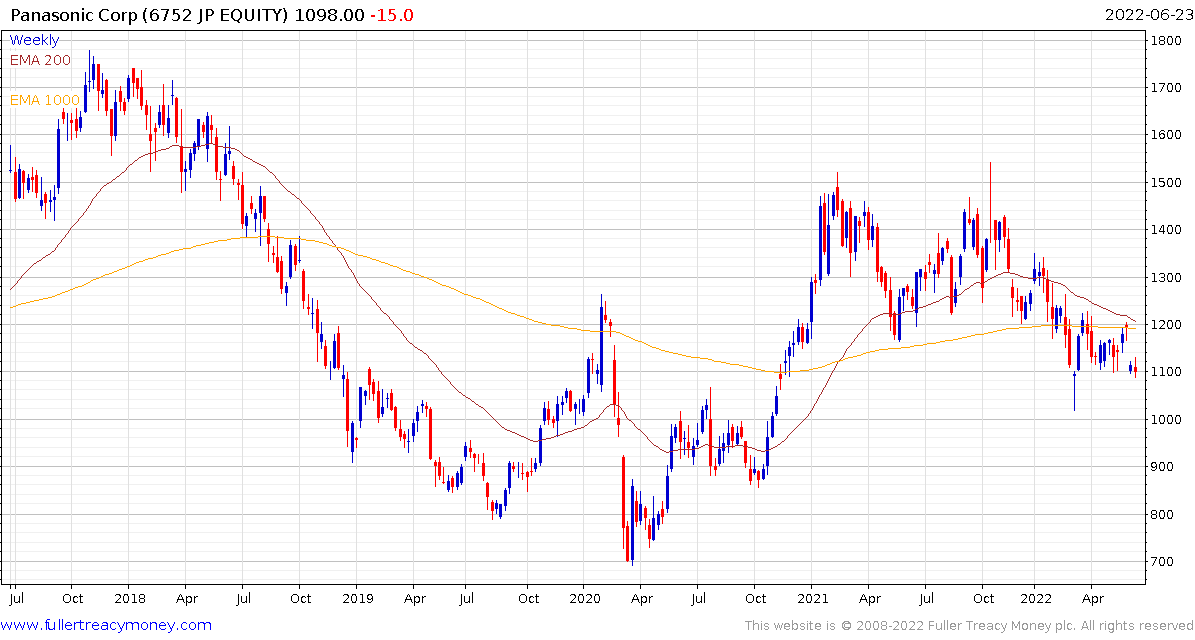 Panasonic is also still trending lower.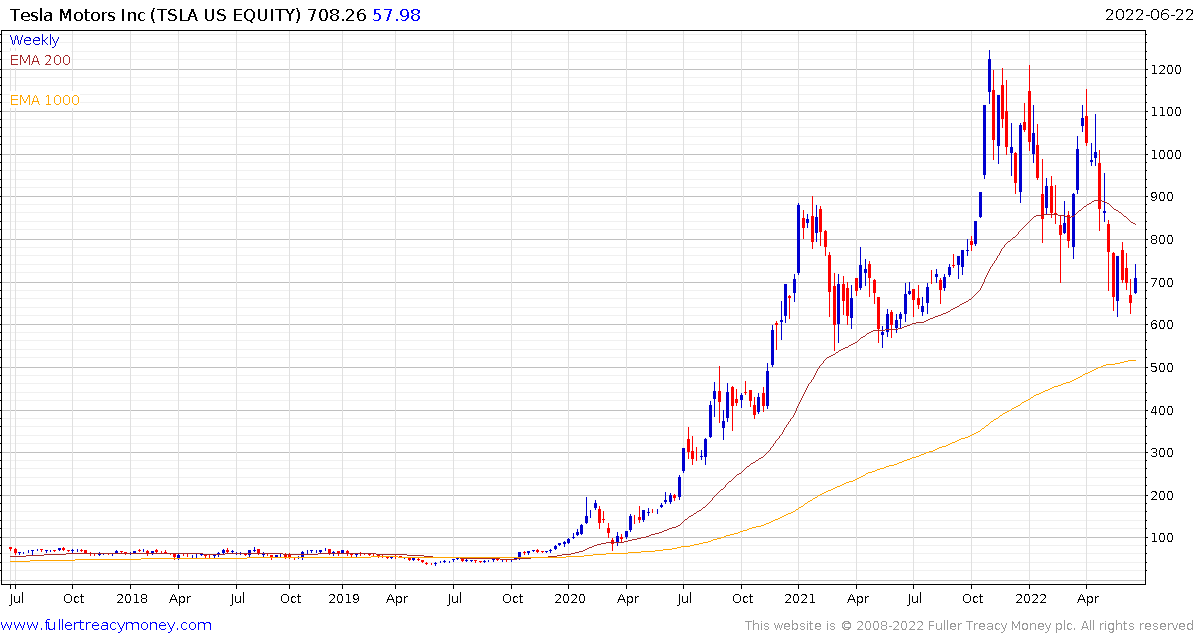 Tesla has broken its uptrend and is ranging below $800.

These charts suggest Chinese companies are winning the battery war.
Back to top