Britain risks a nuclear dead end by spurning global technology leap
Thanks to a David for this article from Ambrose Evans-Pritchard in the Telegraph. Here is a section:
A few million will be put aside for 'blue sky' research but the real money will go to a consortium led by Rolls-Royce to develop a series of 440 megawatt SMRs for £2.5bn each, drawing on Rolls' experience building PWR3 reactors for nuclear submarines. The company bills it as part of a "national endeavour' that will create 40,000 skilled jobs. It requires matching start-up funds of £500m from the state.

?I find myself torn since these ambitions are commendable. They revive a homegrown British sector, akin to the success in aerospace. It is exactly what Theresa May's industrial strategy should be. Rolls-Royce is a superb company with layers of depth and a global brand. It could genuinely hope to capture an export bonanza.

Yet the venture looks all too like a scaled-down version of Sizewell, plagued by the same defects as the old reactors, less flexible than advertised, and likely to spew yet more plutonium waste.

Rolls Royce insists that the design is novel and can slash costs by relying on components small enough to be manufactured in factories. "Everything can be cut down to size and put on a lorry," said a spokesman.

Rolls-Royce has said the design can slash costs by relying on components small enough to be manufactured in factories It aims for £65 MWh by the fifth plant, dropping to £60 once the scale is ramped up to seven gigawatts (GW), with exports targeting a putative £400bn global market.
A decade ago the UK went from being an oil and gas exporter to an importer, as the North Sea oil fields hit peak production, and the cost of production began to rise. That represents a considerable headwind to growth from a sector which had been a tailwind for decades previously. When people bemoan declining living standards and the rising cost of living, one of the first places to look has to be the energy sector and absence of a clear strategy to promote energy independence.

The UK has coal bed methane and shale gas, it is windy and the Southwest has abundant geothermal assets. Additionally, there is a rich seam of technical knowhow in the nuclear industry.

Without the benefit of excess oil supplies, it is imperative that the UK invest aggressively in other energy sectors if the considerable headwind of energy dependence is to be overcome. I don't think it be can overstated how important that objective is in the context of a country planning its future outside of the EU; considering it depends on continental Europe for energy via cables and pipelines and well as LNG and LPG imports.

Unfortunately, as the Hinkley Point development demonstrates, there is no evidence of a concerted effort to reverse dependence on overseas energy resources.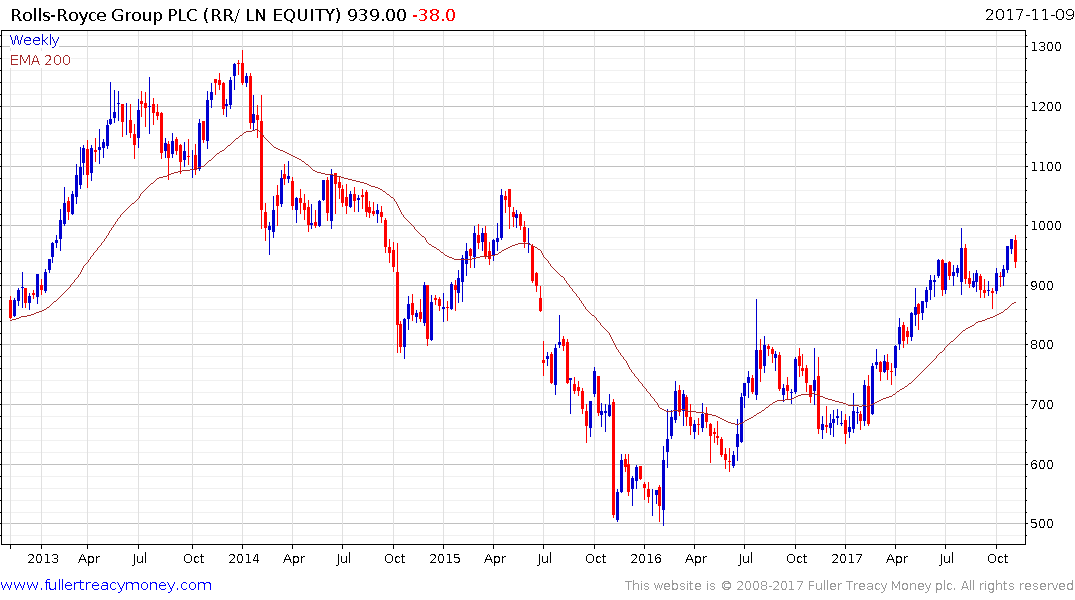 Rolls Royce (Est P/E 29.81, DY 0.98%) has encountered resistance in the region of 1000p on five separate occasions since 2014 and pulled back from that level against this week. It will need to hold the region of the trend mean if potential for continued higher to lateral ranging is to be given the benefit of the doubt.
Back to top