Brazil Downgrade Leaves Firms With $270 Billion Debt Hangover
This article by Cristiane Lucchesi and Filipe Pacheco for Bloomberg may be of interest to subscribers. Here is a section:
Brazilian companies that piled on $270 billion in international debt during the boom years are seeing their funding costs rise after the nation's credit rating was cut to junk.

The spread for five-year credit-default swaps to protect against a government default, one benchmark for setting what Brazilian companies must pay for external funding, has jumped 7.5 percent to 400 basis points since the downgrade, the highest since 2009. Adding to the pain, the dollar surged to a 13-year high, making principal and interest on international borrowing more costly for local firms.

"Even very small, unknown companies issued international bonds when Brazil was considered one of the most promising economies after the 2008 financial crisis," Salvatore Milanese, a partner at debt-restructuring adviser firm Pantalica Partners, said in an interview in Sao Paulo. "Now many of them are facing the consequences."

Standard & Poor's last week lowered Brazil's sovereign credit rating one level to BB+ and said it might cut it further in response to the administration's inability to shore up fiscal accounts as the economy falters. President Dilma Rousseff has failed to win support for her initiatives amid an investigation into corruption at the state-controlled oil company, some of which allegedly occurred while she was its chairwoman, sending her popularity to a record low and generating calls for her impeachment.
Dilma Rousseff rode to power on the coattails of President Lula's endorsement but she was never the best candidate from a governance perspective and the currency has collapsed under her watch. An ability to ignore contradiction is characteristic of every crowd. It is not until the cohesion of the crowd deteriorates that these contradictions regain their importance for participants.
During the boom years when Brazil became a creditor to the World Bank, the government's preference for a "bread and circuses" economic policy rather than investing in critical infrastructure were seen as acceptable. Skimming billions from the national oil company's revenues for personal gain and pet projects were overlooked as simply the cost of doing business in a high growth emerging economy. With the prices for most of Brazil's exports now at their lowest levels in years the largesse of government policy is in question.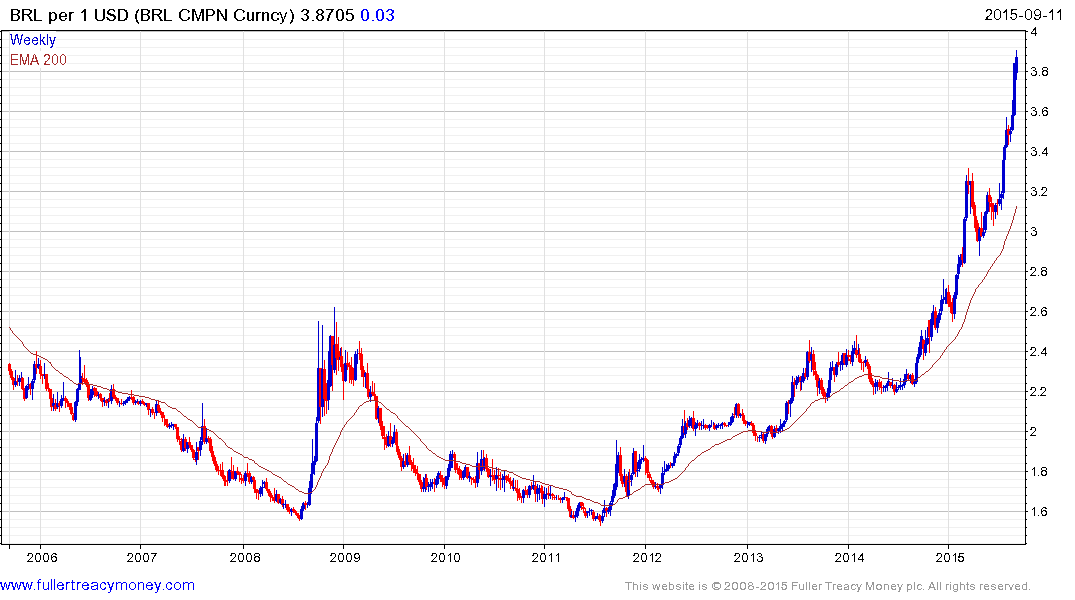 The Real is in an accelerating decline and a catalyst in the form of political change is likely required to stem the selling pressure. Nevertheless this deterioration is enhancing the country's competitiveness and once the currency shows evidence of stabilising, bargain hunters will begin to return.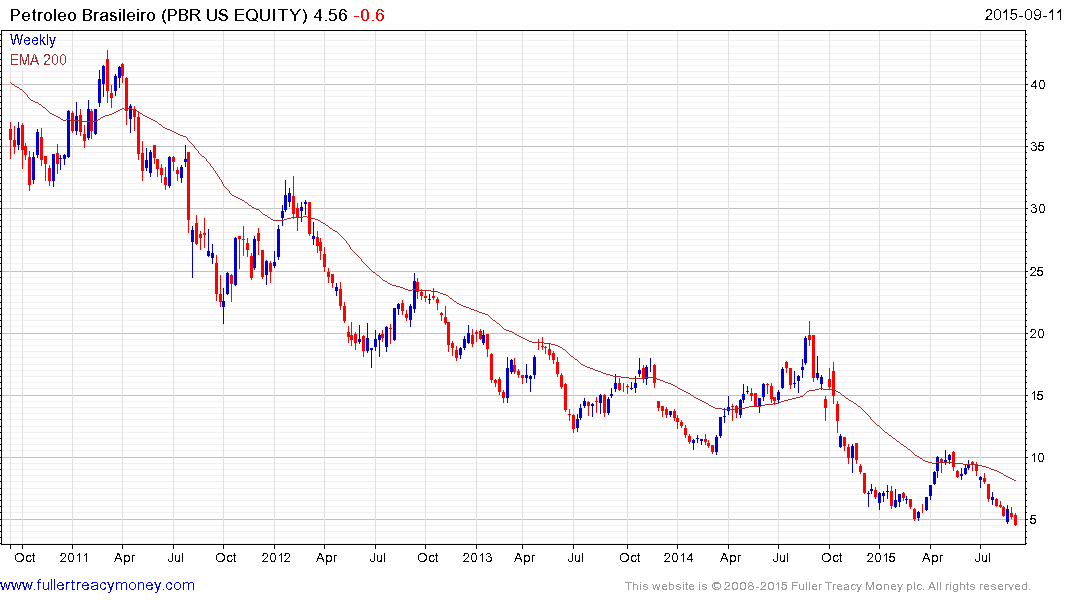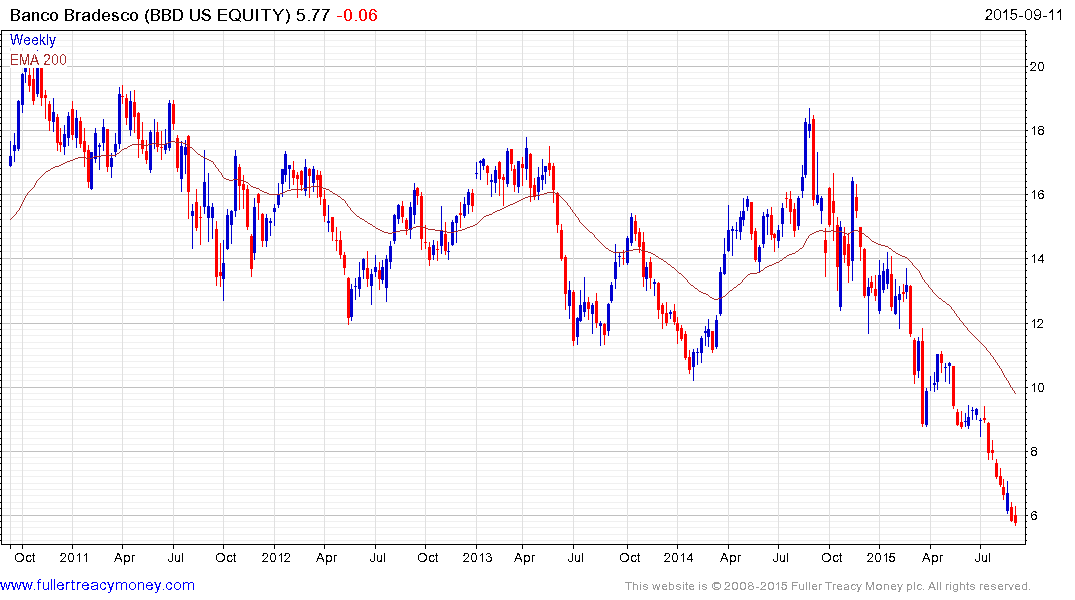 Petrobras' ADR moved to a new low today while Banco Bradesco's ADR is accelerating lower.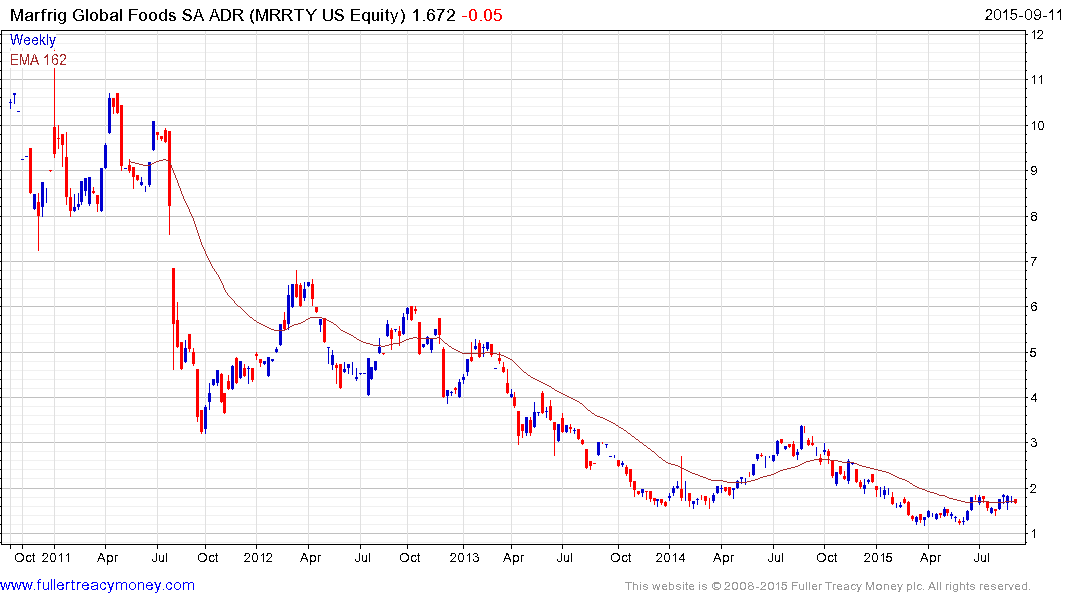 Marfrig Foods is worthy of mention for its relative strength. It has held a progression of incrementally higher reaction lows since June.
Back to top