Blackstone Unit Foreshadows Google Path to Power Company
This article by Ehren Goossens, Mark Chediak and Jim Polson for Bloomberg may be of interest to subscribers. Here is a section:
Meanwhile, Comcast, the cable giant, is in a pilot project with NRG in Pennsylvania that adds electricity to its cable, phone and Internet packages. AT&T last year entered the home automation and security business in 15 markets; while not yet planning power sales, it has introduced a smart thermostat that puts it solidly in the home energy-management business. It could do what Comcast and Vivint are doing.

Google's $3.2 billion acquisition of smart-home startup Nest in February "ought to give utility officials a sinking feeling in the pit of their stomachs" since it makes clear the Technarians have begun to seriously eye at least the periphery of utility business if not its core, said Adrian Tuck, CEO of Tendril Networks Inc. a Boulder, Colorado-based energy-services management company.

Google Energy
While coy about its ultimate energy ambitions, Google is already a power generator through more than $1.4 billion in clean energy investments and holds a wholesale power license.

Last month it contributed $100 million to a program to promote rooftop solar power with SunPower Corp.

Nest, maker of the Learning Thermostat that memorizes and adjusts to users' preferences, gives Google a leap-ahead presence in the burgeoning smart-home market at the precise time that power in the U.S. has begun to flow both ways with the rise of rooftop solar and other forms of decentralized, home-grown energy, collectively called distributed generation.

Though Tuck said he has no special insight into Google's thinking, he believes that its Nest acquisition may well be a "Trojan horse" that gives Google a back door into the utility industry with the ability to leverage its smart thermostats into massive quantities of salable demand response even as it begins to compete directly with utilities with its own green-power projects.

Google spokesman Tim Drinan declined to comment on Tuck's speculation.
Tuck's company Tendril is also doing a brisk business in advising regional cable, home-security and home-automation companies how to exploit this opening. He said the utilities he talks to feel constrained by tradition, phobia or regulatory uncertainties from wading in -- a mistake he likens to Eastman Kodak Co. being slow to join the digital camera revolution.
As a society we need cheap abundant energy if we are to generate the type of productivity growth that can fuel a secular bull market. We don't have it yet but the advent of unconventional oil and gas coupled with technological innovation across a whole host of sectors increases the likelihood that energy price inflation will be much less of a factor in the next decades than it was in the last one.

AT&T (Est P/E 13.14, DY 5.19%) has been involved in quite a lot of M&A activity and speculation with the result that the share remains largely rangebound between $32 and $37.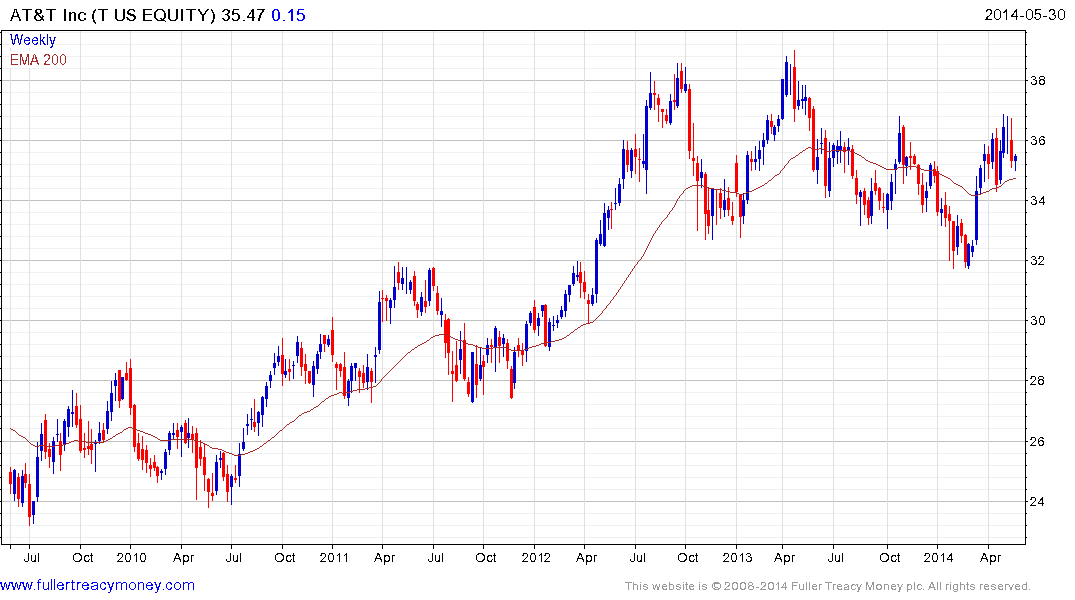 Comcast (Est P/E 17.97, DY 1.73%) remains in a reasonably consistent uptrend. The share found support in the region of the 200-day from April and continues to range mostly above $50. A sustained move below that level would be required to question the consistency of the medium-term uptrend.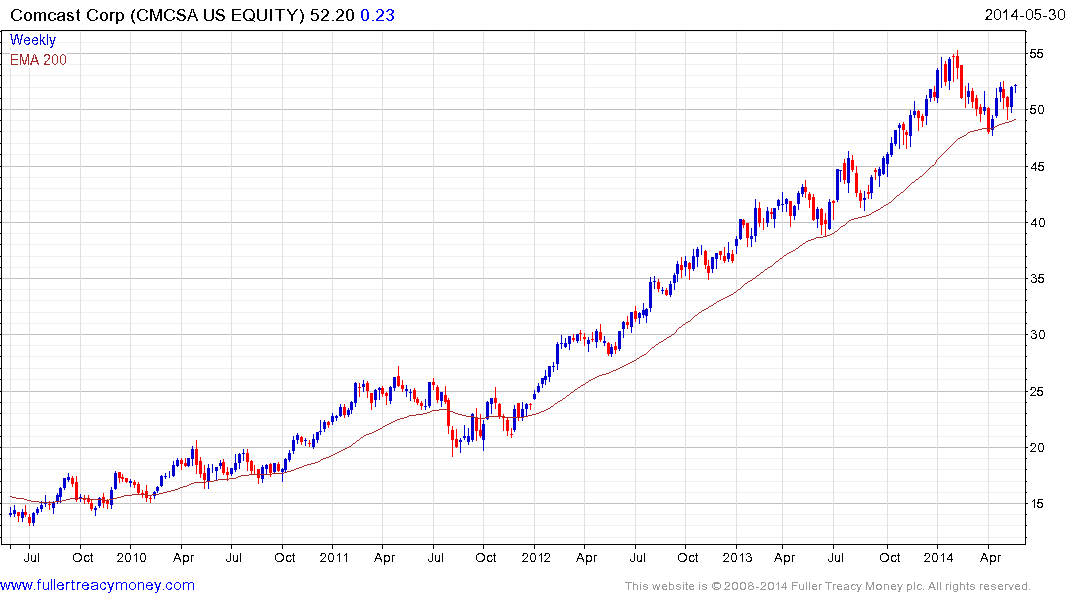 Google (Est P/E 21.29) has also found support in the region of the 200-day MA and a sustained move below $500 would be required to question the consistency of the overall advance.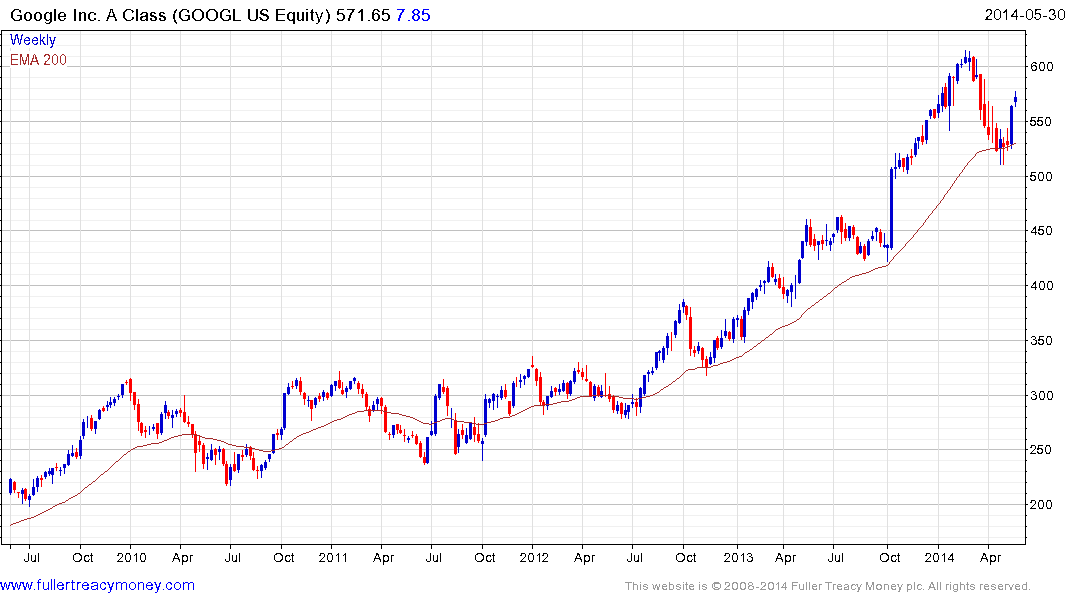 SunPower (Est P/E 25.2) continues to range mostly above $30 and a sustained move below the 200-day MA, currently near $29, would be required to question medium-term scope for additional upside.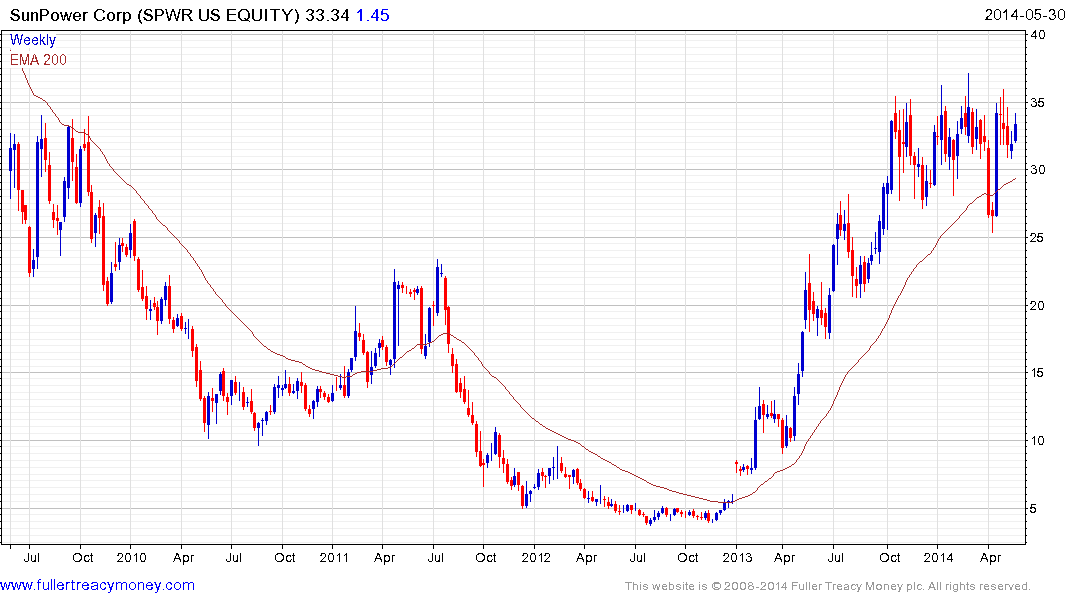 SolarCity returned to test the region of the 200-day MA over the last couple of months; falling almost 50% in the process. It will at least need to hold this month's low if potential for a further bounce is to remain credible.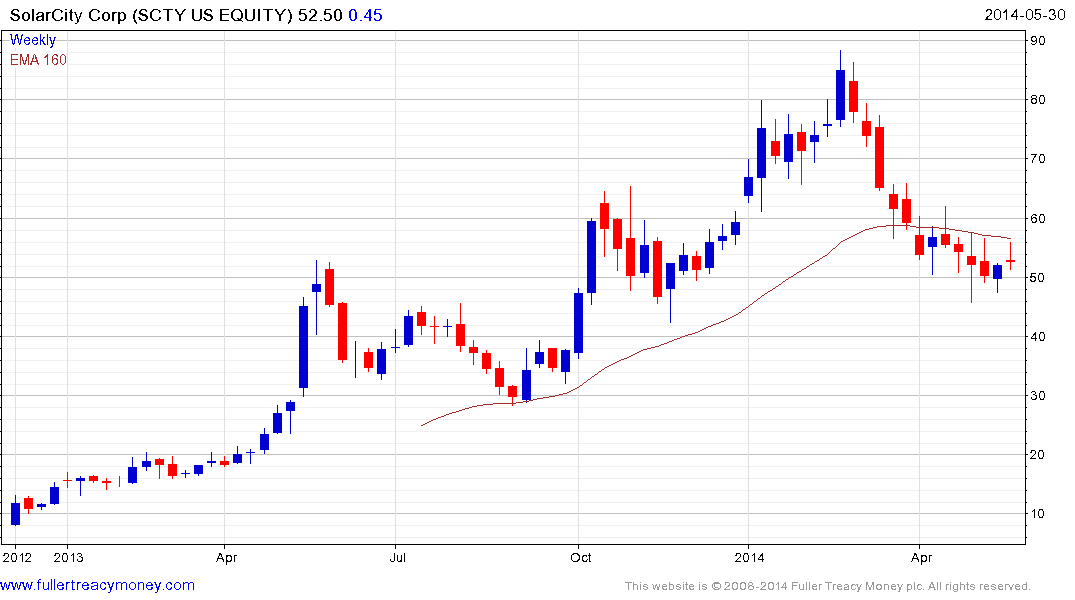 Back to top