Black silicon photodetector hits record-breaking 132% efficiency
This article by Michael Irving for NewAtlas may be of interest to subscribers.
Together, these advances made for a device with 130-percent external quantum efficiency. The team even had these results independently verified by the German National Metrology Institute, Physikalisch-Technische Bundesanstalt (PTB).

The researchers say that this record efficiency could improve the performance of basically any photodetector, including solar cells and other light sensors, and that the new detectors are already being manufactured for commercial use.
The efficiency of solar cells has been improving steadily for the last forty years. The capital poured into the renewables sector following the collapse in interest rates a decade ago, has been the catalyst to greatly enhance the speed with which efficiency gains are being delivered.

The manufacturing process for solar cells is at significant risk from demands to constantly adapt to emerging technologies. The happy medium between operational efficiency and products that are good enough is going to be easier to achieve the better the technology is. For example. the evolution of car batteries that can deliver 300-mile range appears to have been the magic number of electric vehicles.#

The decoupling of the wind and solar ETFs from the oil price late last year suggests the efficiency of these products, together with a very accommodative regulatory environment is supporting investment in the sector.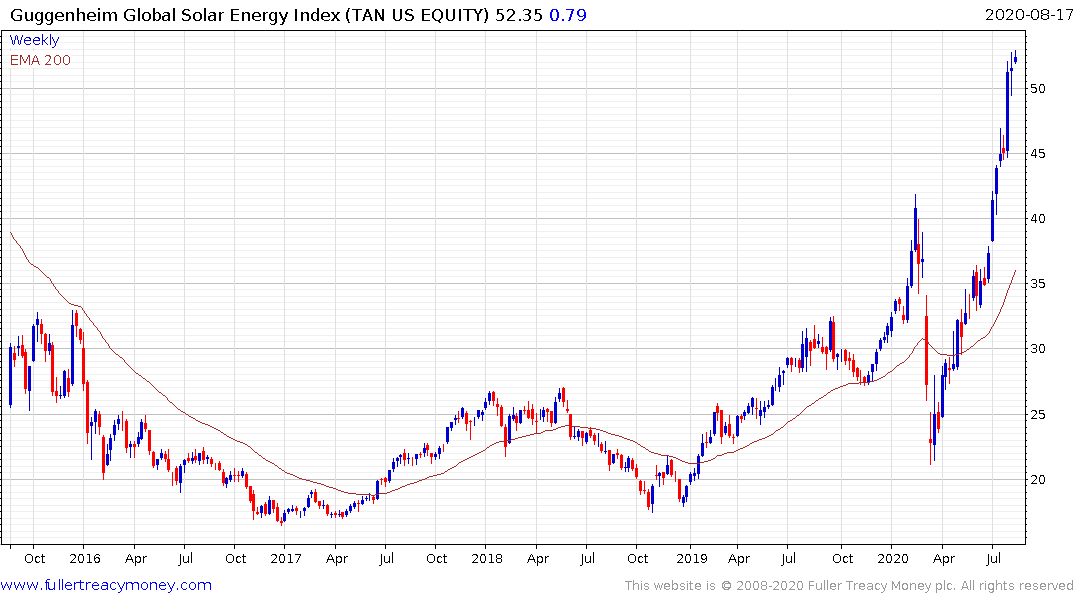 As with so many other portions of the market, short-term overbought conditions are evident but renewable energy is likely to be a buy on the dips market for the next few years as spending ramps up.
Back to top