Biden to Urge Gasoline Tax Pause as Prices Drag on Democrats
This article from Bloomberg may be of interest to subscribers. Here is a section:
President Joe Biden will ask Congress to suspend the federal gasoline tax for three months, after his administration's previous efforts failed to curb soaring pump prices that weigh heavily on his party's political fortunes.

Biden will call for a pause in tax collections through September in a speech scheduled for 2 p.m. Wednesday in Washington, senior administration officials said. The national average gasoline price hit a record this month above $5 a gallon, even after Biden ordered a historic release from US reserves earlier this year.

Any pause, however, is fraught with contradiction. Lowering the price of gasoline may spur demand, potentially exacerbating supply imbalances already roiling markets. Biden entered office describing climate change as an existential threat and pledging to scale back US drilling; he's now calling for measures to make fossil fuels less expensive, while all but begging oil companies to boost production and refining.

And it's unlikely Congress will heed the president's request, as many Democrats have concerns about the move and Republicans aren't inclined to help Biden with his biggest political liability ahead of a critical election in November.
I tuned in to watch Jay Powell's testimony in front of the Senate today. I was struck by how partisan the questioning was. Democrats are eager to shift blame for high prices and Republicans are eager to the pin the blame for high prices on the current administration. Tomorrow he speaks to Congress where a lot more people are up competing for re-election this year so the tone of the questioning is likely to be more aggressive. The tax holiday on gasoline is a crowd-pleasing measure which is unlikely to implemented. Meanwhile oil prices extended their decline as traders price in falling demand amid slowing growth.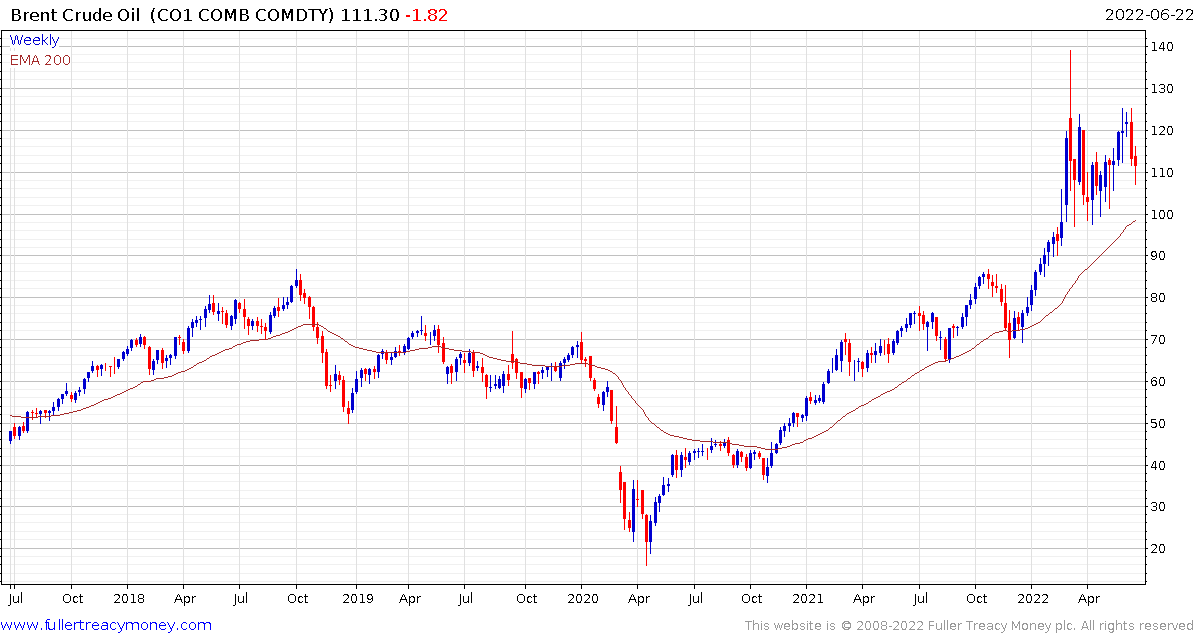 Brent Crude continues to extend its decline and is increasingly exhibiting type-2 top formation characteristics. The futures curve has prices stable around $70 a few years out so that appears to be where traders are comfortable thinking prices will stabilise.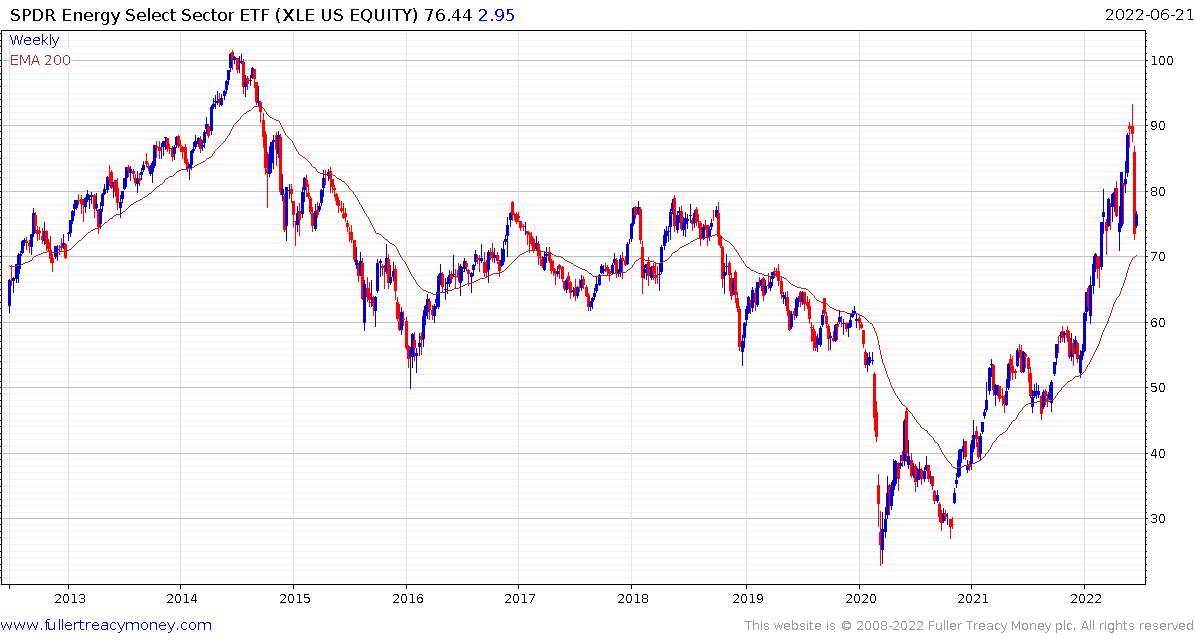 The Energy SPDR ETF pulled back exceptionally sharply last week to confirm a peak of at least near-term and potentially medium-term significance.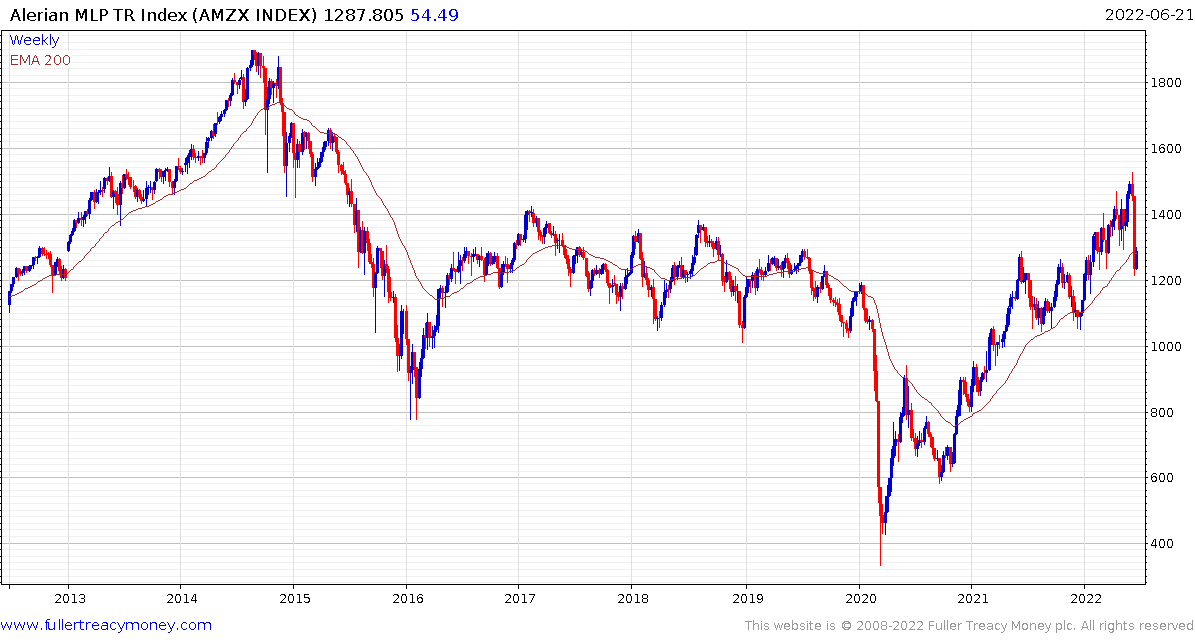 The Alerian MLP ETF dropped below the 200-day MA last week to break the sequence higher reaction lows.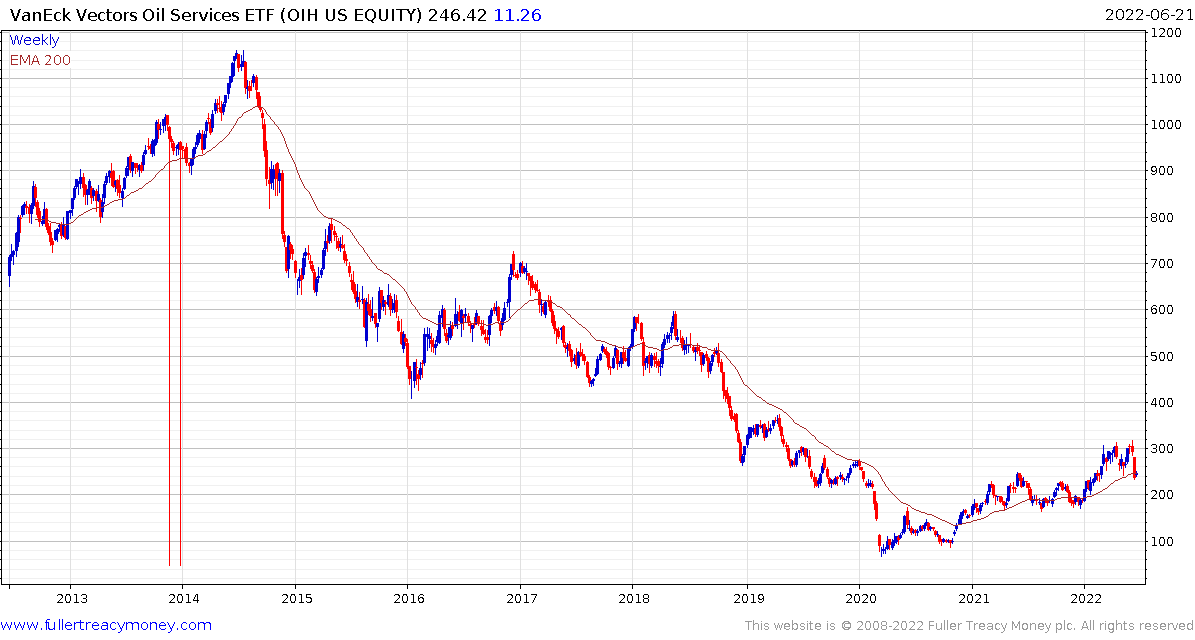 The Oil Services ETF continues to hold the region of the trend mean but is unlikely to be capable of sustaining a rally if oil prices continue to deteriorate.
Back to top