Berkshire Hathaway Inc Shareholder Letter
Berkshire Hathaway Energy is now celebrating its 20th year under our ownership. That anniversary suggests that we should be catching up with the company's accomplishments.

We'll start with the topic of electricity rates. When Berkshire entered the utility business in 2000, purchasing 76% of BHE, the company's residential customers in Iowa paid an average of 8.8 cents per kilowatt-hour (kWh). Prices for residential customers have since risen less than 1% a year, and we have promised that there will be no base rate price increases through 2028. In contrast, here's what is happening at the other large investor-owned Iowa utility: Last year, the rates it charged its residential customers were 61% higher than BHE's. Recently, that utility received a rate increase that will widen the gap to 70%.

The extraordinary differential between our rates and theirs is largely the result of our huge accomplishments in converting wind into electricity. In 2021, we expect BHE's operation to generate about 25.2 million megawatt-hours of electricity (MWh) in Iowa from wind turbines that it both owns and operates. That output will totally cover the annual needs of its Iowa customers, which run to about 24.6 million MWh. In other words, our utility will have attained wind self-sufficiency in the state of Iowa.

In still another contrast, that other Iowa utility generates less than 10% of its power from wind. Furthermore, we know of no other investor-owned utility, wherever located, that by 2021 will have achieved a position of wind self-sufficiency. In 2000, BHE was serving an agricultural-based economy; today, three of its five largest customers are high-tech giants. I believe their decisions to site plants in Iowa were in part based upon BHE's ability to deliver renewable, low-cost energy.

Of course, wind is intermittent, and our blades in Iowa turn only part of the time. In certain periods, when the air is still, we look to our non-wind generating capacity to secure the electricity we need. At opposite times, we sell the excess power that wind provides us to other utilities, serving them through what's called "the grid." The power we sell them supplants their need for a carbon resource – coal, say, or natural gas.

Berkshire Hathaway now owns 91% of BHE in partnership with Walter Scott, Jr. and Greg Abel. BHE has never paid Berkshire Hathaway a dividend since our purchase and has, as the years have passed, retained $28 billion of earnings. That pattern is an outlier in the world of utilities, whose companies customarily pay big dividends – sometimes reaching, or even exceeding, 80% of earnings. Our view: The more we can invest, the more we like it.

Today, BHE has the operating talent and experience to manage truly huge utility projects – requiring investments of $100 billion or more – that could support infrastructure benefitting our country, our communities and our shareholders. We stand ready, willing and able to take on such opportunities.
I found this to be an enlightening discussion of the utilities sector. The long-held perception is that these kinds of businesses can afford to pay out the majority of free cashflow in dividends because they are charging rents on established pieces of infrastructure with easily forecastable maintenance and renewal trajectories. As Berkshire's experience with wind demonstrates, this ignores the long-term risk of exogenous shocks, technological innovation, changing regulation and infrastructure reaching the end of its useful life.
Aging infrastructure is a significant issue right across North American and Europe in particular. Everything from roads to dams to bridges and power plants needs to be replaced or at least upgraded. Running utilities with a low cash buffer leaves them exposed to significant cash calls when infrastructure fails. That is as true of Atlantia's toll roads in Italy which were never designed to carry the quantity of traffic they do, or PG&E's overland power lines whose sparks ignite wild fires.
The requirement for infrastructure renewal is creating a market in what form that should take. The zeitgeist right now is very much in favour of renewable energy generation and regulation is falling in behind that trend to increase the cost of conventional solutions.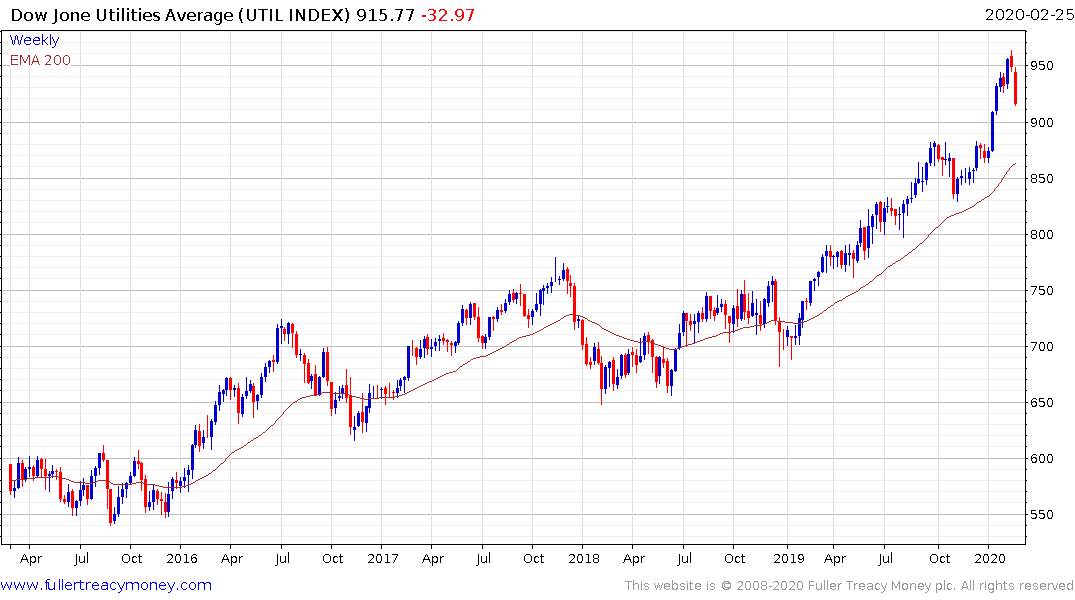 The Dow Jones Utilities Average has been a stellar performer over the last year as demand for yield stoked investor interest. It is now unwinding an overbought condition relative to the trend mean. The broader question, however, is whether we should expect considerably more variability in the performance of individual utilities based upon their success in meeting the challenges presented by the wider macro environment? At a minimum, dividends do not look as secure as they have been for the last few decades.
Back to top